The Oneida Indian Nation continues to invest in future generations with educational scholarships that are designed to encourage academic achievement and enhance the quality of life for students. The Nation's Scholarship Program has been in place since 1991 and has served numerous Members with career advancement and higher education opportunities.
This past May, two more Nation Members graduated from college with assistance from the Scholarship Program and now have high hopes for the future. Kristen and Kathryn Halbritter (Wolf Clan) earned their Bachelor's degrees from Andrews University in Michigan, a small campus near the eastern shore of Lake Michigan.
The twins decided on Andrews University because of its religious affiliation and academic excellence. They both liked that it was a smaller atmosphere, academically rigorous and offered a program in Animal Science, which they both chose as their major. The school enrolls around 3,000 students.
The graduates at Andrews University in Michigan
"It was fun," Kristen said reflecting on her experience. "We both liked that it was smaller and had a religious component."
Kristen knew she wanted to be a veterinarian when she began applying to colleges. Andrews presented a unique opportunity to dive deeper into the field and would prepare her for advanced study further down the road. Kristen's advisor in the Pre-Vet program, Dr. Katherine Koudele, taught many of the classes and quickly became one of her favorite professors.
As part of any successful college experience, it's also important to participate in clubs, sports or other extracurricular activities to meet new people, try new things and see what other activities might draw your interest. Kristen participated in club soccer for four years and joined the Pre-Vet Pre-Med Club. She served as the club's president during her senior year.
Now, Kristen is waiting to hear back from several schools to continue her studies in Veterinary Medicine. Cornell University and Colorado State University are among her top choices. Her bright future is right around the corner and she's also eager to share it with her husband, David. The couple were married this past December.
"It's all really exciting," she said. "He's finishing up his degree this year and if I'm accepted, I get started this August."
Kathryn's interests led her to the Pre-Med direction of the program. Like her sister, she also participated in the Pre-Vet Pre-Med Club and served as its chaplain during her senior year. In their roles, they would open with prayer and help organize different events across campus that connected with the club's mission.
"I enjoyed Andrews a lot," Kathryn said. "Michigan is a lot like New York so there's a lot to do outside in addition to the rigorous academics. I think the experience was very beneficial."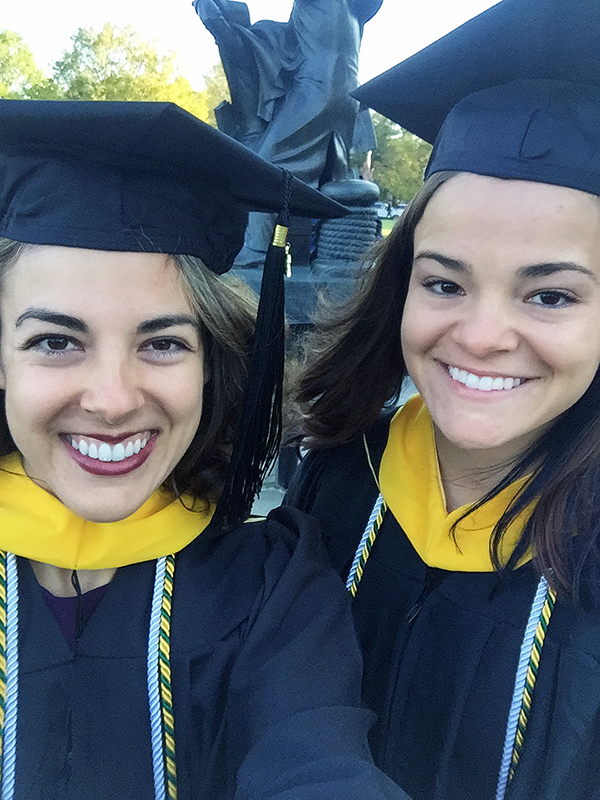 Sisters Kathryn and Kristen Halbritter
Kathryn said she and Kristen both graduated magna cum laude. Now, she feels she's ready for her next big adventure. Kathryn took the MCATs and applied to medical school this past fall and hopes to begin her studies in August. Her first choice is the Loma Linda School of Medicine near Riverside, CA.
With so many different areas to choose from in the medical field, Kathryn is keeping her options open so she can see what she's drawn to and where she can best serve people. To begin that process, she started working at the Nation's Health Services in October as a medical scribe for Dr. Newton, which she says has been a great experience.
"I'm really enjoying my job working with such fantastic doctors," she said enthusiastically. "I'm learning how to document as a doctor would, along with learning a ton of new things that will be beneficial when I go to med school."
As life after college begins, both Halbritter sisters are excited to move closer toward their career goals. Kristen and Kathryn said they would like to come back to the Nation at some point to use what they've learned and give back to the Nation community.
"I'd like to come back and possibly work as a physician for the Nation and give back to my people," Kathryn said. But for now, they are looking forward to their next academic challenge and advancing in their respective fields.
The Oneida Nation Education Department's Scholarship Program has helped many Nation Members on their career journeys. From certificate programs to advanced degrees, the Nation is committed to providing Members with educational opportunities with financial peace of mind.
"The Scholarship Program offers an excellent opportunity for our Nation Members to advance their education, whether it be in a skilled trade or college degree," Scholarship Coordinator, Sarah Carrillo said. "We have enhanced our program to better serve them, and we have seen a steady increase in applicants over the last year."
There are currently 84 Members enrolled in a higher education or trade program and 61 Members receiving incentives for academic achievement in elementary, middle and high school.
Sarah encourages young students to submit their quarterly report cards to see if their attendance (K – 6th grade) and/or grade point average (K – 12th grade) will qualify them for a gift card or monetary incentive.
"In 2017, we had 11 students graduate with college-level degrees, 8 graduated from trade schools, and 9 graduated from high school," Sarah said expressing the wide variety of opportunities available to Members. "As we come in to 2018, I expect our higher education enrollment numbers to increase with new applicants gearing up for their first college term this Spring."
For more information on scholarship policies and opportunities or if you have any questions about the program, contact Sarah Carrillo at scarrillo@oneida-nation.org or 315-829-8150.