The transformation of Turning Stone Resort Casino into a holiday phenomenon involves a collaborative effort utilizing the expertise of employees from nearly all departments throughout the resort – including facilities, culinary, grounds and security.

No small investment of time by the holiday helpers ( clocking just about 3,000 hours on the décor and another 2,200 hours on the Gingerbread Village )  the transformation of the 3,400-acre property has become a popular tradition, one greeting employees and visitors each day and sparking the holiday spirit in the community.
The resort becomes a luxurious winter wonderland with more than 1.5 million white and multi-colored LED lights and 370 ft. of decorated trees standing at focal points throughout the casino,  including all entrances and in the Great Room at the Forbes Four Star Lodge hotel.

All natural trees on the grounds are wrapped and lit, wreaths stand as high as 17-feet and massive red glitter glaze ornaments hang from the ceiling at Exit 33. High atop the clubhouse roof at Shenendoah, a 7-foot-tall Santa can be seen "sneaking" into the chimney.
Featuring the Forbes-Travel Guide Acclaimed 'Gingerbread Village' — a beloved local creation this IS indeed 100 percent edible and the (largest in Central New York)
This time of year, the members of the pastry team at Turning Stone Resort Casino are treated like local celebrities. Anytime they are near the beloved creation, spread out in the Winter garden at the Resort, they get praise, questions and compliments –even high-fives.

The talented pastry team, led by Executive Pastry Chef Dennis Miller, consists of employees who have started at different positions and climbed the ranks and others that have graduated from esteemed culinary schools and sought employment at Turning Stone, such as Pastry Cook Carmen Hernandez, who graduated from Le Cordon Bleu in Los Angeles.

"It's nice to see the appreciation, people love the village," said Carmen, who returned to work at Turning Stone to be near family in Syracuse, and because she loves being part of the team.

And you can bet they all have their favorite piece of the village (typically, the portion they helped create) as well as their favorite candy – Reese's, Rolos and Hershey's to name a few.

"The holiday-mix Nerds rope is fun to work with," said Pastry Cook Hillary Shamis, pointing out the red and green strands of tiny pebble-like candy that line the roof of the train station. Baker Emily Dufresne helped create the farm house, working to help create 7,000  custom crafted stones out of black and white fondant. "Each one is different," said Emily, who said the best part of working on the Gingerbread Village is the team, "I call them my sisters," as most of this year's team is women.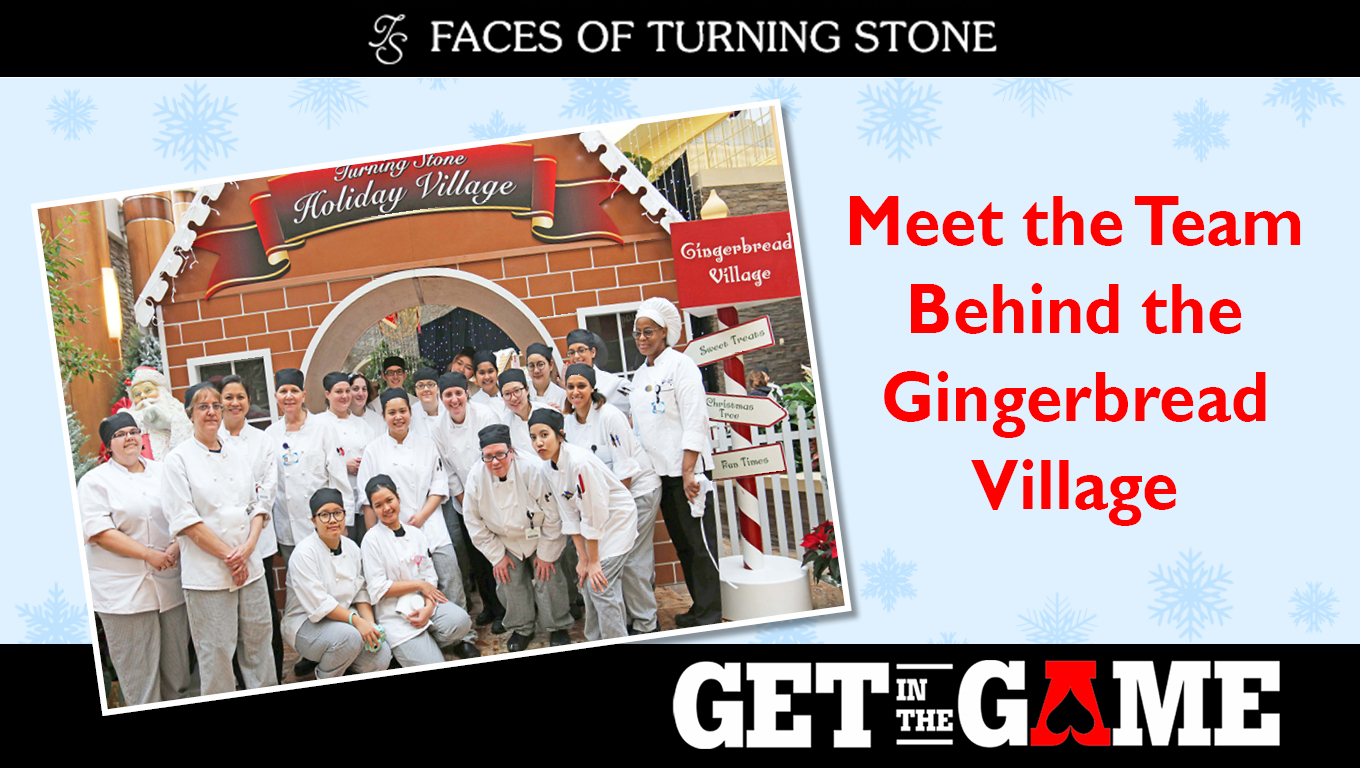 The resort's renowned Gingerbread Village has been recognized for the last several years by Forbes Travel Guide as one of the best gingerbread villages in the country.  It measures more than 70 feet in length and includes nine towering buildings, including a bakery, hotel, Tudor-style home, a church, a barn and a train depot with an actual moving train, as well as detailed landscaping and ice-skating rinks — all with intricate candy-crafted details and piping, that really needs to be seen in person to do it justice.

All edible, the village features 500 pounds of gingerbread dough, 2,045 pounds of icing and more than 750 pounds of candy.

"It's definitely an honor to be part of all of it, I think that's very exciting for all of us," said Assistant Pastry Chef Mallory Winters. "But I love seeing the team work together and come together and I think that they take a lot of pride in it."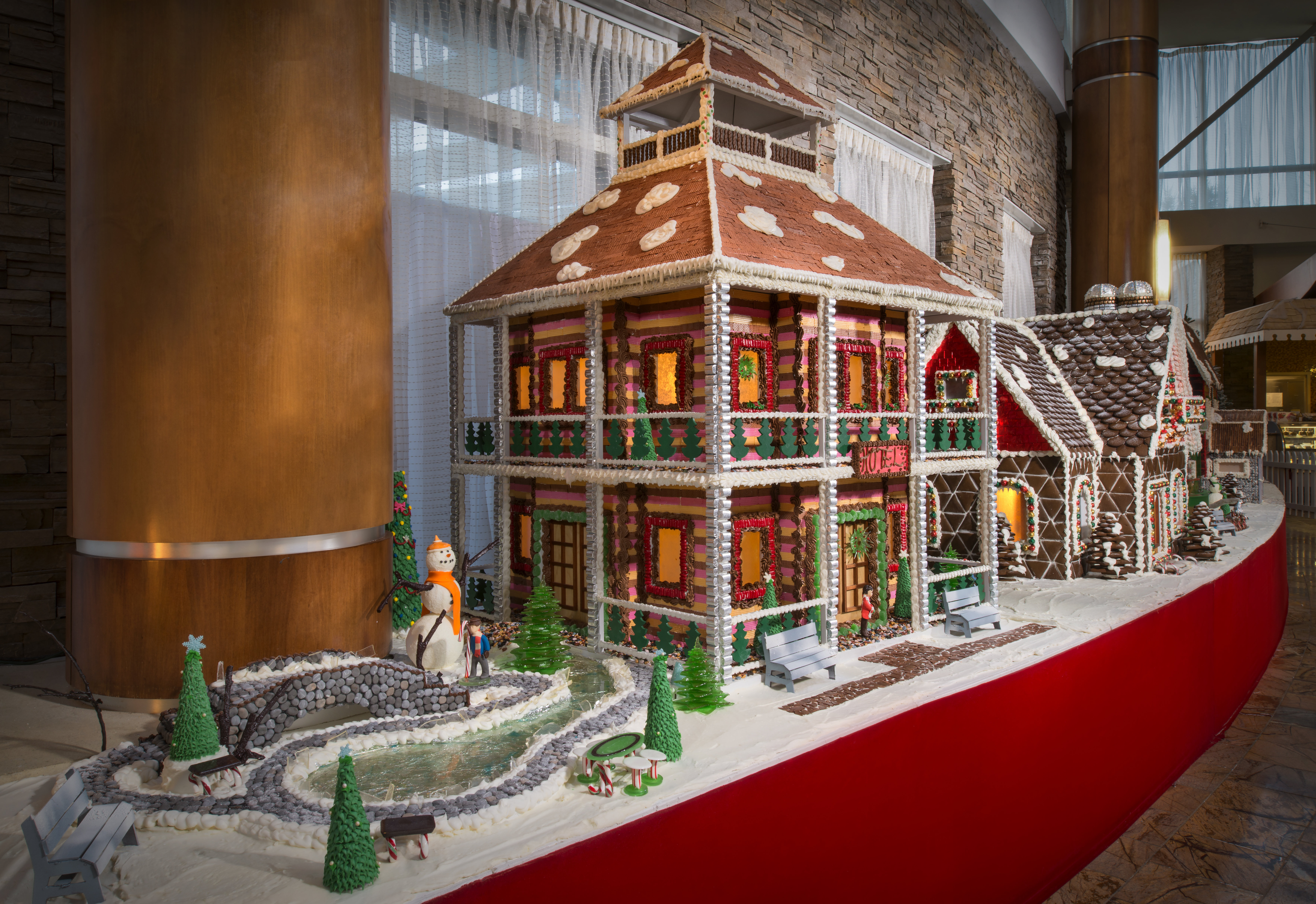 Planning and prepping for next year, well that starts just about the time the decorations come down in the New Year.

And each year  –  this merry masterpiece, stands grander than the previous, greeting locals and visitors with a sense of warmth and spirit of the giving season.
Seasons Greetings