Inside the former Oneida Heritage Sales and Rentals store in Sherrill, Alex Steeprock (Turtle Clan) is busy learning the ins and outs of lacrosse stick making. The store has turned into a workshop for woodworking and will now become Alex's classroom. His teacher is Ron Patterson (Wolf Clan), manager of the new Heritage store inside Turning Stone and one of Alex's former lacrosse coaches, who has over 25 years of experience in the process.
Learning this craft as Ron's lacrosse stick assistant is much more than a job for Alex. He's being trusted to hand down the knowledge and skill to the future generations. That is why he is excited to soak up as much information as he can.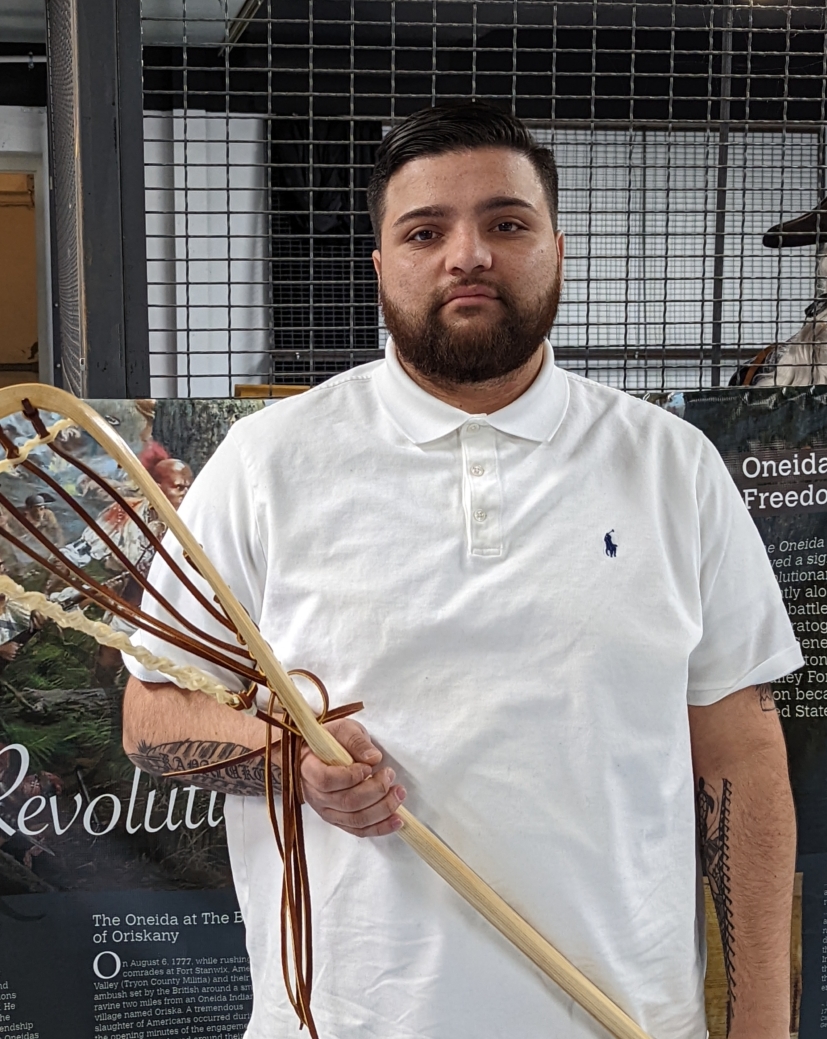 "It brings me back into my ways – into our ways," Alex said. "I was gone for a long time, but now I get to come back into the community and do this important work. We need to learn how to do it."
Prior to returning to Oneida homelands, Alex lived in the Syracuse area. He also used to work at the Nation as a greens keeper at Shenendoah Golf Course. Now 25 years old, Alex is ready to learn more about his culture.
The son of Shannon Steeprock (Turtle Clan) and grandson of Roxanne Webster (Turtle Clan), Alex has been a casual observer of other Haudenosaunee crafts like beadwork and lacrosse stick making before. But now he has the time to devote to learning and honing his skills.
"It's not the first time – just the first time having the patience to do it," he said in jest with a laugh. "It comes pretty naturally, though. Once you do it a few times and learn."
Alex and Ron are going over the many detailed steps involved in lacrosse stick making, but he was given the task to refurbish a stick first. He sanded it down to give it a finished look and is working on putting on the sidewall and netting.
"Whether it be lacrosse stick making, gestowas or baskets, snowshoes or leatherworking, we are going to teach him," Ron said. "It's not just a paycheck for him because what he learns now he's going to be able to take with him for a lifetime. It's part of my responsibility to pass it down to the younger generation."
Alex has carved before with Ron when he was younger. The bending, he said, has been tricky since the trees need to be in a specific condition so they don't snap. This year has been more difficult to get trees in good condition, but they hope to get freshly cut ones in the shop soon.
The mentorship of Ron has been instrumental for Alex. Ron was his lacrosse coach when he played at the box on the Territory – a place he'd always go with his friends nearly every day of the week. He eventually played for the Oneida Silver Hawks, and later, in Onondaga.
"I played lacrosse for Ron for a long time and I'd play everything," Alex said. "We didn't have many kids on our team so we'd play where we were needed, which ended up being everything."
Alex was always immersed in traditional Haudenosaunee and Oneida culture. He attends socials and has danced since he was a kid. It is part of who he is, and that makes his new job learning these significant crafts that much more meaningful.
He remembers dancing at the New York State Fair for years, which is something he may look to do again.
"I haven't danced in a long time, but I'm thinking about shaking off the rust here," he said with a smile.