DOING BUSINESS WITH THE ONEIDA INDIAN NATION
An Economic Development and Vendor Conference
For regional businesses and local stakeholders looking to work with the Oneida Indian Nation as it continues to develop new ways to deliver greater value to Nation members, guests and employees through its procurement process and economic development partnerships.
Join us to learn about:
Becoming a vendor of the Oneida Indian Nation
Navigating the Oneida Indian Nation's procurement process
Collaborating with the Oneida Indian Nation on real estate and economic development projects
Exploring business opportunities made possible by the Oneida Indian Nation
Partnering with the Nation on student placement in culinary and hospitality positions
Date: Friday, October 4, 2019
Time: 9:00 a.m. – 1:30 p.m.
Location: Mohawk Room at Turning Stone Resort Casino
Includes continental breakfast and networking lunch following the session
Attire:
Business Casual
Limited space is available. Please RSVP to Sarah Koral, Event Services Manager, with your name and email by Friday, September 27: phone 315.361.8191 or email sarah.koral@turningstone.com.
Join local businesses for this half-day conference on how to partner with the Oneida Indian Nation. The conference will provide local businesses valuable insight on how to become a vendor of the Oneida Indian Nation, work with the Oneida Indian Nation on new business development, engage in sponsorship relationships, and partner on strategic alliances. Attendees will have the opportunity to meet with individual procurement representatives from specific enterprise areas.
As our enterprises continue to expand, local businesses are an integral part of that growth – just as they have been for decades. The Oneida Indian Nation is committed to reinvestment in Central New York – in 2018 the Oneida Indian Nation paid $99 million to more than 1,000 vendors in Oneida, Madison and Onondaga counties, and added several new ventures as it worked to assure the health of the local economy.
To download an agenda for the conference CLICK HERE.
Oneida Nation Enterprises NYS Vendor Spending 2018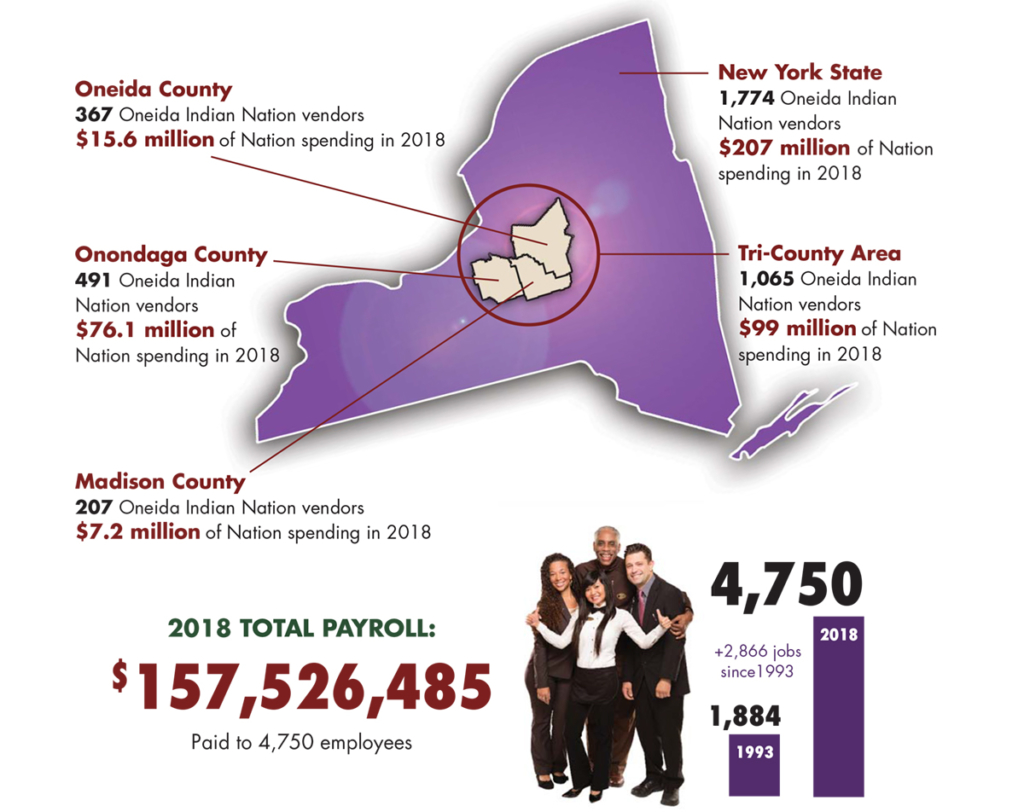 The Oneida Indian Nation and its enterprises spend $300 million with more than 3,500 vendors annually. The Oneida Nation Enterprises include:
Turning Stone Resort Casino
Yellow Brick Road Casino
Point Place Casino
The Preserve/Oneida Indian Nation Outfitters
Salmon Acres Lodge
Marion Manor Marina
Snug Harbour Marina
Mariner's Landing Marina
Maple Leaf Market
SavOn Gas & Convenience Stores
Turning Stone Car Care
Oneida Technical Solutions, LLC
Oneida Heritage Sales & Rentals
Warrior Archery
Procurement categories for Oneida Nation Enterprises include:
Food and Beverage
Facilities
IT
Property Maintenance
Wardrobe
Office Supplies
Hospitality
Marketing
Shipping and Logistics Services
Construction and Carpentry (Trades)
The production of this webpage was supported by Grant #90NA8321-02-00 from the Administration for Children and Families (ACF).  The Oneida Indian Nation is solely responsible for Its content, which does not necessarily represent the official views of ACF.