There are many faces of wellness, said Pat Catalano (Government Programs and Services Program Coordinator) during a luncheon recognizing nearly 50 employees that participated in the blue4u GP & S Employee Wellness Program.
To successfully complete the program and earn a $100 Turning Stone gift card incentive, employees had to earn a minimum of 45 points between September and May.
Points were assigned by completing a variety of wellness activities, including 90 minutes of weekly physical activity, attending health presentations and completing recommended preventative medical screenings and physicals.
Employee Power
Cole Perkins (Recreation Center Supervisor) organized team wellness challenges to demonstrate the importance of a strong support system to wellness success.
Natalie Belewich (Early Learning Center) took advantage of weekly telephone conferences with a weight management expert coach while Kim Richmond (Health Services) learned what healthy herbs and spices to use while cooking.
Bree Atkinson (Early Learning Center) was motivated to make doctor appointments, even getting new glasses. "The program made me more aware of the importance of being healthy," she said.
"Thank you for modeling these behaviors of employee wellness," said Vice President of Human Resources Dana Sovocool, who congratulated the employees for their dedication and commitment and said blue4you is a pilot program being considered for employees throughout Nation Enterprises.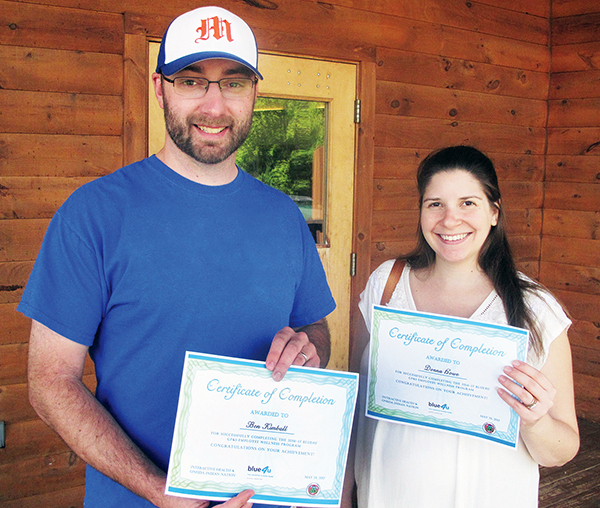 Above: Ben and Donna, from the Rec Center, clinched their blue4u completion certificates from the Rec Center
Top: Early Learning Center employees Natalie, Katie, Bree, Leslie and Brenda participated in the blue4u wellness program.