The Oneida Indian Nation has been an ally to America's armed forces for more than 250 years. This bond was forged during the Revolutionary War, when Oneidas fought alongside the colonists in battle against the British. As America's First Allies, Nation Members have served in the US military in every major conflict since the country's founding.
One of the largest employers in Central New York, the Oneida Indian Nation recognizes that individuals with military experience have a wide range of skills to offer, and it actively welcomes veterans to its workforce.
Recruitment programs include job fairs, training programs and marketing initiatives geared specifically toward those who have served. Within the organization, there are many opportunities that value the unique skills, obligations and training that veterans possess. These include flexible shifts and positions in security, communications, health services and government administration – among many others.
More than two dozen veterans and active-duty personnel work for the Nation and are represented in nearly every department. The Nation is proud of their military service and is honored that they have chosen to bring such valuable skills to its enterprises.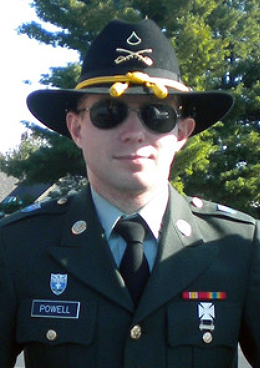 Robert Powell, who works at YBR Casino & Sports Book as a security supervisor, has been in the US Army National Guard since 2009. As active duty personnel, he appreciates the support he receives from his department to fulfill his National Guard obligations.
"I don't have to use my PTO days to make up lost time," he says. "My department and those in my management team find ways to fill the manpower voids when I'm away." This, he says, has provided him with a flexible work environment that grants him the availability he needs for training days.
He finds, too, that many of the soft skills he developed in the military have benefited him in his current position. "I think my [military] experience has helped me to deal rationally with stressful situations that occur while working in security. It has also helped with my taking responsibility for my actions, and it has strengthened my discipline."
US Air Force veteran Leah Marie Richmond works as a gallery assistant at Turning's Stone's Oneida Sky, which sells American Indian art, pottery and jewelry. She retired from the military in 2015 after nearly 30 years of service, ready to start a new chapter in her life.
As a Verona resident, a job at Turning Stone was a convenient choice, and she has been at the resort since 2017. The shop sits in a highly trafficked area near the gaming floor, and Leah loves the opportunity to meet the guests, especially fellow veterans, who stop in to browse.
"I always feel a special bond with other veterans. Being in the military for so long, you miss that sense of family, and I feel like I get a semblance of that here at the store. It's always nice to connect with the guests, and with people who served."
As for cross-over skills from military to civilian life, Leah believes that the work ethic she honed during her career in the Air Force has served her well at Turning Stone. "Management appreciates hard work," she says. "They like to see people who commit to the job, are disciplined and step up to their duties, but aren't afraid to ask questions."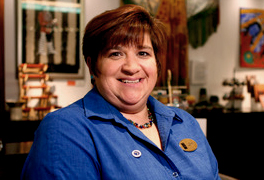 Leah feels valued for the skills she brings, and she appreciates the way that the Nation seeks to honor vets, from specific discounts to annual events. This includes the Nation's popular Veterans Recognition Ceremony and Breakfast, held annually at Turning Stone Resort Casino for local veterans and the many employees who have served.
"The breakfast is a wonderful tradition," she says. "I think it's especially nice for Vietnam veterans, who definitely did not get the recognition they deserved a long time ago."
The Oneida Indian Nation gives back to veterans through strategic collaborations as well. This includes a valued, long-time partnership with the Fort Drum Army Base near Watertown. Together, they host special events and organize a yearly Toys for Tots drive for local children in need.
The Nation also works with the charity Cell Phones for Soldiers, which provides communication services to active-duty military members and veterans. Turning Stone serves as a collection site where guests and employees can donate their gently used mobile devices.
As a world-class golf resort, Turning Stone is proud to host golf programs and fundraisers geared to assist veterans. It serves as a local chapter of the PGA Hope golf instruction program, which introduces the sport to disabled veterans.
And each spring, the local non-profit Clear Path for Veterans holds its annual fundraiser at the resort's Shenendoah golf course, with proceeds going to support the organization's services for Central New York veterans and their families.
Similarly, in May 2020, the Nation hosted its first-ever Patriot Golf Day, with all greens fees being donated to Folds of Honor, which provides scholarships to spouses and children of fallen and disabled service members.
On the fairway or on the payroll, the Oneida Indian Nation honors the veteran experience in countless ways. Build your career today with an organization dedicated to those who have served.