Holly Gibson's Bead Work Reconnects a Generation to Traditional Native Artistry
The Haudenosaunee regard bead working as a gift from the Creator to teach patience and humility. The traditional art form has been handed down for generations as a way to share stories and often takes on deep personal meanings. For Oneidas, this piece of culture continues to grow as the younger generation picks up the torch.
Holly Gibson (Wolf Clan) moved to Oneida from Syracuse when she was twenty years old to expose her children, and herself, to the Oneida culture. In 2006, she began taking classes in the Onyota'a:ká: Language Program and became an instructor in 2009. While learning her ancestral language, Holly also took a few classes on beading with a loom – a large wooden device that uses thread to weave beads together – and soon became enthralled with the process.
As a left-hander, it was difficult for Holly to get the hang of it. She would watch her instructor Wilma Cook and then do everything in reverse. As she became more proficient, she was able to bead just about anything – from shoes, barrettes and bracelets to large replica wampum belts.
With only seven years of beading experience, Holly has already become an expert at creating beautiful, handcrafted pieces. Her works of art are sold at Oneida Heritage Sales and Rentals, the Oneida Nation's store in Sherrill that sells Oneida jewelry, baskets, artwork, lacrosse sticks and American Indian pottery. Holly is a sales associate at the store, but the job provides so much for her personally as well.
When Oneida Heritage was set to open in June of last year, Holly saw an opportunity to learn more about her Oneida roots. She applied for a position, was hired at the store in September and has taken on numerous projects, mostly pertaining to Native crafts. Surrounded by so many period items, regalia and Native works of art, it was easy for Holly to become immersed in the culture.
"I still wanted to stay with the Nation in a cultural role," she said. "It's been amazing to learn from Ron [Patterson (Wolf Clan)] because he's so knowledgeable about the Oneida culture."
Holly recently completed a large replica Oneida belt for display at the offices at Dream Catcher Plaza. The Oneida belt acknowledges the addition of the Tuscaroras to the Haudenosaunee Confederacy and also the responsibility of the Oneidas to take in refugee nations under the Great Law of Peace. The belt is more than 6 feet long and took approximately 80 hours to complete. Holly plans to make two more of the same size for other departments at the Nation.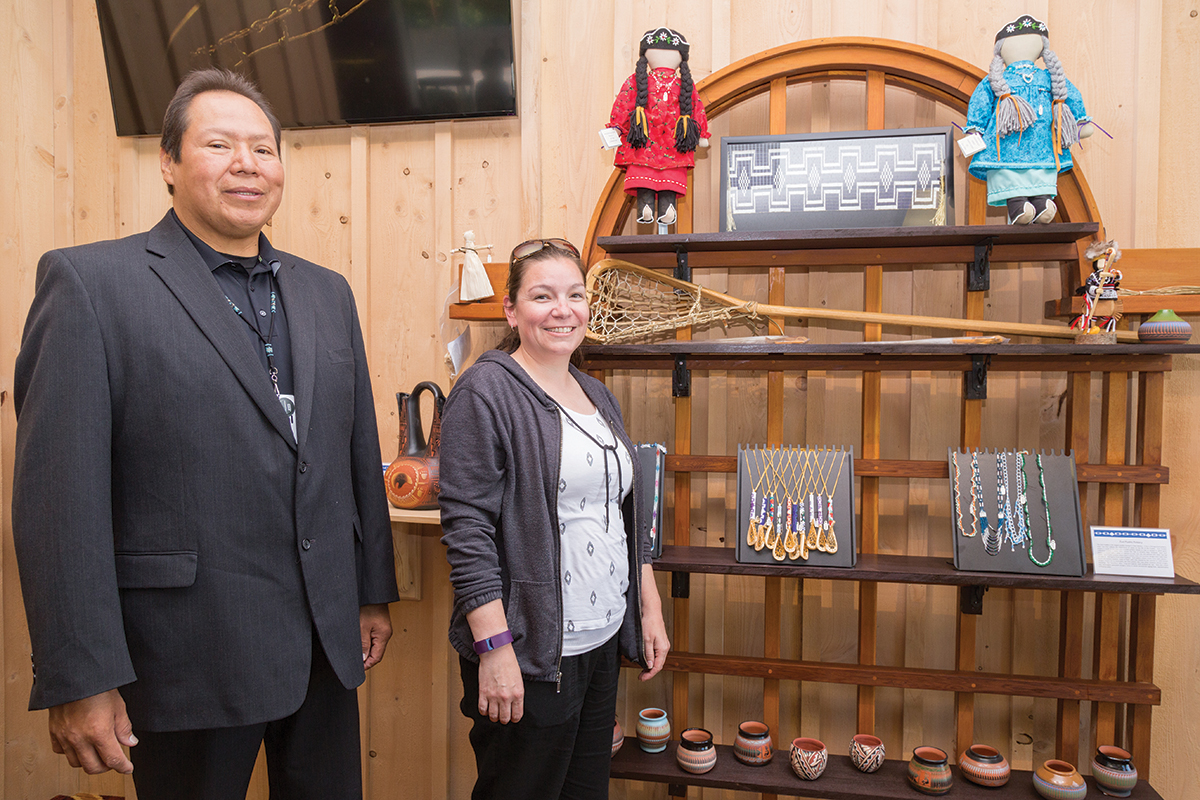 Ron Patterson and Holly Gibson pictured at the opening of Oneida Heritage Sales and Rentals in 2016.
In addition to displaying Native bead work, Oneida Heritage is also home to historic items such as, cannons, muskets, swords, authentic uniforms and military vehicles, all of which can be rented out for fairs or reenactments. Guests can also walk through a museum focused on the history of the Oneidas' role in the United States Armed Forces.
Ron Patterson, and his apprentice Alex Dickerman (Turtle Clan), will be participating in a Revolutionary War reenactment at Fort Stanwix National Monument in Rome throughout the summer using items from Oneida Heritage. Ron creates a lot of products for the store, too, including lacrosse sticks, rattles and water drums. He is also excited to open the indoor archery range, located in the back of the store. Ron and Holly hope to have the range open in early July to host girl scouts, boy scouts, the YMCA and eventually create leagues and hold tournaments.
Oneida Heritage continues to grow in popularity. Holly attends numerous local fairs and frequently takes items from the store on the road to get more exposure. With an increase in sales, Holly has to work quickly and diligently to replenish her stock. She has already sold over ten bracelets and four smaller replica Hiawatha Belts at the store.
Holly stays busy with her work at the store, but also with her embroidery business. She continues to bead at home, and enjoys sewing and making cornhusk dolls in her spare time.
"I love working here because it's not just one job," she said summing up her experience at Oneida Heritage. "Ron has all types of things going on so there's a lot I get to do. It takes a lot of dedication, but there's a lot of gratification as well."