Traditions are an important part of a society's cultural identity. Haudenosaunee culture relies on the youngest generations to continue the traditions of the past to ensure the culture lives on in the future.
Alex Dickerman (Turtle Clan) is working to preserve that culture for those next generations. From crafts and tools to bows and lacrosse sticks, he continues to expand his creative arsenal.
Alex has been working for the Oneida Indian Nation for a total of eight years and joined the staff at the Oneida Heritage Center when its sales and rentals store in Sherrill opened its doors in the summer of 2016. He worked as a dealer at nearby Turning Stone before that, but hoped to find an opportunity within the Nation's government programs and services to get more exposure to the culture of the Oneida Nation.
"I moved back from North Carolina and found out about the plans for Oneida Heritage," Alex said. "I jumped at the opportunity because it involved things I already love to do."
Traditional Haudenosaunee arts and craftsmanship were a big hit with Alex at a very young age. He attended a class twice a week, specifically for American Indians, to learn more about Native crafts such as beading and basket making. Since Alex always enjoyed working with his hands, he learned how to put things together and quickly developed the skills to create several types of arts, crafts, tools and toys.
Creativity, dexterity and patience are among the many skills needed to excel as a craftsman. Ron Patterson (Wolf Clan) tightened up those skills for Alex when he arrived at Oneida Heritage, though Alex says he likes to attempt everything first to try and figure it out as he goes.
"I knew how to do a lot of the crafts, but Ron taught me how to make the lacrosse sticks from scratch. When I was ten years old, he had a stick-making class," he said. "You have to bend the sticks at the right time and the wood has to cure. If you bend it too early, they can snap."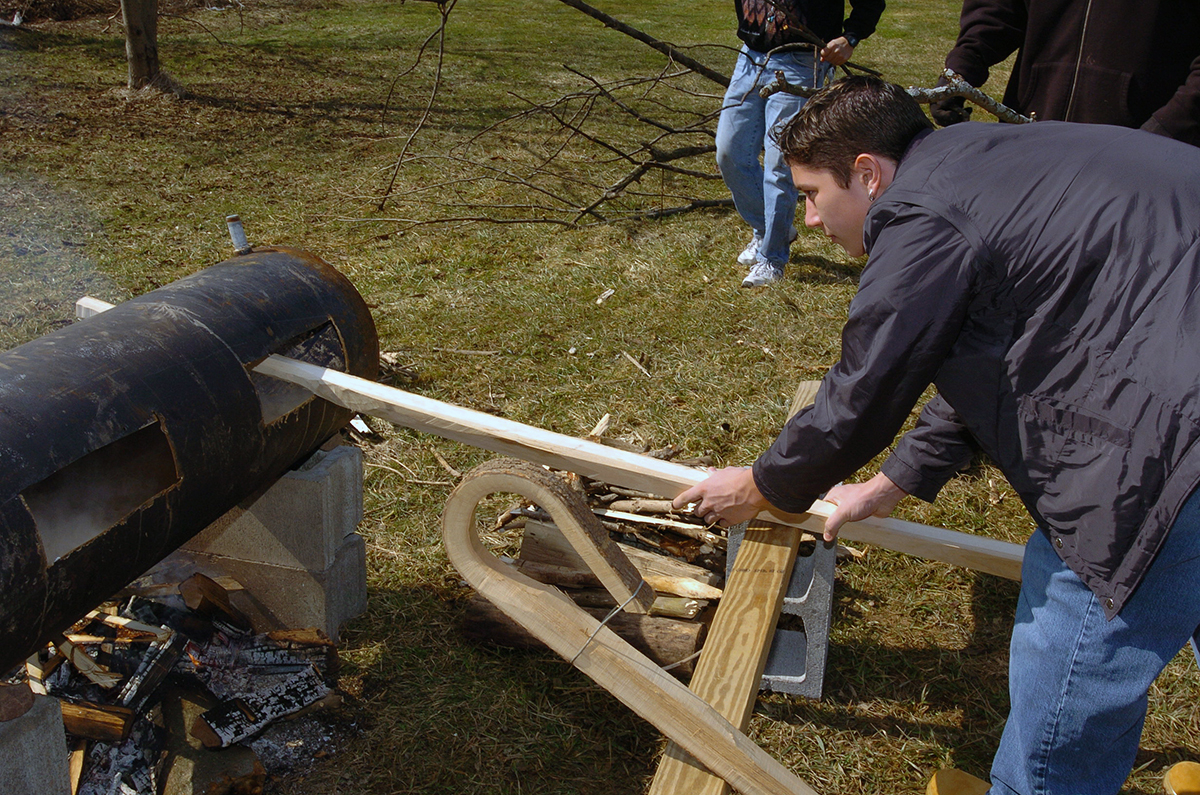 Alex Dickerman working on a lacrosse stick in 2006.
From cutting down the tree to netting the stick, Alex can complete the entire process from start to finish. Typically taking six months, the process of making a lacrosse stick is long, but Alex says it's very rewarding when you see the finished product and hold it in your hands.
Alex played lacrosse when he was a student at Stockbridge Valley Central School, and even today, tries to play when he can. He says he was also drawn to another traditional American Indian sport: archery.
"I liked [archery] a lot when I was in high school. Learning how to shoot came easily for me," he said. "So when Ron and Dale talked about building a range when the store opened, I thought it was a great idea. The archery market is huge and it can get big here. I painted the floors, put up the walls and shelves. It was a lot of hard work, but it really paid off."
Oneida Heritage was already considering constructing an indoor archery range in the back of its store when Alex came on board, but needed more labor-intensive assistance to see it through to completion. Though it took a lot of work to get the former warehouse up to par, Alex, Ron and Dale were able to make it a reality.
The 12-lane indoor range – now known as Warrior Archery – has already partnered with several local organizations, including the YMCA of the Greater Tri-Valley, to provide archery instruction classes and a place for other groups to practice. It opened officially in August of 2017. Education is a vital component of Warrior Archery; in addition to improving marksmanship skills, it has become a place to develop young minds.
Ron, who is also the manager of Warrior Archery, and Alex traveled to New York City for an intensive, all-day certification class to become USA-certified archery instructors for the center. They were given a large booklet filled with everything you'd want to know about archery and the class incorporated a lot of hands-on activities. They were awarded certificates after they passed the final exam, which are now proudly displayed at the range.
Alex also attended the George Chapman Archery School to get his technical certification. That class was another all-encompassing endeavor specifically geared toward the maintenance of compound bows. It included how to inspect and completely tear down, repair and rebuild a compound bow, how to replace string and cables, and how to properly reset cam timing. The school also goes over the latest tuning methods and the proper use of a bow press among many other technical aspects of compound bows
In addition to his technical and teaching certifications in archery, Alex incorporates his craftsmanship skills to carve bows and arrowheads. He's working on several projects for Warrior Archery that include drawing, engraving and carving his own designs
"I'm probably the youngest to actually have been taught many of these traditional trades from Ron and others," Alex says. "I hope I can teach others, for sure. There aren't a lot of people learning these trades so it's important to keep those traditions alive."