LATEST NEWS
(March, 2023) The Oneida Indian Nation is set to host a variety of Craft Fairs heading into the warmer weather showcasing traditional Oneida and Ameri [...]
On Tuesday, February 21, 2023, several Oneida Indian Nation Members gathered for a repatriation event at Cornell University in Ithaca. NY. The univers [...]
ONEIDA INDIAN NATION HAPPENINGS
Elders Craft Fair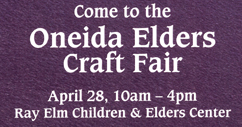 Oneida Elders Craft Fair
Friday, April 28, 2023 at the Ray Elm Children & Elders Center from 10am to 4pm. CLICK HERE for more information.
Heritage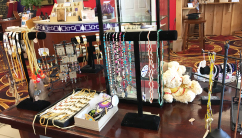 Heritage, the former Oneida Heritage Sales & Rentals store, has moved to its new location in the Turning Stone Resort Casino first floor retail hallway. The store is open seven days a week from 11am to 8pm. Read MORE.
 Shako:wi Cultural Center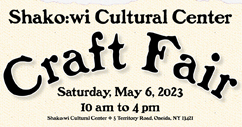 Saturday, May 6 from 10 am to 4 pm at Shako:wi Cultural Center. For more information, call: (315) 829-8801.
GP&S calendar activities are open to Oneida Indian Nation Members, Children of Enrolled Oneidas and Oneida Indian Nation Health Services clients.