LANGUAGE PROGRAM
Nation Members participate in intense language courses to ensure the survival of its indigenous language, Onyota'a:ká:, also part of the preschool curriculum at the Oneida Indian Nation Early Learning Center.
Working together to develop the program, the Oneida Indian Nation Language Department and Madison-Oneida BOCES (MOBOCES) want to ensure the implementation of best practices when teaching the traditional language at the Early Learning Center. Other unique tools created to reach learners of all skill levels include grocery lists and greeting cards in the Oneida language, as well as the language app – Oneida Basic – available for free in the Apple App Store or Google Play.
The Oneida Indian Nation Language Program is located in the former Health Services building on Territory Road, Oneida, NY 13421. Contact (315) 829-8206.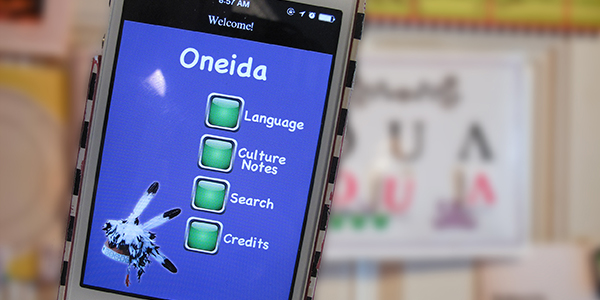 Onyota'a:ká: (Oneida) Basic App
The Onyota'a:ká: language iPhone and iPad app, titled Oneida Basic, is available for free at the iTunes store. Thornton Media developed the app. "They go to tribes all over the world and try to save and archive their languages," said Randy Phillips, education assistant manager for the Nation's Education Department. "They asked us to come up with 500 words and phrases in Oneida for them to incorporate into the app."
Enhancing the experience are cultural components, including seven songs – three for children and four Haudenosaunee social dance songs.
Onyota'a:ká Calendar Phrases