THE ONEIDA INDIAN NATION'S COMMITMENT TO ENVIRONMENTAL SUSTAINABILITY
The Oneida Indian Nation is looking to the future and thinking about how our actions today will affect the lives of generations to come. This commitment to future generations is a long-standing principle of ours, and it is no better reflected than in the way we consider our impact on the environment.
It is important that large companies such as ours embrace the changes required for a sustainable future, and that we provide leadership in this area to enact practices with lasting results. In the time that Turning Stone Enterprises has initiated its eco-friendly policies, we have achieved measurable results in reducing waste, energy use and fossil fuel dependency.
These efforts are not only good for our enterprises, but for future generations as well.
Oneida Indian Nation to Partner with Tesla to Develop the First Tesla Electric Vehicle Showroom in Upstate New York
The Oneida Indian Nation is eliminating obstacles to electric vehicle (EV) ownership in Upstate New York with its new partnership with Tesla to develop the automaker's first showroom in the region. The Tesla showroom will be located on Nation lands just off Exit 34 on the New York State Thruway and is expected to open by 2025 along with a new Maple Leaf Market and retail plaza. Made possible by the terms of the 2013 Settlement Agreement, this exclusive partnership with Tesla continues the Nation's commitment to environmental stewardship, the diversification of its enterprises and economic development to support the success of the region and the Oneida people. 
Using Drones to Monitor and Protect Nation Land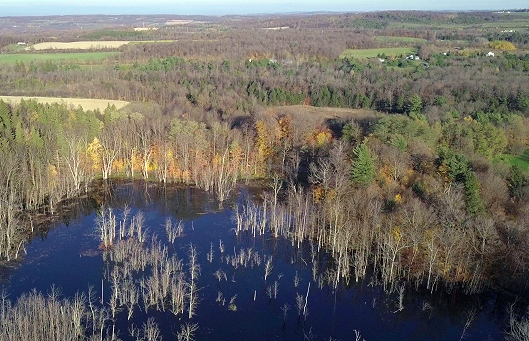 The Oneida Indian Nation recently partnered with NUAIR, a leader in aeronautical research and drone operations, to monitor and protect the Nation's environmental resources. NUAIR (Northeast UAS Airspace Integration Research) is a Syracuse-based organization that provides expertise in the operation and management of unmanned aircraft systems (UAS) — commonly known as drones.
NUAIR's aviation professionals will partner with the Nation to build the drone program, specifically on strategic planning, evaluation and continued monitoring. By utilizing NUAIR's cutting-edge technology and expertise, the Nation will have the ability to collect and assess data about its lands and environmental resources, particularly from isolated or hard-to-reach areas.
Energy-Efficiency Programs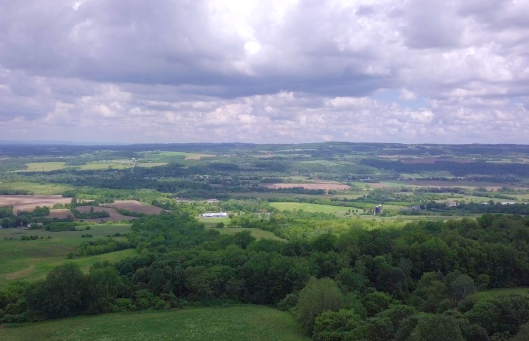 In 2019, the Nation began work on an energy project — partially funded by a US Department of Energy grant — to install energy-efficiency upgrades throughout 27 Nation-owned buildings. These changes include upgrades to LED technology for interior and exterior lighting, remote HVAC management and improvements to hot-water heaters and refrigeration. Through these efforts, the Nation expects to substantially reduce its annual greenhouse gas emissions.
Additionally, a number of efficiency measures are already in place: Turning Stone currently has four car-charging stations that guests with electric vehicles may use, and the resort utilizes lights with photo sensors that adjust to natural daylight to conserve electricity. Meanwhile, special roof-coating materials are used throughout Turning Stone to extend the roof's life and keep the materials cooler on hot days, therefore reducing the amount of energy required from the air-conditioning systems.
Upgrading Turning Stone's Central Utility Plant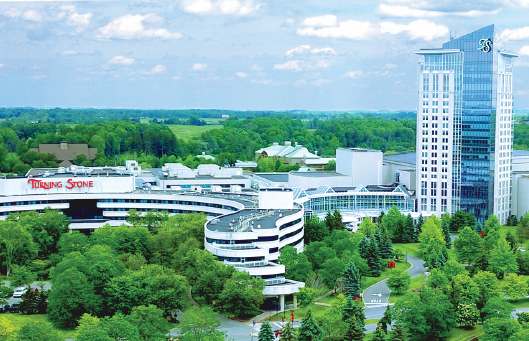 In 2019, the Nation completed an upgrade to its Central Utility Plant (CUP), which runs on natural gas and supplies energy to the Turning Stone campus. This state-of-the-art generator captures unused heat and steam and recycles it to generate steam energy, which provides clean power throughout the entire resort. It is designed to provide more than two-thirds of the electric, heating and cooling needs of the resort, reduce demands on the region's power grid and increase the reliability of the power supply for the resort.
Clean the World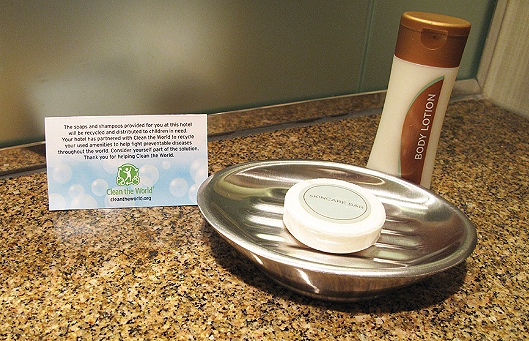 The Oneida Indian Nation works closely with the nonprofit Clean the World, whose innovative waste-reduction program enables hotels to recycle leftover soaps and shampoos. These products are then distributed to impoverished communities around the world, helping to prevent millions of hygiene-related illnesses and deaths every year.
The Nation's program with Clean the World has collected more than 36,600 pounds of used hygiene products, which have then been recycled to create more than 195,000 bars of soap for communities in need.
Wáht

a'

 Maple Farm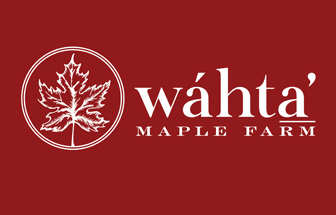 The Oneida Indian Nation's newest business enterprise, Wáhta' Maple Farm, is located on Oneida Indian Nation lands and creates premium-grade, certified-organic syrup in a variety of flavor profiles with a sustainable approach to sugaring that minimizes environmental impact. It also expands understanding of the rich cultural and historical value of maple trees and sap among the Oneida people.
Wáhta' Maple Farm creates a traceable product that is grown, processed, and produced on the Nation's ancestral homelands using small-batch production methods to achieve the highest standard of quality. To support this new enterprise, the Nation is expanding its existing maple stock by planting hundreds of new trees on its ancestral homelands.
Other environmental initiatives include:
Recycling More Than Just Bottles and Cans
Turning Stone recycles an average of 310 pounds of shredded paper every day, and recycles more than 20,000 gallons a year of fat from restaurant fryer oil to produce biofuel. The culinary team now sources select products that are in recyclable plastic pouches rather than large unrecyclable steel cans. Because of the Nation's comprehensive recycling program, nearly 25,000 pounds of linens, more than 900,000 plastic and glass bottles, and 57 tons of paper are kept out of landfills every year. The Nation also no longer distributes plastic straws, unless requested by guests, saving the plastic from landfills.
Water-Based Cleaning Solutions
The Nation recently began working with Orbio Technologies to introduce water-based solutions to clean all public areas throughout Turning Stone. This technology enables cleaning equipment to achieve quality results while eliminating the hazards and environmental footprint of chemical cleaning products.
Eco-Friendly Golf Courses
Turning Stone's Shenendoah, Kaluhyat and Atunyote golf courses are officially certified Signature Sanctuaries by Audubon International for demonstrating continued commitment to the environment. These courses meet extensive standards for protecting water quality and conserving natural resources and were designed to safeguard existing wetlands, native plant life and animal habitats.
The Oneida Indian Nation uses water from its drainage systems and reclaimed city water to irrigate Turning Stone's award-winning grounds and golf courses.
Reducing the Impact of Invasive Species
During the summer of 2019, the Nation conducted activities to reduce the presence and impact of two types of aquatic invasive species located on Nation lands within the Great Lakes Basin. These activities consisted of physical removal of water chestnut from Oneida Indian Nation marina locations at Oneida Lake and the destruction of giant hogweed along Sconondoa Creek.