In the fall of 2018, Colgate University's Longyear Museum of Anthropology featured a unique exhibit to examine the issues of cultural identity and appropriation that affect indigenous people all over the world. The exhibit was entitled (not a costume) to signify the intrinsic and personal value of all of the pieces that were submitted.
The university's indigenous community members loaned several items of clothing and jewelry, from traditional handmade regalia to contemporary commercial t-shirts, to display how Native fashion is deeply personal and to share the stories each article of clothing represents. Kandice Watson (Wolf Clan) and Lisa Latocha (Wolf Clan) were two Nation Members that submitted clothing for the exhibit.
Kandice, a Colgate alumna, said she knew exactly what piece she'd submit for (not a costume) when she was asked to participate. Her grandmother, Mamie Brown, crafted a one-of-a-kind regalia for Kandice when she was announced as the Oneida princess during the New York State Fair in the summer of 1985. That piece remains a huge part of her life.
The skirt and leggings were made of wool, a traditional material for customary regalia. Mamie also used lace for the bottoms of each and made two dresses, one blue and one pink with a flower print, to match. She also showed Kandice how to bead around the edges of the dress.
"We want to reiterate that these are not costumes," Kandice said. "They have meaning for us and my regalia speaks directly to my identity."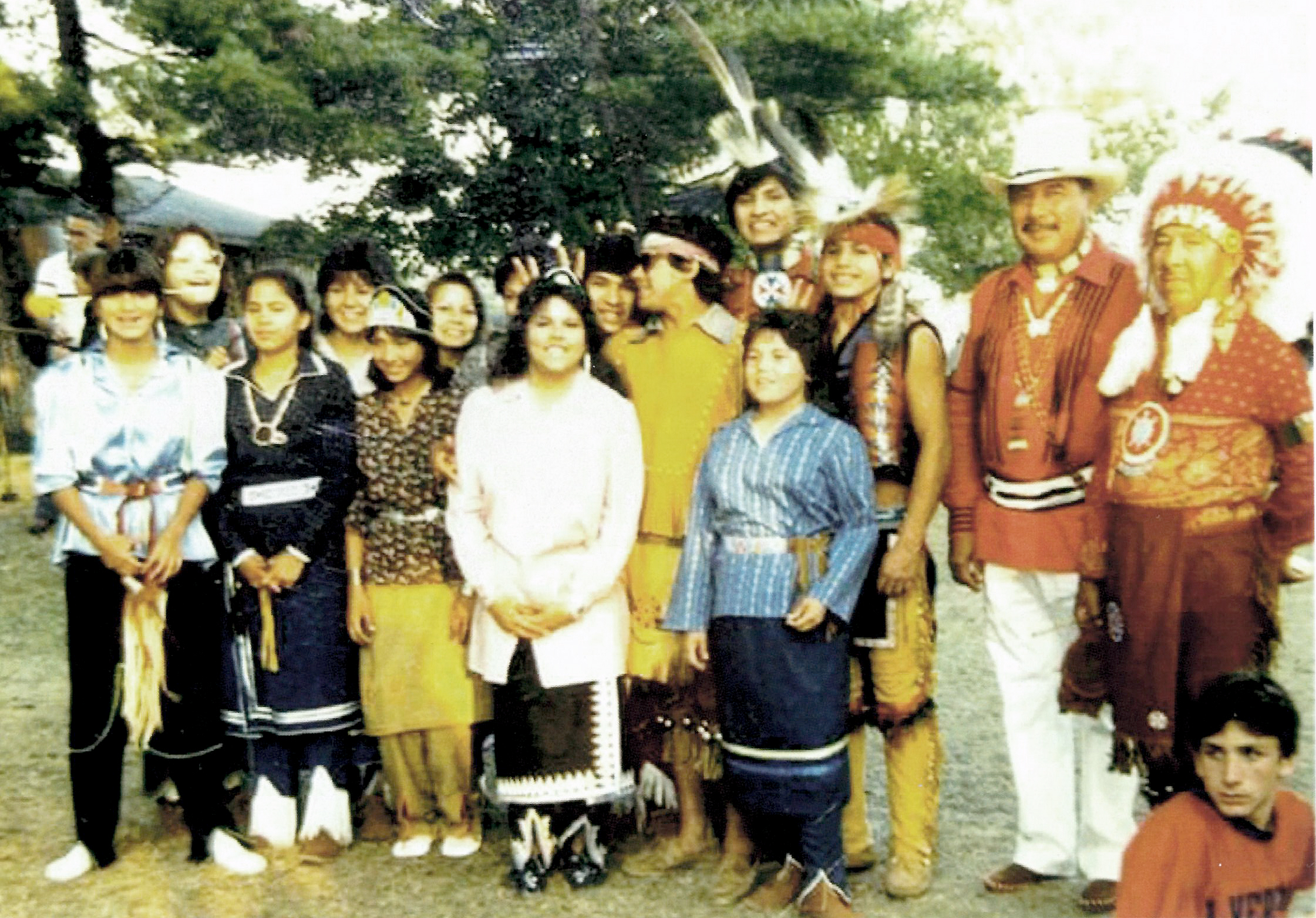 Lisa Latocha, far left, and Kandice Watson, fourth from left, at the Six Nation's Agricultural Society Indian Village at the New York State Fair in 1985. Photo: Liz Williams.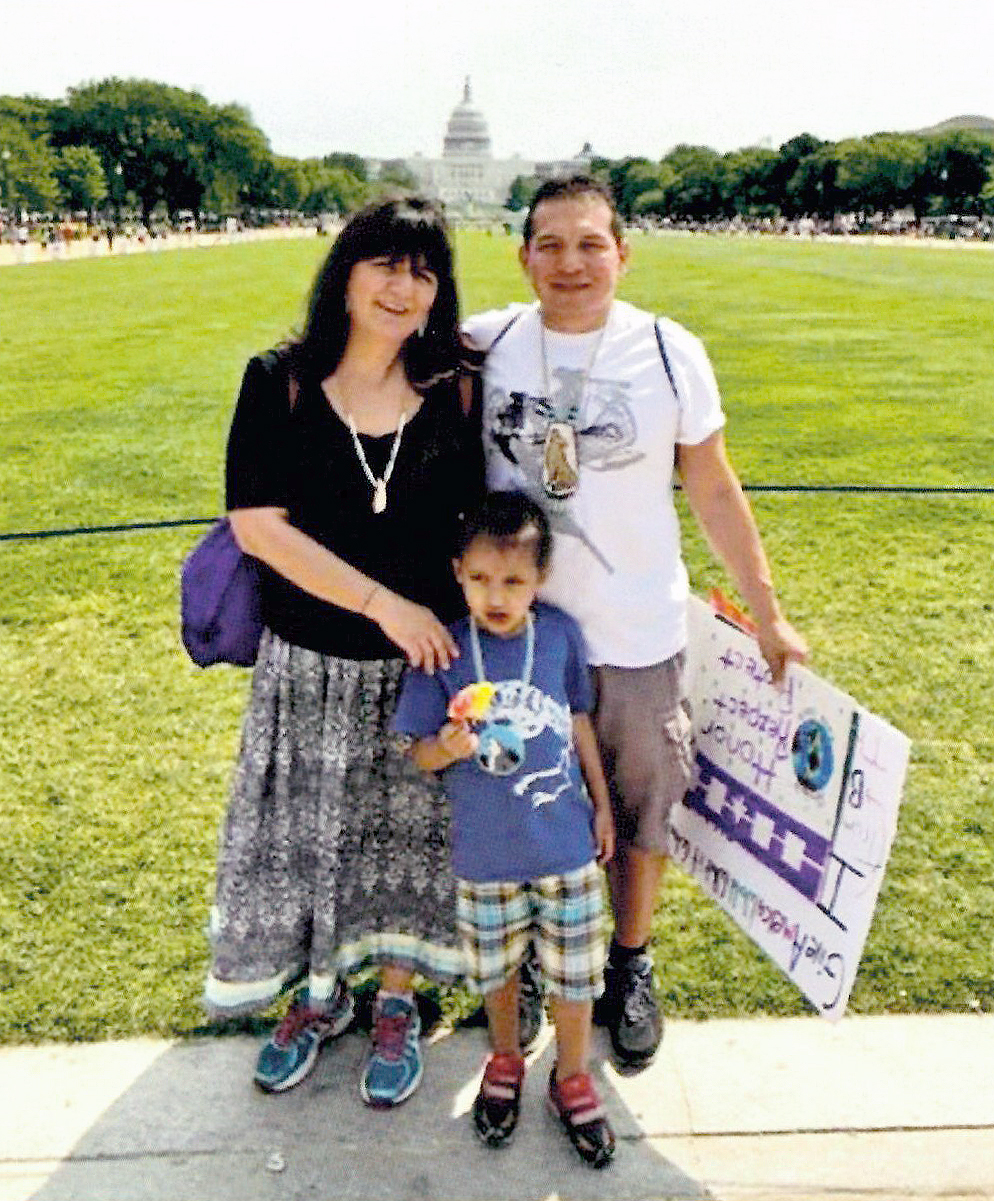 Lisa Latocha, Carl Jacobs and son Cavan at the Women's March in Washington, DC, January 25, 2017.
Lisa Latocha, now an assistant at the Longyear Museum, submitted a ribbon skirt and several cornhusk dolls for the exhibit. She says the ribbon skirt is a special piece of clothing used for ceremonies and powwows, and that she crafted the one at the exhibit for the Women's March in Washington, D.C. The skirt features yellow ribbon to symbolize sunshine and blue ribbon for the sky.
"I want people to know who I represent," Lisa said. "It's the first ribbon skirt I made and I wear it when I attend protests and marches. I went to rallies with my mom ever since when I was a little girl…it's something you were told to do when you see injustice."
When Lisa returns home, she knows her work is not done. She continues to attend rallies in central New York to fight for what she believes in. Her young son enjoys going with her, too, and even attended the climate rally in D.C. to speak for the trees.
Lisa also contributes to the new Haudenosaunee women's magazine Rematriation as an editor and communications strategist. The magazine is founded by Nation Member Michelle Schenandoah (Wolf Clan) and it officially launches on March 30th with a red carpet event at SKY Armory in Syracuse. It's a partner of the Seven Dancers Coalition and offers a platform for Haudenosaunee women to share their stories.
John Logan's (Wolf Clan) wife, Jackie Old Coyote Logan (Apsáalooke) also participated in the exhibit.
Raising awareness of American Indian cultural identity is a critical step toward ending the use of traditional regalia as costumes. The appropriation of stereotypes to entire groups of people is harmful in any practice, and museums like the Longyear Museum at Colgate University play an important role in reversing that trend in popular culture.