Jessica Jackson (Bear Clan) is often the first face you'll see when you walk into the Executive Office at Turning Stone Resort Casino. She has been the executive receptionist for the past eleven years, including five years assisting Wolf Clan Councilmember Chuck Fougnier with donation requests for the Oneida Indian Nation Foundation. The job has been a great fit for her and she's proud to be able to contribute to the Nation's operations.
"I moved here in 2010 when my mom moved back and so my kids could be a part of the community on our homelands," Jess said. "I was able to get this job when we moved and I love where I'm at."
Jessica grew up on the Seneca Reservation's Allegany Territory. Her mother, Barbara Sayers, and late grandmother, Sheila Sayers (both Bear Clan), had moved interchangeably between Seneca and Oneida.
When Barb moved to the area to become a dealer at Turning Stone, Jessica thought it was time to move, too. Barb now works at a Pennsylvania casino. Jessica's younger brother, Alden Dowdy (Bear Clan), also moved to the Oneida area around the same time and has worked at Walmart for the last six years.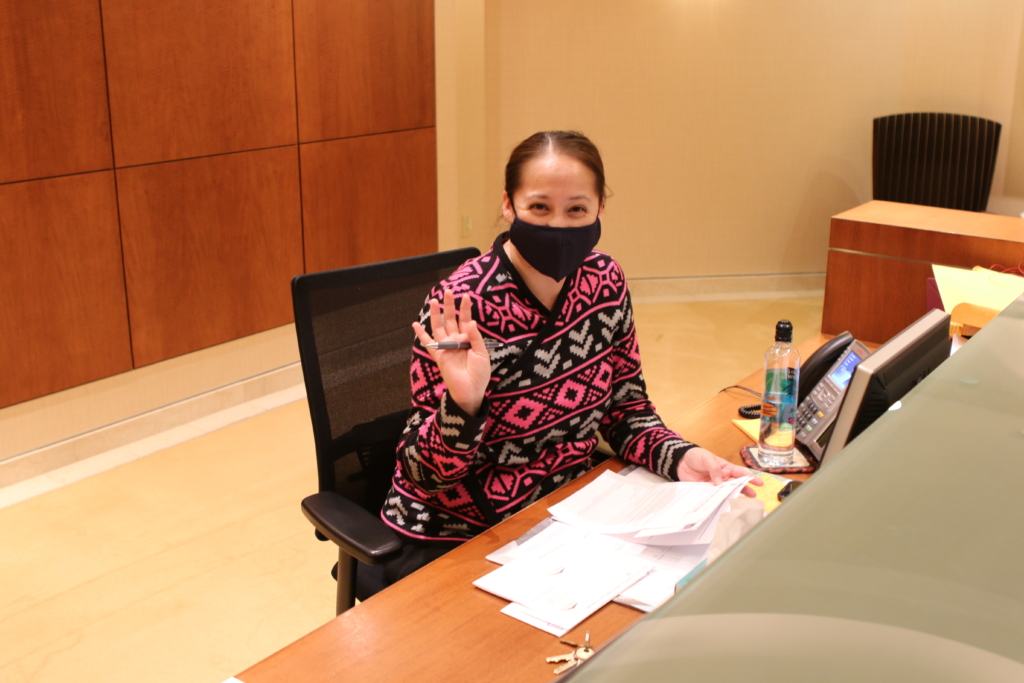 Jessica at her desk in the Turning Stone Resort Casino Executive Office
Jessica's husband, Corry Jackson, has worked at Turning Stone as a poker room supervisor for eleven years as well. When they moved here, they had three children: Stoney, Joceyln and Jordana. They've since welcomed seven-year-old Rezzy and now reside in Oneida Castle. Her children have enjoyed many of the programs offered by the Oneida Indian Nation's Recreation Department for youth development, too.
"They're looking forward to participating in the youth programs again," she said. "They love to be active and they've missed being able to be with friends during the pandemic."
The pandemic provided a lot of time for Jessica to work on her beading projects. She was furloughed along with a majority of Nation employees. With her new found free time, she worked on trying new techniques and building up her own inventory.
She credits her mother and grandmother with getting her started with beading at the age of five; an especially young age for a craft that requires a lot of patience. It's been a family tradition for generations. She started with simple necklaces with unused beads from her mom's projects, but once she turned 8 or 9, Jess was able to do more advanced work.
"All my daughters pretty much know how to bead, except the raised beadwork," she said. "Getting the patience part down is key for them."
The advanced beading involves smaller beads, raised beadwork and complex designs for specific projects. Patience definitely becomes a virtue.
"I enjoyed it during the pandemic when we were stuck at home, because if I wasn't doing my job I'd definitely be beading all the time," she said with a quiet laugh. "That would be my job."
Beadwork has advanced over the years and each artist can add their own personal touch to really make it their own. Jessica has been able to add a lot to her repertoire over the years and always tries to look for new things to include – whether it be a technique, style or product.
"I like that I can look at something, even if it's an older technique, and pick it up and modernize it," she said. "I do regalia too, but those take forever. I'm still learning so it can get a little frustrating still."
Jessica's family has been a mainstay at Erie County Fair for over 35 years. As vendors, they like to go to connect with other family and friends as well as make a few sales.
Her grandmother, Sheila, taught her to always have a variety at the fairs. It can be hard to sell the expensive pieces, but if you devote time to the smaller projects, the payoff can be just as good. The fairs provide a great atmosphere and Jessica still likes going each year, especially the Great New York State Fair.
"I love going to the State Fair," Jessica said with anticipation for the event in late August. "You get to see all of your friends from the different Nations. I used to dance, too, but I'm retired now."
With the Fair extending to 18 days this year, Jessica is a little worried about potential fair fatigue since she goes every day. She's gone back and forth with friends, sharing a booth, but has recently held an Oneida spot in the Six Nations building for the last seven years.
Events like the Fair are a great way for the community to come together. It's something Jessica values, which made the transition as Oneida Indian Nation Foundation chairman Chuck Fougnier's receptionist much easier as well. The foundation works to promote agencies that aid the community at large.
"It's been a great experience so far," Jessica said proudly. "I really like where I'm at."