The Haudenosaunee Nationals lacrosse program is building for a bright future. Developmental teams for ages 10-18 are growing, which means the Creator's game is being taught and learned for generations to come. As Nation Member Jo-Ann Trice (Turtle Clan) headed to the women's World Championships in Maryland this July, she was proud to see a bright future ahead for her daughter, Allyson Trice, as well.
Ally played defense on the women's team, and Jo-Ann couldn't be more proud.
"Having grown up in the West Genesee School District, lacrosse was always such a big part of the community," Jo-Ann said. "So she really took to it and excelled at it. It was a nice outlet to stay active, be healthy and ultimately gave her the opportunity to play in college. I'm so proud of what she has accomplished."
Ally started playing lacrosse in the third grade when Jo-Ann signed her up for summer camp. She stayed with it throughout grade school and eventually earned a scholarship offer to play at Syracuse University in 2017. Jalyn Jimerson (Onondaga) was also on the team and quickly became a close friend of Ally's. It was actually Jalyn's mother, Claudia, who encouraged Ally to try out for the Haudenosaunee Nationals.
"Most of us played in college so we were finishing up our seasons in May," Ally said. "It was a unique experience having not played together all the time, but I was amazed how quickly we found our chemistry."
Training camp for the World Championships began in the summer of 2021. There was only one other camp held in the winter to determine who would make the team and head coach Elizabeth Bevell, who also coaches the Le Moyne College women's team, released the full roster in late February of 2022. In addition to Jalyn, Lois Garlow (Cattaraugus Seneca), another friend of Ally's who played at Niagara University, also made the team.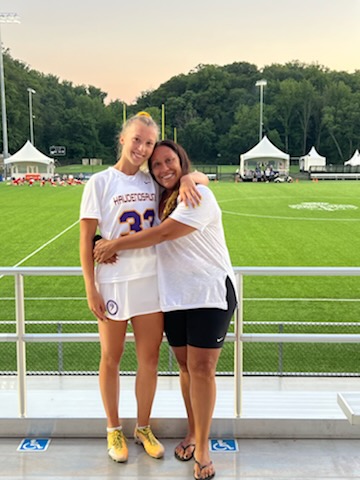 "I was humbled and honored to play on the Haudenosaunee Nationals team," Ally said. "Being on the team helped me find my love for lacrosse again because that can get lost on the collegiate level. I could go back to the roots of why I started playing in the first place."
At Syracuse, Ally attended the Newhouse School of Public Communications to study public relations and then earned her master's degree in marketing science at the University of Pittsburgh. She currently works remotely for a start-up company in the sustainability industry and is an assistant coach under Coach Bevell at Le Moyne.
"Being a student athlete isn't easy. It's a big time commitment trying to juggle school, athletics and having fun at the same time," Ally explained. "But overall, you become a better person, you meet a million great people. You make great relationships and you learn from mistakes. Those are lessons that you take with you into the real world."
The World Championships took place during the first two weeks in July. Having had that experience playing competitively, Ally felt confident the Haudenosaunee team would be a tough opponent in the tournament. After group play between the 30 participating nations that determined the 16-team tournament field, the Nationals earned the 12-seed, drawing the 5-seed, Scotland. A large underdog in the first-round game, the Haudenosaunee beat Scotland in a closely contested match, 11-9, led by Miya Scanlan's five goals and Paige Crandall's nine saves in net. The win put the Nationals into the quarterfinals for only the second time ever, and the first time since 2013.
Their next opponent would be the 4-seed, Australia, the two-time former world champions. Unfortunately, the Nationals couldn't get their offense going and fell to Australia, 17-3. Despite the tough result, both Ally and Jo-Ann thought the experience was a once-in-a-lifetime opportunity.
"It was just a wonderful experience for her and it was amazing for me to watch her play at the highest level," Jo-Ann said. "A lot of hard work went into it and it was great to see the Haudenosaunee recognized on the world stage."
Now, Ally looks forward to building on their success. She was recently named to the women's Super-Sixes team that will compete in Oshawa, Ontario against England and Canada this fall. Under this format, the teams play six-on-six with goalies initiating play after goals are scored and a 30-second shot clock. The games in Oshawa provide an opportunity for Ally to gain more experience and for the Nationals to build a deeper roster of players.
The administration that puts the teams together is excited to see what the future holds for the Haudenosaunee Nationals. The board of directors is working to get the Haudenosaunee qualified for the upcoming Los Angeles Olympic Games in 2028.
Between now and then, it is expected that some version of lacrosse will be added as an Olympic sport. The International Olympic Committee granted World Lacrosse full recognition in July of 2021, a significant milestone that moved it closer to becoming an Olympic sport once again. The last time lacrosse was played at the Olympics was in 1908.
Ally said it is great to see other nations coming forward on behalf of the Haudenosaunee to advocate for their inclusion in international competitions. Her experience this past summer also gave her new insights about her culture that she never had before.
"I met a lot of other girls, some that I still stay in contact with, so that was really exciting for me," she said. "Not living on a reservation myself, it was really eye-opening to hear the first-hand experiences of so many about their hardships growing up."
Lacrosse was intended to be a medicine game for the Haudenosaunee. It was a gift from the Creator. Ensuring those that play the game know the true origins of the sport is important not only to Ally, but to American Indians everywhere.
"I just think the more awareness people have about our culture and the origin of thesport, we get thatcredibilityback," Ally said. "Understandingthe historicalhardships that initially took that from us is important because inclusioniseverything."
The game also builds character and instills valuable life skills in those who play. One of those values is the importance of working hard and maintaining a good mind.
"When my children were growing up, they saw the hard work and dedication that I was putting into going to school," Jo-Ann said. "It instilled in them those values that if they work hard, they can achieve what they want to achieve."
While Ally's and Jo-Ann's championship experience was made possible by a shared love of lacrosse, Jo-Ann believes the Oneida Indian Nation's education program played an important role as well. The Nation's support for education helped her teach Ally the importance of dedication and hard work and made it possible for her daughter to take advantage of other opportunities she may not have experienced otherwise – like participating on the Haudenosaunee Nationals team.
"I'm very thankful to the Nation for giving me the opportunity to get my master's and my doctorate," Jo-Ann said. "And I'm happy my children saw that and the value of hard work stays in their mind."