Oneida Indian Nation Members are part of a thriving community that runs far beyond the Oneida homelands in Upstate New York. Gerald Bush III (Turtle Clan) has lived most of his life in New Mexico, but remains connected to his roots to the homelands and is grateful for the opportunities the Oneida Indian Nation has provided him. The Nation's Scholarship Program presented him an opportunity to not only go to college, but set his sights on something bigger – a chance to give back and impact the next generation.
The Scholarship Program enables Nation Member students to go to college, graduate school or vocational/trade schools – in addition to qualifying certificate programs – so they can avoid many of the financial stresses of higher education and focus on their studies. This popular program has been a staple of the Nation's Education Department for over three decades.
Gerald has taken his education seriously for a long time, and it has put him on a path toward success. He recently graduated from Fort Lewis College in Durango, Colorado – a public school with a Native American population of 41%. With over 177 tribal nations represented, Gerald thought it was the best place to spend four years learning more about himself and his educational interests. Coming from Albuquerque, New Mexico, he was excited to move to a new state and meet other like-minded people.
"Fort Lewis College is actually an accredited Native American-serving institution, and they provide a tuition waiver for Native American students," Gerald said. "So that was super helpful to go there."
Julie Bush (Turtle Clan), Gerald's mother, has been a constant voice of encouragement. His grandmother, Joy Chrisjohn (Turtle Clan), and grandfather, Steven Chrisjohn Sr. (Wolf Clan), are also tremendous supporters of his studies, which helped guide him through the process of applying to college.
"My parents have always been there – 100% behind me," he said. "They really helped propel me in this direction, and I'm really grateful for everything they've done."
Gerald officially walked the stage to receive his bachelor's degree in cellular and molecular biology on May 14. He said it was quite a journey figuring out what he wanted to study and if his passion for it would follow.
"Originally, when I first got to Fort Lewis, I was a little unsure of what I wanted to go into," Gerald said. "And then I had to take an intro course to biology for non-majors where I met a great professor, and I really connected with the material. She introduced me to my current mentor, Dr. Steven Fenster."
Dr. Fenster was working on a research project at the time and asked Gerald to assist.
"I was ecstatic," Gerald said.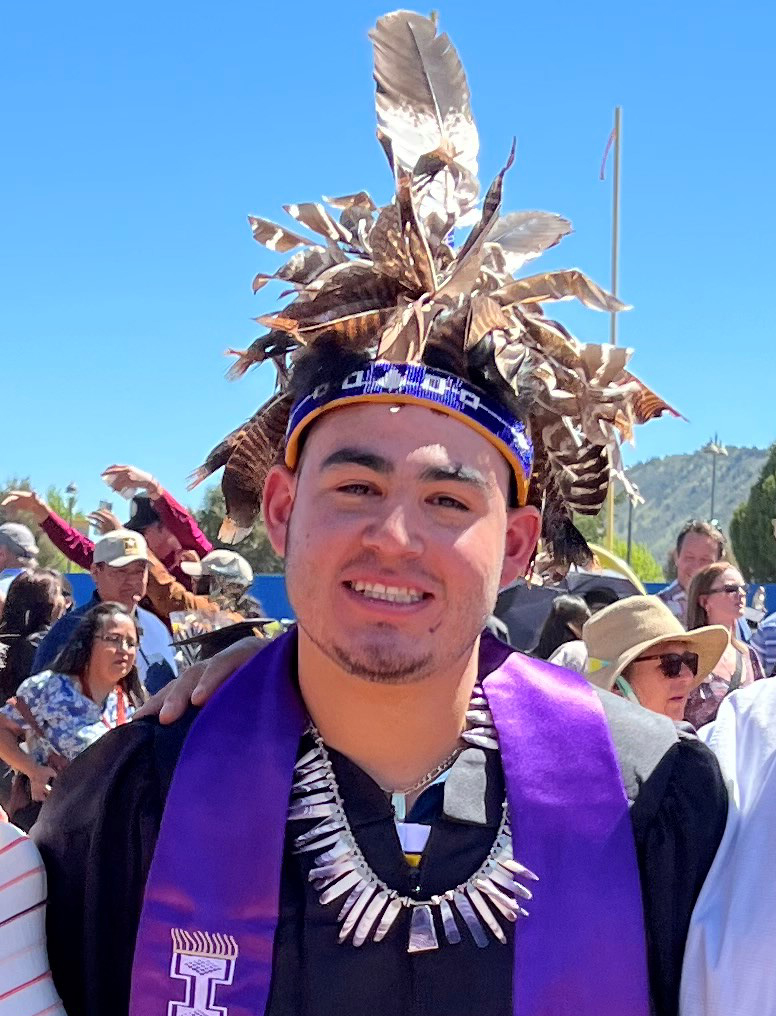 Working with Dr. Fenster, Gerald saw from behind the scenes what actually goes into writing a textbook. Data collection is what he focused on, because as Gerald said, someone has to do that part. And by the end of his experiential learning project, it was all put into a textbook for students to learn.
"I just thought it was amazing…the intricacies of biology," he said. "That's what fascinated me. And that's when biology became my passion."
In just three short years, Gerald was looking for a graduate program to continue his studies in cellular and molecular biology. He was down to two schools – the University of Miami and the University of Texas-San Antonio.
Gerald's family used to live in Miami until he was around four or five years old, and they would visit often even after they moved to Albuquerque. His aunt still resides there now. Even after visiting San Antonio, Gerald was sure he wanted to go back to Miami. He applied to the Program in the Biomedical Sciences (PiBS) and was accepted to the doctoral program. Similar to his undergraduate program at Fort Collins, this program allows more flexibility before honing in on a specific area of study.
"Essentially, it's an umbrella program," Gerald said. "There are multiple facets of biomedical research. So you can take it from the angle of biochemistry, neuroscience, genetics, immunology, or microbiology."
Each specific area of study will look at different diseases through the lens of their respective field. Gerald's experience has been mostly based in neuroscience, so he thinks that is where he'll end up at Miami. He hasn't identified a lab yet for the upcoming academic year, but is on the lookout for mentors. His main interests are in neural inflammation and Alzheimer's research.
Gerald's grandfather on his father's side recently passed from Alzheimer's. It's one reason he is focused on studying the disease to see how it works, and hopefully over time, discover a cure.
The University of Miami also has a well-funded neuroscience program, which Gerald is really excited about.
"It's really promising because I'll have access to a lot of great equipment," he said.
Scientists have a much better idea of how Alzheimer's progresses, but they are still creating treatments for it.
"I really want to be a part of the research going into understanding how Alzheimer's works," Gerald continued. "Because once you understand the molecular components of everything – exactly how the disease progresses – then you're able to start working on treatments for it."
There are other neurodegenerative diseases he could look into as well while he works his way through the program. There are many routes to take, but Gerald is focused on getting started on his first year this fall.
The doctoral program can take five or six years to complete, and Gerald will have a cohort to work with. Once everyone takes their introductory courses and statistics courses to get back up to speed with how to conduct research, the cohort will be able to target the labs they want to work in and the professors they want to work with.
"The second year is when you start going into your respective discipline," Gerald explained. "I anticipate mine will be neuroscience, so I'll start taking my foundational neuroscience courses. And then the next three years I will be in the laboratory working on my thesis."
Once he graduates, Gerald hopes to do postdoctoral work to get extra training in the lab. He wants to own his own lab one day so he can help mentor other minority students.
"It's really difficult finding other Native Americans in STEM [Science, Technology, Engineering, and Mathematics] fields," he said. "I was looking at some statistics and saw that for every 10,000 PhDs awarded, fewer than 40 are awarded to Native Americans. So I'd really like to mentor other Native American students to show them that they can do it."
The application process for doctoral programs is extremely rigorous. Gerald recalls the numerous interviews he had to do in addition to the regular applications and essays. But he says that initial interview with the school is most critical.
That's where a reliable support system can help you prepare. Gerald said the faculty support at Fort Lewis College was always ready to lend a hand.
"I hope I can be that professor for the next Native American student and help them pursue their dreams," he said.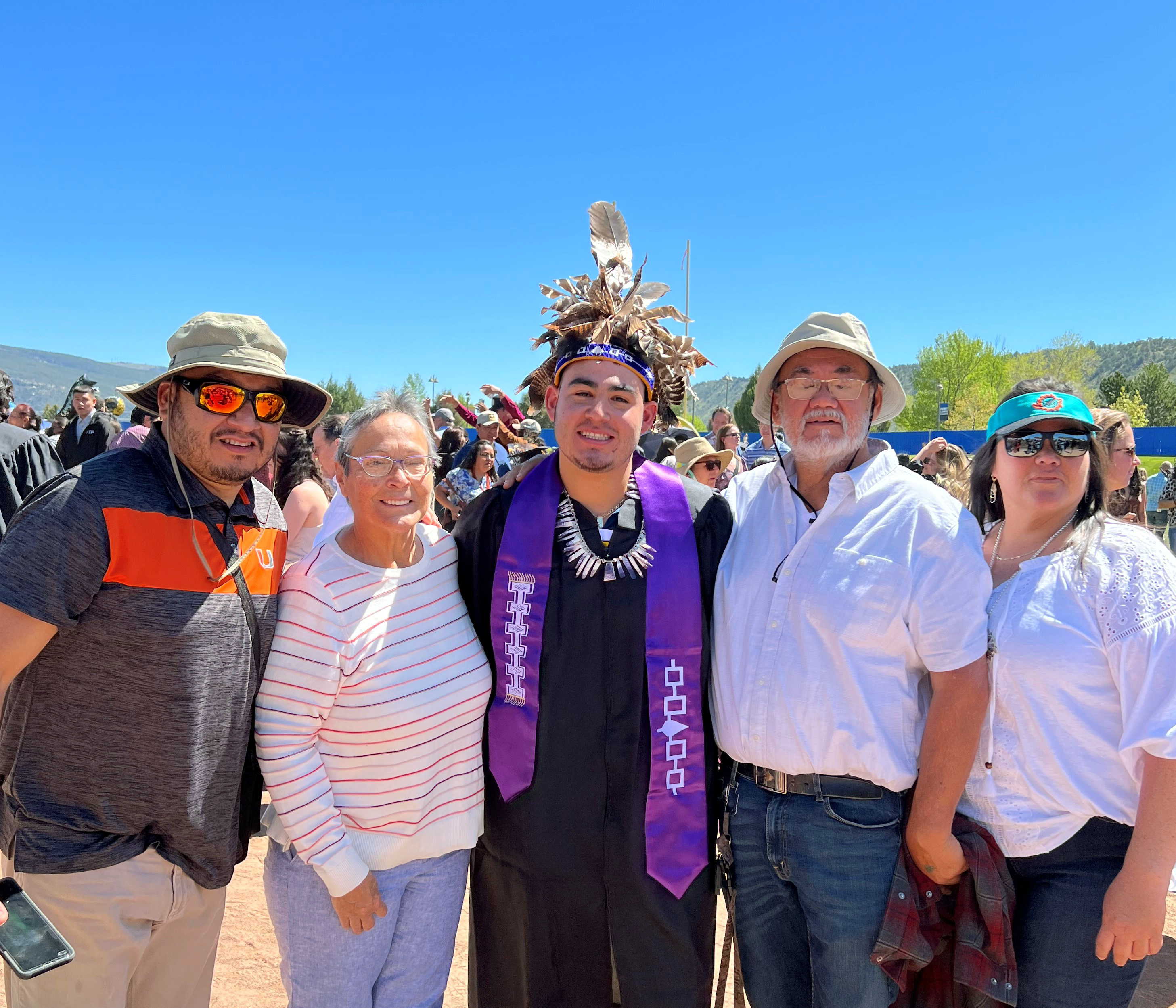 Left to right: Gerald Bush Jr. (Lakota), Joy Chrisjohn (Turtle Clan), Gerald, Steven Chrisjohn Sr. (Wolf Clan), Julie Bush (Turtle Clan)
The Nation's Scholarship Program was founded to support students like Gerald. It has given him the freedom to focus solely on his studies so he can maintain and sustain a high grade point average and live comfortably away from home.
"The Scholarship Program is amazing," Gerald said unequivocally. "It's great only having to worry about classes and not about healthcare or housing. I'm very grateful and lucky to receive that assistance."
The program was one of the first developed by the Oneida Indian Nation to offer financial assistance to Members who wanted to go to college or even further in their studies. Over 50 Members apply for funding every year.
"[Scholarship Program Coordinator] Lindsey Langdon has been very helpful as well," he continued. "She's shared with me so many additional resources available for graduate students, including specifically for Native Americans in STEM fields. She's been a tremendous resource."
As with all great support systems, Gerald's family continues to be his rock throughout his educational journey. Even during the late nights at the lab, Gerald knows he can always call his mother and vent a bit. He says it's all a part of the process.
"My mother and my father, and my brother and sister, have been incredibly supportive of everything I've done," he said. "It's been a huge part of my success."