"I want all Nation Members to know they're invited," Nation Member Karen Pierce (Turtle Clan) said of the Oneida Indian Nation's ceremonies.
"You don't need to sing or dance – you can just observe. I hear that many people don't go because they might feel out of place, but they shouldn't feel that way," she continued.
Ceremonies have become a vital part of Karen's life, and of her children's lives ever since they were babies. Passing down her cultural heritage is crucial, not only for Karen personally, but to ensure our babies being born today strengthen and embrace that heritage.
As with most formal settings, children need regular reminders on how to behave and act appropriately. That can only be done by bringing them to ceremonies early and often.
"They sit and listen – and they learn how to act," Karen said. "As time goes by, kids learn what to expect at ceremonies."
Karen says her kids have already been given their Oneida names and know that's what they are to be called at ceremony.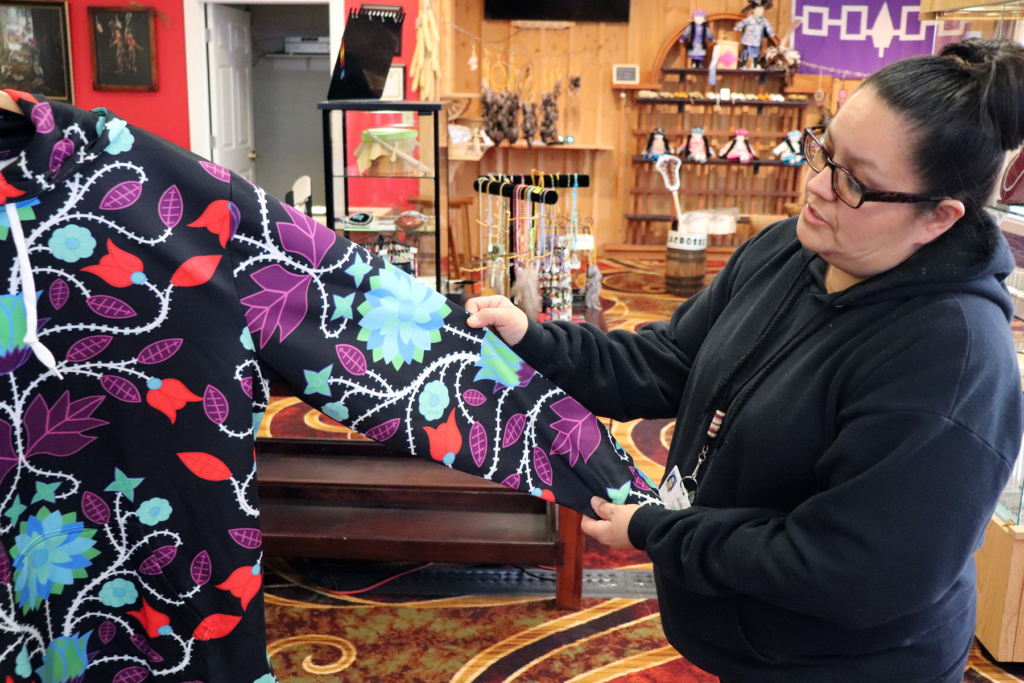 She made all three of her kids' – Nalani, Kowah∧tawi and Shoneida Hill (Turtle Clan) – moccasins and tobacco pouches, too. Making those traditional materials is something Karen holds dear, and it remains a central part of her job with the Nation.
As a Nation employee, Karen assists with the day-to-day operations at the Shako:wi Cultural Center and Oneida Heritage. At Shako:wi, she welcomes many school groups, usually twice per month, exploring Haudenosaunee culture. She shares traditional stories and legends with the students, and leads a cornhusk doll craft at the Cookhouse.
"I get stories from the Elders sometimes…the legend of the cornhusk doll, the Creation story – there's so many – to teach them not only about our ways, but about our values," Karen said. "A lot of the children like the cornhusk doll story because it teaches that vanity is wrong. All of our kids need to hear these stories and I want my children to learn them."
Over at Oneida Heritage, Karen mainly works on beading – working on everything from earrings and necklace sets to larger works like replica Oneida and Hiawatha belts.
"Ron [Patterson] (Wolf Clan) got me into making Oneida belts and Hiawatha belts about two years ago," she said. "It started out rough, but I feel I'm really good now."
Given her role in teaching Oneida heritage and culture, Karen hopes to attend ceremonies at the other Haudenosaunee Nations.
"I'd love to travel to the different Nations, go to their ceremonies and learn about what they do," she said. "Reporting back and sharing their influences on our own ceremonies would be great. Some of their ceremonies can go for 21 days."
Karen and her mother, Luanne (Turtle Clan), regularly take part in the Nation's community events. Luanne visits the Ray Elm Children and Elders Center to participate in Elder program activities, including ceramics classes and intergenerational bingo with her granddaughters.
Both Karen and Luanne have used the Oneida Indian Nation's Health Services to help in the management of their diabetes as well.
"Health Services share different diets along with the things I should be eating and shouldn't be eating," Karen said. "We have a long lineage of diabetes in our family so it's been wonderful having a resource to manage that. I try to teach my children that, too, and eat healthy at home."
As a resident of the Village of the White Pines, Karen is well aware of the importance of the sovereignty of the Nation and its lands. Sovereignty and heritage work hand-in-hand, which is why she wants her children to learn more about ceremonies and Haudenosaunee ways of life. She continually reinforces the need to know what to cook, how to walk into Cookhouse or the Council House, and how to do so with a good mind.
"I want my girls to learn Longhouse etiquette. They are very respectful. They learn and listen, and are almost there," Karen said. "But you can't be angry or upset. You have to leave that at home."
Ceremonies are a way to learn more about Oneida culture and heritage, and Karen wants Nation Members, of all ages, to know that they are welcome and always have a place.
"Our children need to hear and see what goes on at ceremonies," she said. "We have people coming from other Haudenosaunee Nations coming to our longhouse, which makes me feel good, but it would be great if we could get more of our people to come. I'd love to see everyone check it out."