As Robert Frost famously said in his classic poem, "I took the road less traveled by, and that has made all the difference." Nation Member William Printup (Wolf Clan), who prefers the more informal "Bill" when chatting, can relate to that.
On his long and winding road, which has included several unique experiences, he believes he finally has found his niche – and he credits the Oneida Indian Nation for putting him in a position to succeed. Bill has been working as a financial services representative for the past few years and the company he now works for shares his personal mission: helping others.
That can be a liberating feeling. And having a varied background of experiences, it's much easier to discern who's on your wavelength.
"The reason I'm there is because they don't push the high pressure sales," Bill said bluntly. "I'm working for you to help you reach your goals. There's no pressure to push a sale, which is a completely different business model than I'm used to."
His current employer is the Financial Partners of Upstate New York. The relaxed approach to financial management is beneficial for both sides, Bill explained.
"And now I can see through my own eyes why it's structured the way it is," he added.
Bill's new job is the culmination of a lot of hard work. After struggling in high school, he enlisted in the U.S. Navy. He then found a job at Carrier Corp. in Syracuse and, when it merged with Syracuse University's Center of Excellence, decided to go back to school part-time so he could start working his way up the corporate ladder.
He finished his remedial classes at Onondaga Community College where he received his Associate's degree in electronic technology. As one of the first Members to receive financial assistance from the Nation's Scholarship Program, he started work on his Bachelor's degree at Cazenovia College in 1994 studying business management.
"There were not a lot of other kids taking advantage of the education opportunities at the time," Bill recalled. "I went back to school because I wanted to get promoted and I knew I couldn't do that with a two-year degree."
Once he was back in school, Bill found success in the classroom. Even though he was going part-time, he was enjoying the experience, which supplemented his current job well.
After eight years of part-time study for his undergraduate degree, Bill graduated from Cazenovia College and enrolled in Le Moyne College's Master of Business Administration program. Again, he worked on classes part-time and graduated in 2007.
"Once I got into the lab at center of excellence, then I wanted to be in the board room making decisions – so I got the MBA," he said. "With that piece of paper, people started taking me seriously."
He continued in new roles at Carrier/Center of Excellence and, given the financial support available to him, decided to keep his education going. Bill finished a Master's in Information Technology at SU to solidify his new skills in data collection and management. Processing and analyzing data is a skill that will be in high demand in the future and it has served Bill well on his career journey.
In his ten years at SU's Center of Excellence throughout his part-time studies, Bill moved up the ranks and his son, Daniel Printup, was able to attend Syracuse University for free. Dan received his bachelor's in chemical engineering and, even when Bill was laid off after Carrier's deal with the university ended, was able to get his master's in chemical engineering for half the tuition cost. It was a great deal for both, but Bill was once again looking for a restart.
Bill and his wife, Michele, had acquired a couple of income properties in East Syracuse while he was working at Carrier/Syracuse University and it turned into a profitable business for them. He devoted his newly found time diving into the rental property manager role, which he felt was a good fit for he and his family at the time.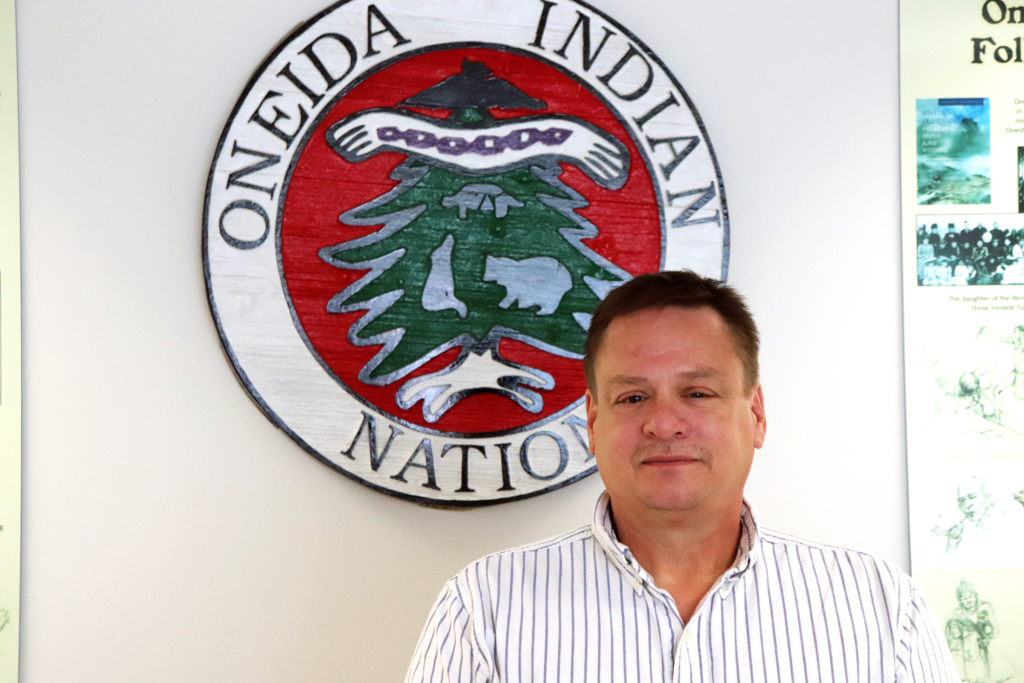 Bill Printup (Wolf Clan), a financial services representative for Financial Partners of Upstate New York
Fast forward a few years – and wanting to slow down from the landlord role – Bill found a job at New York Life, which began his career in financial management. But it wasn't what he had hoped for in the beginning.
"They wanted me to be something I'm not," he said. "I want you (clients) to feel comfortable in the process and I did not feel right pushing people for sales."
That led him to find a job at a new company – the Financial Partners of Upstate New York.
"I'll ask folks 'where do you want to be in 10, 20 years from now?'," Bill explained. "Others crunch the numbers and now I give the recommendation. I'm constantly communicating future value for clients and I'm able to convey it in a way that is approachable and with no pressure. I enjoy it now."
He hopes to help others find financial peace of mind, too. Especially as we age, it's important to ensure you have your finances squared away.
Now, Bill looks back at his body of work with unwavering pride. From breaking away from bad influences in high school and finding his way to community college to his dedication and patience getting advanced degrees part time, he has accomplished more than he ever thought he could.
Bill's grandmother, Mabel Hill (Wolf Clan), knew he'd be proud of his Oneida heritage one day. She told him so herself. And now he's grateful for all of the doors the Nation has helped open for him through its educational support system.
"I'm nothing special, but I put in the work and the effort," he said humbly. "I want kids to know the easiest road is not always the best road to take. When kids are interested in something, and it doesn't matter what it is, they're going to want to do their best. So I always tell kids to chase their dreams."
Mabel and his mother, Rita Printup (Wolf Clan), guided him when he needed it and now Bill wants to do the same for other young Nation Members.
"I like helping and conveying knowledge so if you have the time, I'll always talk to you," Bill said. "Because kids here have the ability to do whatever they want to do with the resources provided by the Nation. The world is theirs, they just have to go get it."