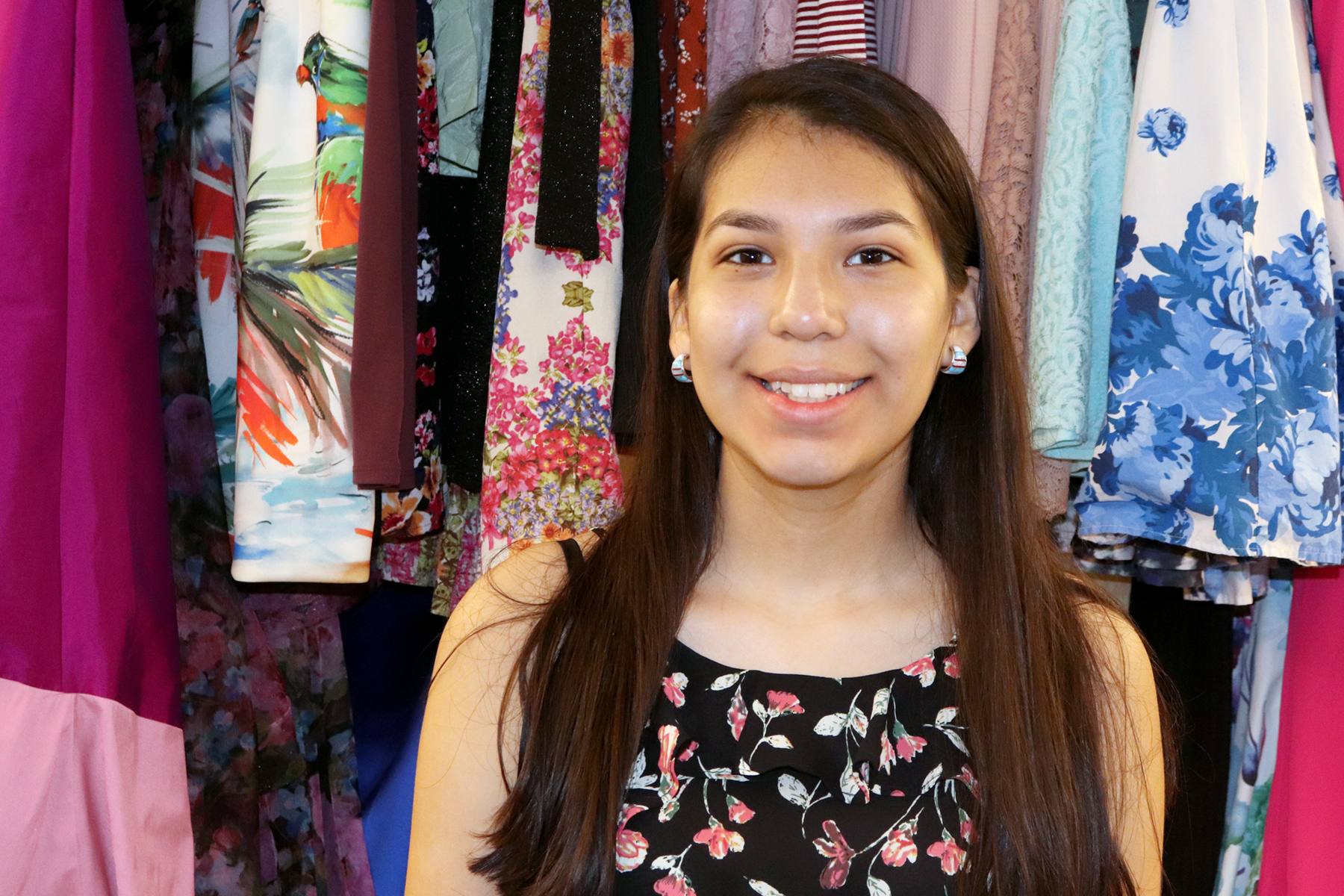 Olive Bigtree (Turtle Clan).
At the top of the page is her winning portrait.
Art is more than a passion for Olivia Bigtree (Turtle Clan), a rising senior at Manlius Pebble Hill School, it's a part of her.
Earlier in May, one of Olivia's photographs was chosen as the winner of U.S. Representative John Katko's Congressional Art Competition. Olivia will visit the U.S. Capitol in Washington, DC this summer to meet with the Congressman in recognition of her achievement and celebrate the other award-winning young artists from across the country.
Olivia set up her shoot for the winning photograph inside the new art room at MPH. Her art teacher, Ms. Henderson, has been a guiding figure in her work and Olivia says she's been an incredible mentor. Olivia also isn't shy about taking multiple shots from different angles and setups to invoke different emotions, something her teacher encourages. She likes to use all sorts of props, and the weirder the better she says.
"I love capturing bizarre scenes," Olivia said about her winning photograph. "So I tried to get the weirdest things I could find like the large spoon and mannequin arm. I had models in mind ahead of time and I wanted to capture them interacting with these pieces."
Photography gives Olivia an opportunity to relax her brain from taking on bigger issues that she says she's always drawn to. Without an operative outcome, she has free reign to experiment with her craft.
"I didn't want it to make sense. That's what I love about this shoot specifically because I didn't have purpose going into it," Olivia said. "But I love that people can interpret it in so many ways because there's so much going on. That's what I love about art and my art."
Olivia was also named a 2019 National Medalist in the Scholastic Art & Writing Awards for the same photograph. It was awarded a Gold Medal in the national competition, but it also picked up accolades through local and statewide competitions. The winning photograph won a Gold Key to advance to the national competition while another photo she entered was awarded an Honorable Mention. Olivia will head to New York City in early June for an awards ceremony in honor of her work.
The next project Olivia looks forward to completing focuses on the crisis of missing and murdered Indigenous women. Still in the early stages of development, she wants her exhibit to be more interactive, which includes white dresses that are marked up to insinuate the violence that women endure. Visitors to Olivia's exhibit would have to walk through it, and she hopes they'll really feel it.
With the success of her recent work, Olivia is excited about the opportunities to hone her craft in a variety of artistic disciplines. Closing out a busy month of June, she'll head to the Bay Area for a month-long pre-college program at the San Francisco Art Institute. She's interested in attending Syracuse University in 2020, but says finding an art school would be a dream come true.
"If I could get a scholarship to an art school next year, I would love that," Olivia said eagerly.