The Oneida Indian Nation's Oneida Heritage Center and Warrior Archery welcomed Paralympian Sammi Tucker, a member of the Oglala Sioux Tribe and an Air Force veteran, on Saturday, April 28, for a special workshop and presentation to participants of the YMCA of the Greater Tri-Valley's youth archery program.
Ron Patterson (Wolf Clan) and Oneida Nation Turtle Clan Representative Dale Rood opened the special workshop recognizing the accomplishments of the Y's program and the exponential growth of Warrior Archery in the short time since it officially opened in November. Clairese Patterson (Wolf Clan) also addressed the crowd with words of welcome in the Oneida language. Ron then introduced Hank Leo, CEO of the YMCA of the Greater Tri-Valley, to talk about their featured speaker's impact not only on the sport of archery, but also aspiring archers across the country. Hank said Tucker was the first woman to compete for the U.S. in archery at the Paralympics, which drew a standing ovation from the crowd.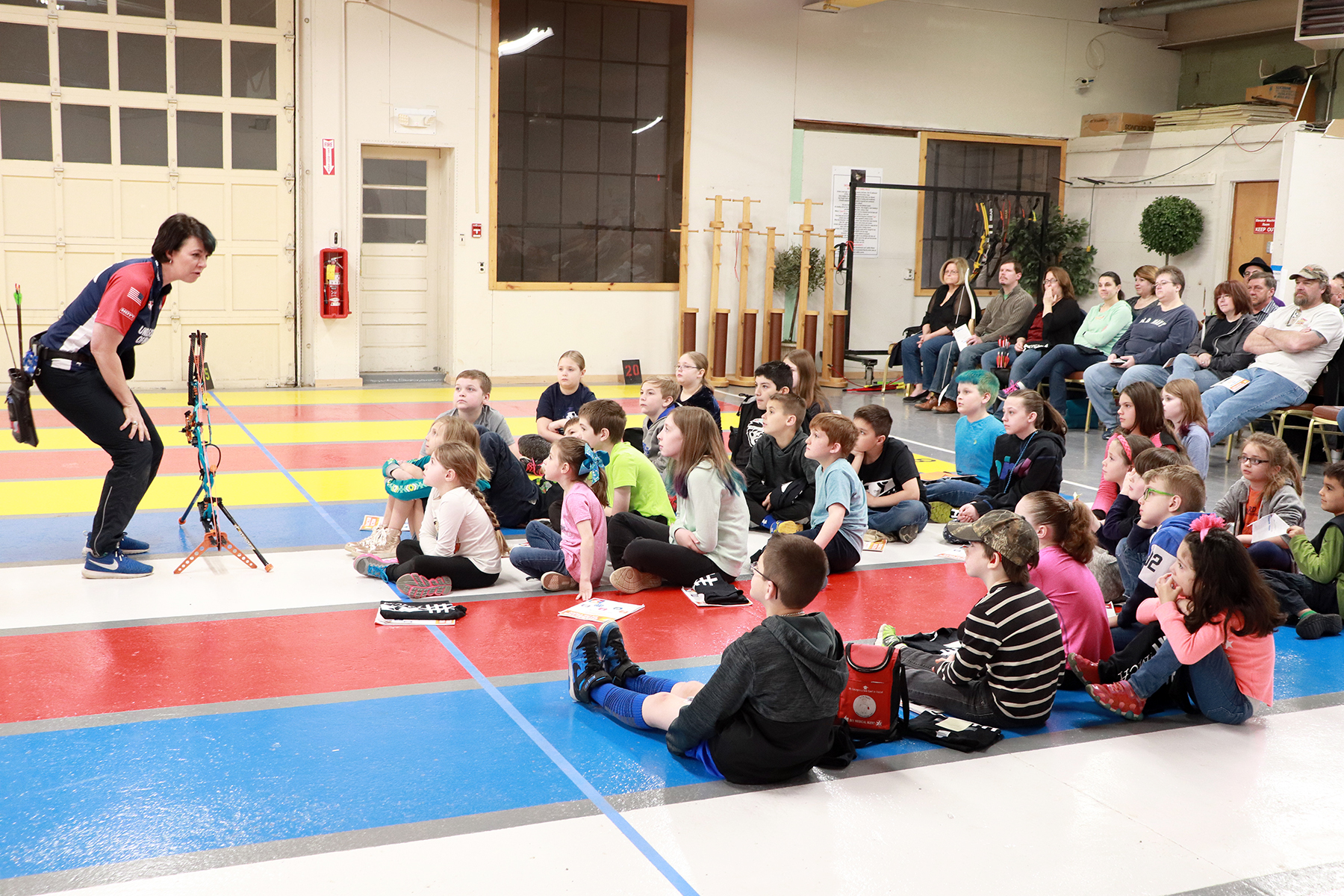 Sammi shared her deeply personal story of struggle with the kids, describing the tough road she trekked that eventually led her to the sport of archery; a sport she says she only picked up after losing her hand in a motorcycle accident.
"I was really shy and quiet, and I covered my emotional pain by smiling," she said to the group of kids huddled together at the edge of the archery range. "Archery became a safe space for me, and giving people a safe space to be themselves is a great way to show empathy."
The Y's program incorporates important life skills such as empathy, personal responsibility and mindfulness, which translate across all borders and boundaries. Warrior Archery displays large posters describing the specific skills and responsibilities addressed in the program, along with its associated Oneida word.
"This is an event that every school and child should be a part of," Sammi said after her presentation. "It translates to every aspect of their lives, and with so many distractions out there, it's a way to get in-tune with yourself. It's really a meditative experience."
Many participants, like five-year-old Molly McHugh, work hard every week and display a passion for sport that is instantly recognizable. Hank said Molly practices so much she has calluses on her fingers. Molly was also selected to present Sammi with a special t-shirt with Sammi's name on the back before the Paralympian showed the group how she shoots her 45-pound compound bow with her teeth. Hank's team of archery instructors handed out other specialty shirts for the kids in attendance.
"We're very proud of her," Molly's father Andy McHugh said. "It was a special honor for her and hopefully it will encourage her to go farther in archery." Her mother, Lynne, agreed and added that archery keeps her motivated.
Archery is a special sport because anyone can learn how to do it and excel at it. Dale, who is also the Director of Oneida Heritage, said that's what really makes archery a great sport. Whether you're 5 or 75 years old, archery is accessible for everyone.
"I'm grateful that Sammi visited us," he said after the event. "She is a great inspiration and it's wonderful the kids got to hear her story. Archery is our heritage and we are blessed to have this facility."