Storytelling has always been a critical element of Indigenous culture. In keeping with the tradition, the Oneida Indian Nation has teamed with the Sundance Institute—a leader in championing minority voices in film—to bring Native stories to the forefront in Central New York.
In early August, the Nation welcomed Sundance's Indigenous Program for a two-day program of film screenings and a Native filmmaking workshop led by award-winning filmmaker Erica Tremblay (Seneca-Cayuga). The events provide an opportunity to extend the reach of Native stories from across the country and highlight the need for more Native films in the future.
The short-film series, which featured five films produced by students in Sundance's Native Film Lab, screened in the Seneca Room at Turning Stone Resort Casino on August 8.
Speaking to a packed room, Nation Representative Ray Halbritter welcomed the audience and spoke about the importance of collaborative events that champion American Indians. He reminded those in attendance of the Nation's own history and its often suppressed or ignored role in the founding of the country.
"We are not alone in not having our story told," Ray said. "This is the case for many Indian nations and Native people across the country, which makes programs like this so important."
Ray also congratulated Nation Member (and aspiring filmmaker) Jolene Patterson (Wolf Clan), a 2019 recipient of the Institute's Full Circle Fellowship.
The screening featured Mino Bimaadiziwin, written and directed by Shane McSauby (Grand Traverse Band of Ottawa and Chippewa Indians); I Am Thy Warrior, written and directed by Razelle Benally (Navajo/Oglala Lakota); The Moon and the Night, written and directed by Erin Lau (Native Hawaiian); Mud, written and directed by Shaandiin Tome (Diné-Navajo), who appeared at the Nation's screening event in October; and a rough cut of Little Chief, written and directed by Erica Tremblay.
After the films were shown, the crowd had the opportunity to engage with Erica and ask questions about her work and her approach to filmmaking. Many Nation Members were in attendance and joined in the conversation, including Bear Clan Councilmember Brian Patterson, who raved about the films and reflected on some that reminded him of his own story. The discussion focused on the balance between traumatic realism and cultural identity on the screen, and Hollywood's reliance on stereotypical Native tropes.
Storyteller Perry Ground (Onondaga) echoed Brian's sentiment and discussed the importance of storytelling in Native culture.
Dr. Tonya Cornelius (Turtle Clan) and her daughter Arianna also attended the screening, as well as the workshop the following day. She was impressed with the collection of stories told and the partnership between the Nation and the Sundance Indigenous program.
"My daughter and I are really interested in film," she said. "It was great to go to a program like this and have Sundance present Native stories."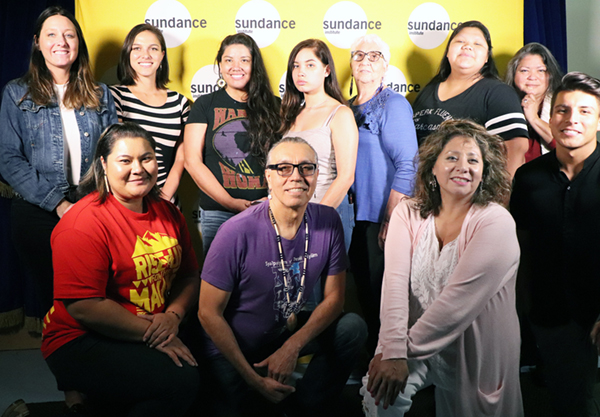 Friday's workshop was an all-day event with Erica Tremblay at the Oneida Heritage Center in Sherrill. Erica discussed how she produced and directed Little Chief, in addition to the technical aspects of filmmaking. The mini "crash course" was tailored to the participant's questions, which made for a worthwhile experience for all who attended.
Jolene attended the workshop as well. During a break, she said that she's looking forward to advancing her script so she can get it on the screen one day.
"I keep in constant contact with Sundance," Jolene said. "I've also bounced the script off others when I was networking in LA. It's been a process."
Her script involves multiple stories within one larger story, which has made it more of a challenge to get down on paper. It has a unique perspective that focuses on an Elder sharing stories about Native heroines.
Jolene is also planning to take on a couple of internships in the fall to learn more about film production.
"Hopefully I can get it done early next year so I can apply to Sundance's Native Film Lab," she said. "Then I can shoot it next year and hopefully show it at Sundance."