Participants in the Oneida Indian Nation's Youth Ambassadors Program helped tap maple trees to make syrup for a traditional springtime ceremony earlier this year. The annual Thanks to the Maple ceremony gives thanks to the maple tree and the Creator for the renewal of life that comes with spring.
This was the first time the kids in the youth program contributed to the ceremony. Donna Howe, youth programs coordinator, and Rec Center administrative assistant Barb George-Winton (Wolf Clan) thought it would be an excellent community project as the end of the school year was fast approaching for the group. YAP typically does one major project every year so participants can get involved and contribute to the community.
Donna and the kids joined Kris Wilkins (Wolf Clan) at a spot off Route 46 where he's tapped maple trees for years. Kris taught them how to tap the tree with a drill and what conditions are best to get the sap to flow. Donna and the kids learned the perfect time to start collecting the sap is when it's below freezing at night followed by warmer days. The group also tapped the tree from the east side because that's where the sun first hits the tree.
The group then filled four 5-gallon buckets and brought the fresh sap back to the Rec Center kitchen to boil it down into "sweet water" or syrup. They strained the sap through cheesecloth to rid the sap of any excess substances and wound up with over 30 full freezer bags. The 20 gallons they collected were eventually reduced down to just one pint of syrup.
"It was a much longer process than we anticipated," Donna said. "It took the kids a week to boil it all down because we didn't have a fire large enough to get it to boil quicker."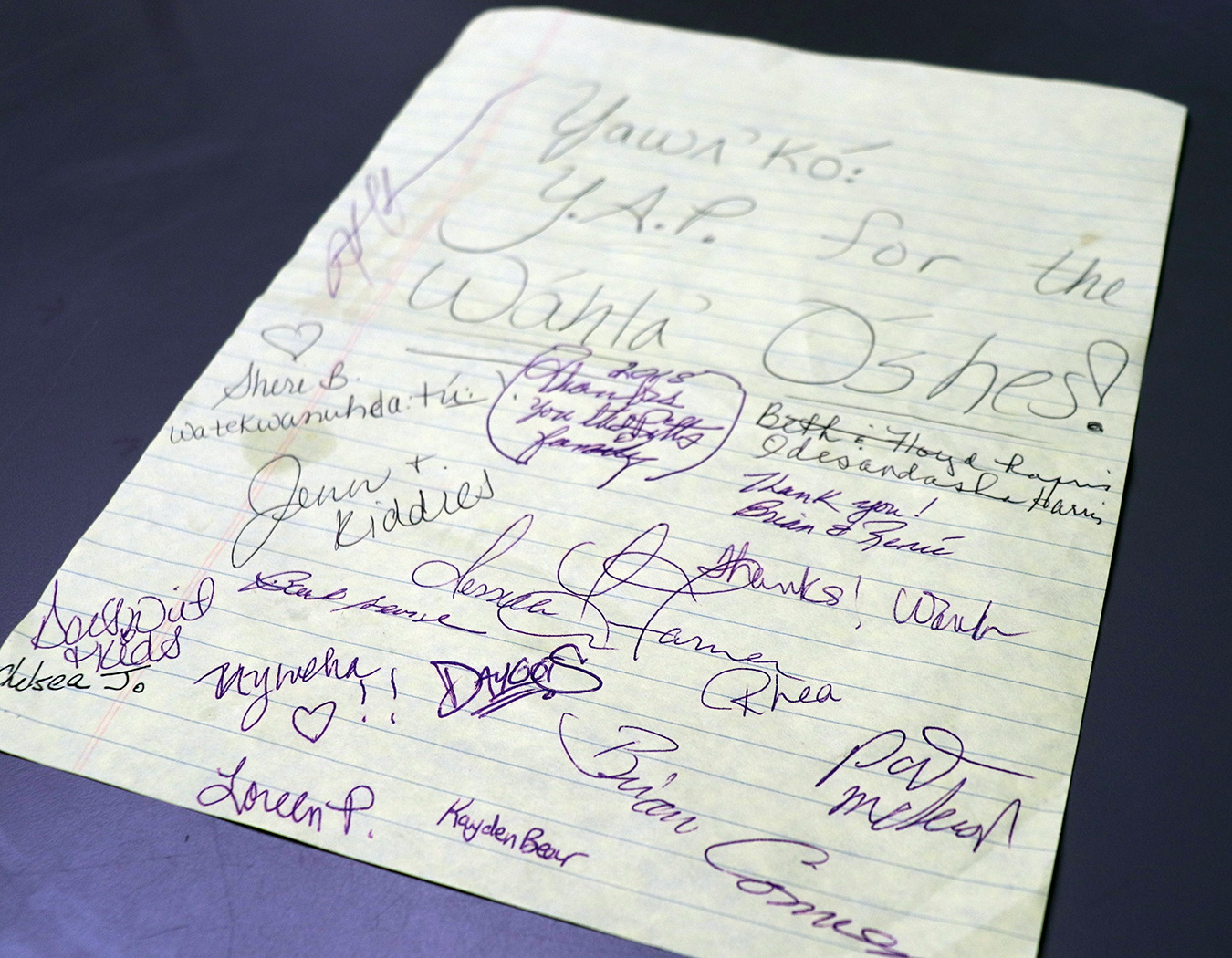 The day before the ceremony, all of the kids delivered the pint of syrup over to the Cookhouse. Sheri Beglen (Wolf Clan) thanked the kids for their help and put together a thank you note shortly after, which all attendees of the ceremony signed.
"It's an amazing feeling to know they did it with their hands," Sheri said. "The sugar is our medicine and life sustenance, and we always give thanks for it every year. Gratitude helps us to have peace of mind."
Donna and Barb said they were happy to see the youth ambassadors turn their community project into a collaborative team effort, and would love for YAP to be involved in the process next year.
"It was a long process," Barb said. "But it was great that the kids got the reward at the end and saw the finished product. And it was so fresh and delicious!"