Legendary American Indian actor and advocate Sonny Skyhawk (Sicangu Lakota), star in "The Mystic Warrior" and the TV series "The Young Riders", met with several Elders at the Ray Elm Children and Elders Center earlier in January. Sonny last visited with the Elders in 2005, sharing some of his thoughts and stories from his life with them in an informal setting.
Sonny has led the charge in addressing the underrepresentation of American Indians in popular culture for over 40 years; raising concerns about the lack of Native voices in all levels of the business and ensuring those voices are heard in film and television moving forward so the masses can be exposed to real indigenous culture. Sonny looks forward to someday creating Native shows for a mainstream audience on major network television or through streaming video services.
"People very rarely get an opportunity to see or hear what tribes do outside of your community," he said to the Elders. "It's important to educate the public about who we are as human beings because there's been a great disconnect in Hollywood for the longest time and it's damaging to the psyche of our people."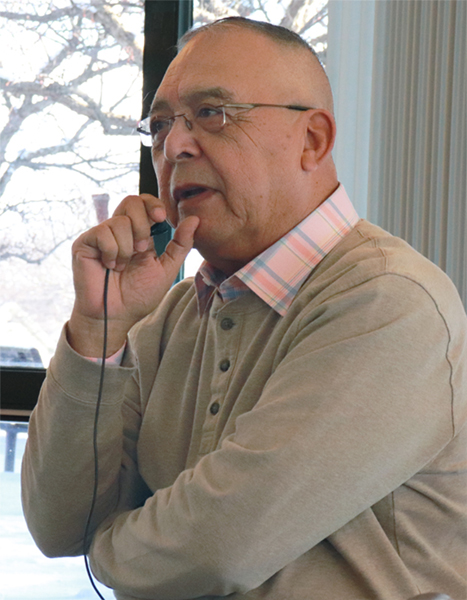 Sonny Skyhawk speaks with Elders
For decades, Hollywood films have portrayed American Indians as savages or heathens that were the "enemy" of the protagonists. This imagery has existed for so long and is still prevalent in popular culture today, including the main wordmark and mascot for the National Football League's Washington, DC team.
Sonny believes education should be the primary vehicle toward societal change.
"I've been advocate in Hollywood for a long time," he said. "Our main goal is to try and educate people about who we are as human beings. My concern is for the mental health of our people and the coming generations. I know I was bullied in school for being Native, and no child should be ashamed of who they are. Television and film didn't help any, either."
But that will change, Sonny believes. And he wants to spread his message with those that don't always hear the good news in Indian Country, which includes other American Indians a lot of the time. It's often difficult for Elders to get involved in these issues so updating them on the progress of American Indians, both here locally and across the country, remains important.
Sonny also began his public dialogue with non-Natives through a column he wrote for Indian Country Today he called "Ask an Indian."
"People didn't know how to talk to Indians," he said. "So I wanted to give them an outlet so they aren't afraid to ask about anything."
Sonny's column was a success and a great introduction to an open dialogue with the non-Native population. Now he believes moving that model to film and television is the next step.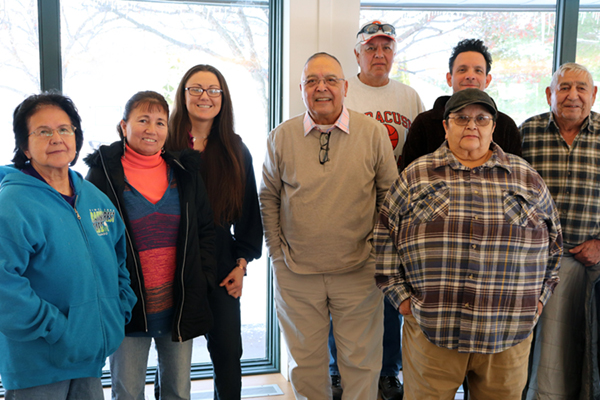 Actor Sonny Skyhawk visited with Members at the Ray Elm Children & Elders Center in December. Pictured left to right: Ramona Beglen, Sheri Beglen and Teyekahli:yos Edwards (all Wolf Clan), Sonny Skyhawk, Brian Connors (Mohawk), Winona Waterman (Turtle Clan), Jaime Gomez, founder of Sandbar Films, Inc., (behind Winona) and Larry Gabriel (Turtle Clan), who passed away Jan. 3, 2020.
Sonny is currently working on a number of film projects including one that shows how Native people have evolved – a telling of our story from beginning to now that will also explain the evolution of thought and utilization of American Indians in Hollywood.
"It's an ongoing struggle to educate people. But that's the great thing about film and television, you can pass it down as a document to those next generations."