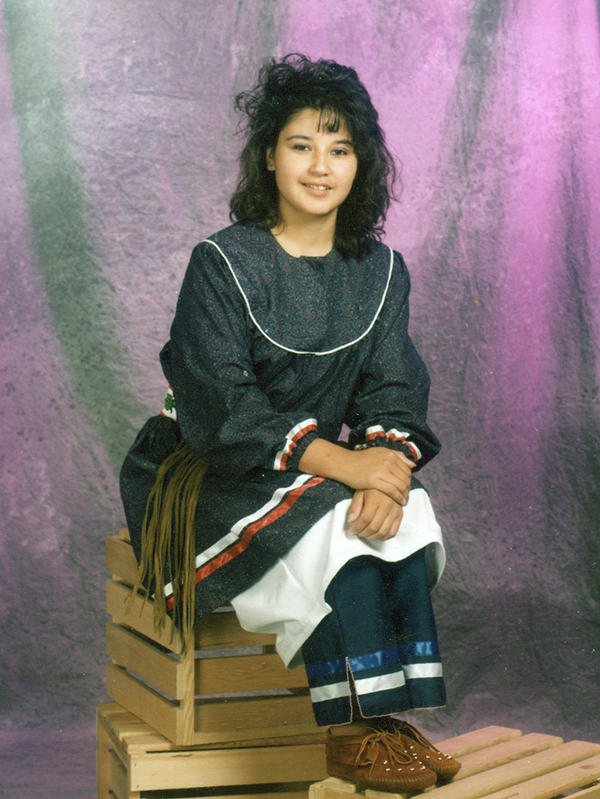 In 1992, Paulette Bucktooth (Turtle Clan) was chosen to be the Princess of the Six Nations Agricultural Society Indian Village at the New York State Fair. Representing the Oneida Indian Nation that year, she was excited to be involved in the special fair festivities. And it almost didn't happen!
"My parents asked my sister, Lisa Oakes, and I to do an interview to be the Oneida Indian Princess for the New York State Fair," Paulette recounts. "Anyone that knows my sister knew she was very shy and I was the outgoing child. My sister told the interviewers that she couldn't dance without music, so my two friends that went with us sang and I danced with her. We had a mini social dance with lots of laughs."
Later on, Paulette's parents received a phone call saying that she was chosen to be the Oneida Indian Princess. Looking back, she says the experience influenced her life greatly.
"The opportunity to publicly speak gave me confidence," she says. "Speaking in front of a large crowd of people, participating in the fair parade and the time I had spent with my amazing Aunt Wava, who taught me to always look for the good. This was one the greatest experiences of my life."
Her Aunt Wava Carpenter transported her to and from the fair every day, and always shared with her a long talk about life. Loni Powless and Evelyn Powless made her six sets of regalia to wear the for the events at the fair as well. Paulette says many new people from that experience remain in her life and thoughts to this day.
Now, Paulette remains a constant visitor to the fair and sees many familiar faces at Indian Village.
"It's a great place to network and connect with the people there you might not have seen in a while," she says.
The Indian Princess experience also directly helped Paulette on her career journey. Over the last 18 years, she's worked at the Central New York Developmental Disabilities State Operations (CNYDDSO) office. Working her way up through the ranks, she was promoted to grade 7 Program Manager in February and runs her own group home.
Prior to getting in at the CNYDDSO, Paulette completed her Associate's degree in human services at Onondaga Community College in 2000, and is near completion of her Bachelor's degree where she was studying criminology at LeMoyne College. Just two years ago, she was honored as CNYDDSO employee of the year.
Paulette has three kids: her eldest son Hajenhne Brown, 24, daughter Sadie Smith, 18, and her youngest son Kahtehliyo Smith, 14 (pictured with Paullette at top of story). She is proud to have managed her eldest son's lacrosse team and coached her daughter's T-ball team. She tries to instill in them her confidence and determination.
"I really love my job," she said elatedly. "I feel I was able to progress in my career a lot faster because of my experiences and I'd like to thank my parents for their support in everything I do."