The year was 1959. Mattel introduced the Barbie doll. Alaska and Hawaii joined the Union. The Best Picture Oscar went to Ben-Hur. Paul Anka's "Lonely Boy" was on top of the single record charts. "Bonanza" and the "Twilight Zone" premiered on TV. The minimum wage was $1 an hour. A loaf of bread cost 20 cents, and cars had fins.
Average income was $5,016.
So winning $3,000 was a mega windfall. Why do we care? Because the lucky recipient was the Oneida Nation's own Shirley Wheelock Ordiway (Turtle Clan). But we jump too far ahead.
To begin, let's talk about baking. More precisely a bake-off: Pillsbury's 11th Grand National Bake-Off, held at the "Biggest Kitchen on Earth" in the Beverly-Hilton Hotel in Beverly Hills, Calif. Shirley was one of 100 designated "best cooks" from 36 states invited to whip up her recipe for the contest.
Shirley had entered the contest four times, submitting her winning recipe the year before she won the first prize for the same pie in the senior category. And her creation? Lemon Cloud Pie. The recipe called for folding cream cheese and meringue into the lemon filling.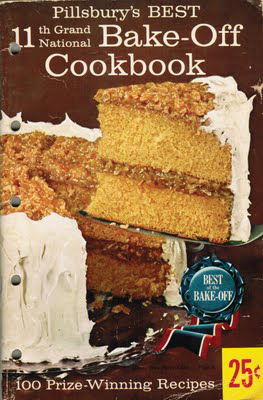 At the awards presentation, emcee Art Linkletter – who was a popular host of two of television's longest-running shows, "People Are Funny" and "House Party" – announced Shirley as one of the top winners.
The Lemon Cloud Pie recipe was later published in "Pillsbury's Best 11th Grand National Bake-Off Cookbook" and in "Pillsbury's Best of the Bake-Off Cookbook."
Her acclaim was heralded in various publications across the country, from "Jet" magazine to the "Indiana Evening Gazette." Today, her recipe can be found on the Web at http://theculinarycellar.blogspot.com/  and http://stir-constantly.blogspot.com/2011/03/lemon-cloud-pie.html.
Shirley has passed, but her baking legacy lives on. Proving once again that taste is timeless.
This article originally appeared in the November/December 2010 The Oneida newsletter.
Lemon Cloud Pie
By Shirley Ordiway
 Prize-winning recipe from 1959 in "Pillsbury's Best 11th Grand National Bake-Off Cookbook" and featured on stir-constantly.blogspot.
Crust:
1 refrigerated pie crust (from 15-oz. package)
Filling:
1 cup sugar
3 tbsp cornstarch
1 cup water
1/3 cup lemon juice
2 egg yolks, slightly beaten
½ (8-oz.) cream cheese, cubed, softened
1 to 2 teaspoons grated lemon peel
½ cup whipping cream.
Topping:
½ cup whipping cream, whipped (with powdered sugar to taste)
Heat oven to 450 degrees. Prepare pie crust according to package directions for one-crust baked shell using a 9-inch pie pan. Bake at 450F for 9 to 11 minutes or until light golden brown. Cool completely.
In medium saucepan, combine sugar and cornstarch; mix well. Stir in water, lemon juice and egg yolks.
Cook over medium heat until mixture thickens and boils, stirring constantly. Boil 1 minute. Add cream cheese and lemon peel, stirring until cream cheese is melted and mixture is smooth. Cool to room temperature.      
In a large bowl, beat ½ cup whipping cream until soft peaks form; fold into lemon mixture. Spoon filling mixture evenly into cooled baked shell. Cover surface with plastic wrap; refrigerate 6 to 8 hours or overnight. Spoon or pipe whipped cream over filling. Garnish as desired. Store in refrigerator.
Bon Appétit!