Thomas Longboat is shown leading the 1907 Boston Marathon.
April 17, 2017 marked the 121st running of the Boston Athletic Association's annual Marathon, but that's not the answer to the headline's query. No, our point of interest and the resolution to the question centers upon the 1911 race in which an Oneida – Charles "Charlie" Honyoust (Turtle Clan) – was one of the runners.
An April 17, 1911, Syracuse Post Standard headline heralded "ONEIDA INDIAN ENTERS CLASSIC RACE." According to the article, Charlie was one of four Indians to run the 24.5- mile race from Ashland to Boston that year. And each of them, as well as the additional 138 runners in the 15th Boston Marathon, were competing against the 1907 record of Tom Longboat, an Onondaga from Canada.
Longboat beat the 1901 record of 2 hours, 29 minutes, 23 seconds with a time of 2:24:24. The 1911 winner, Clarence DeMar, broke the record with a time of 2:21:39. DeMar won the marathon again in 1922, 1923, 1924, 1927, 1928 and 1930.
Thus, it goes without saying that Charlie and the other runners in the marathon were competing against a consummate athlete. Of those who began the 1911 race, only 35 runners finished. The Oneida Democratic Union dated April 20, 1911, ran a story on Charlie, noting that indeed he had been a contestant in the April 19 marathon and providing the winner's record time. The story continued: "He [Charlie] was a fleet runner and in several races last year made good. His friends in this city have followed his career with much interest."
As for Charlie, little else is known about him. His parents were Nick and Mary Honyoust. Born on the 32 acres (Territory Road), he was the youngest of the couple's five children; his elder siblings were John, Katie, Sylvia and Daniel.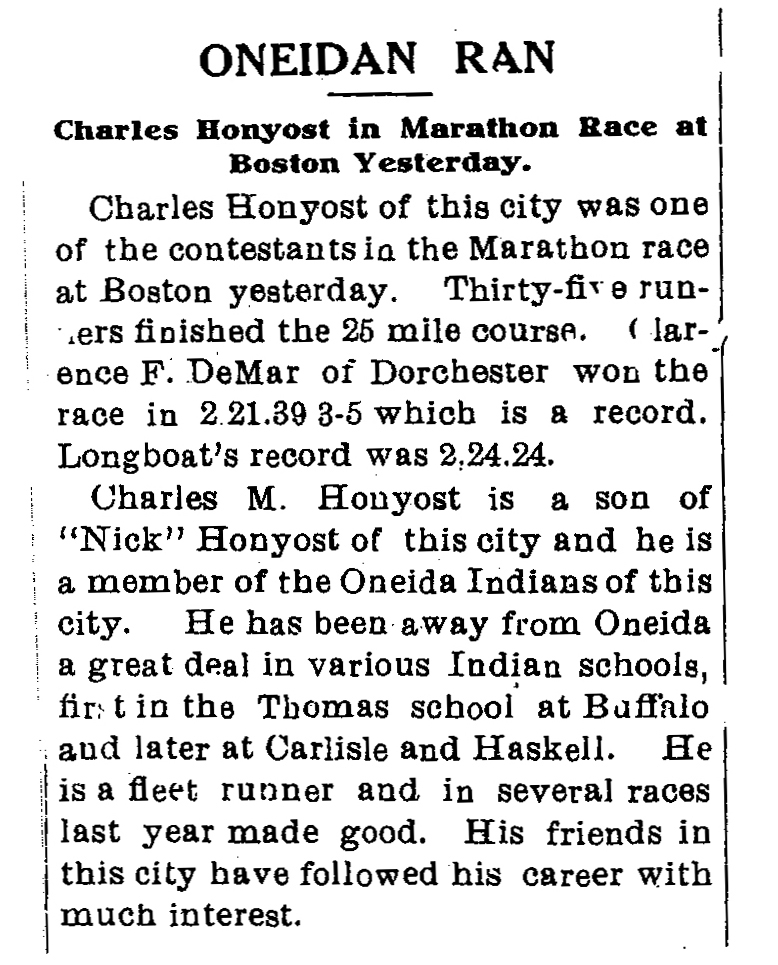 The Oneida newspaper offered a few more details, including listing Charlie as "a member of the Oneida Indians of this city. He has been away from Oneida a great deal in various Indian schools, first in the Thomas school at Buffalo and later at Carlisle and Haskell."
To Joan Scire Provance (Turtle Clan), Sylvia Honyoust's granddaughter, he was Uncle Charlie. "Being 5 to 7 years old, I knew he lived with us some of the times. He would come and go as he worked for the different farmers in Lafayette and Cardiff."
Charlie died Feb. 13, 1958, at Fred Rainbow's farm where he was working. His obituary states that he was 70 years old and a member of Onondaga Reservation Methodist Church and its quartet. He was interred at the Onondaga Reservation Cemetery.
Chuck Honyoust (Onondaga) was Charlie's nephew and his namesake. He remembers him thus: "He was a shy guy. I didn't see him much, only every five or six years. But I knew he went to the Indianapolis 500 races. That was a passion he had; he'd save up and go."
Obviously Charlie continued to enjoy the thrill of the race throughout his life, whether in Boston or Indy.