Above Armory Square in downtown Syracuse is where Irv Lyons Jr. (Turtle Clan) spends his week days. The popular singer-songwriter and guitarist works at the Museum of Science and Technology as its chief development officer, a new role that he took on last December. Education is a deeply personal issue for Irv, particularly because of its impact on American Indians, who have historically been disenfranchised and forgotten in the public school system.
That is what drew Irv to music at a very young age. School wasn't easy for him, but that didn't stop him from learning.
"Music was my education," he said. "I picked up my first guitar at four years old. My uncle had a nice guitar and my mother had a great record collection. She really got me interested in music and it became something I was drawn to. I played all of their 45s and 33s – from Chubby Checker, The Platters and Ray Charles. She loved R&B."
At twelve years old, Irv got his first record: Abraxas by the Latin rock band Santana. It was a seminal moment for Irv because that's when music became more than a hobby. He taught himself to play by ear, and by the time he was a teenager, he knew he was "pretty good."
"I went to bed with my guitar," Irv said. "When you're passionate about something, the learning process is no barrier. I was like a sponge. I learned chords by learning a song – and eventually you meet other kids and musicians, and you pick up ideas."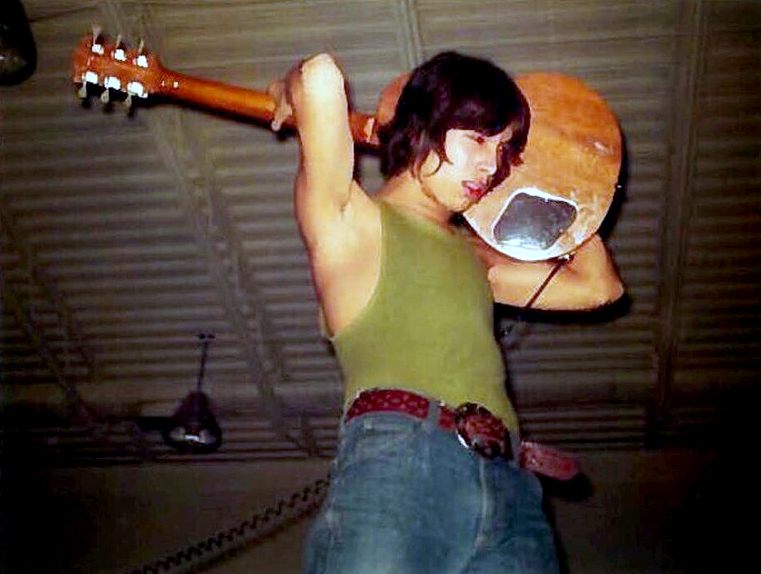 Irv plays behind his back in high school.
Irv remembers some of his first-ever gigs playing local clubs and school dances. The band he was in, The 13th Hour, played the classic rock hits of the day, such as Grand Funk Railroad, Free, Edgar Winter and others. He said it was a thrill putting all of that music together.
"When you're done with your set and everyone says they love it – you get caught up in that excitement," he recalled. "A former bandmate actually sent me an old photo of me grandstanding a bit [laughs]. It brought back some great memories."
Irv graduated from West Genesee High School in 1976. Through countless gigs during his high school days, the influences in his playing style became clear. His Carlos Santana-esque sound is instantly recognizable, but made all his own due to his inimitable technique. Irv is left handed but learned to play on a right-handed guitar, which means the strings run high to low instead of low to high.
His signature guitar – a baby blue Fender Stratocaster he's had for more than ten years – was custom-built by guitar guru Chuck Dean and features a left-handed body (volume and tone knobs would be on top if you played right handed). But instead of stringing it so he can play traditionally (low to high), he keeps it strung so a right hander can play it.
"There's nothing like a Stratocaster," he said. "It's so versatile."
Irv has been a staple of the Syracuse-area music scene for years. He and his cousin, Rex Lyons (Onondaga), formed the Ripcords in the early 2000s – a five-piece band playing primarily Americana roots, rockabilly and blues music influenced by New Orleans.
"Playing with Rex has been great," Irv said. "He's native and I'm native, which is something you can't take away. It was an instant connection – and when you're making music with other people, something ethereal happens."
The band prides itself on its musical independence and variety, as well as its strong original numbers. About five years ago, the band added a horn section that infused some additional power to the bluesy quintet. They continue to add obscure covers to their sets to keep things fresh and fun, both for the crowd and themselves.
"We don't like to play the music that everybody else is doing," Irv said of the iconic local band. "Lots of people would call us the Jr. Mavericks, which I take as a huge compliment."The Mavericks built a successful career throughout the 1990s playing a combination of neo-traditional country and rockabilly styles.
The Ripcords were somewhat of a reintroduction to the music scene for Irv, who spent twenty years prior to the band's formation serving in the United States Army. Irv put the guitar down for a while to focus on his family and, ultimately, retired from the service in 2000.
The music of the Ripcords also led to his own songwriting. In late 2018, Irv released his newest solo album Sisters and Brothers to critical acclaim. It features the single "Lookin' For The Light," which was nominated for Song of the Year at the 2019 Native American Music Awards held at the Seneca Niagara Resort. The album itself was also nominated for Best Rock Recording.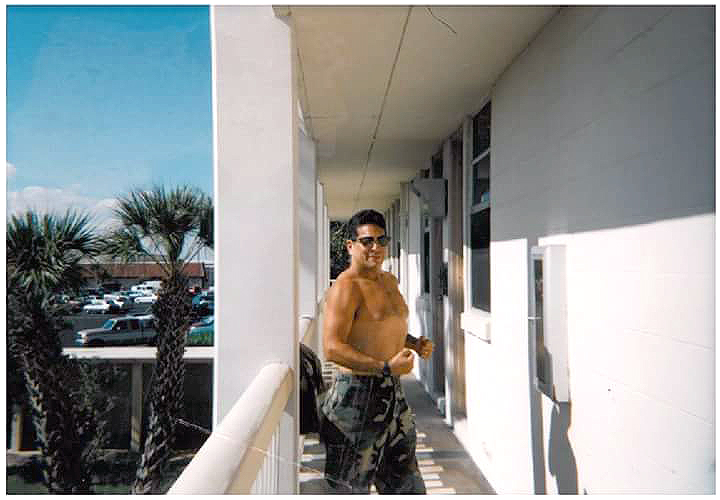 From Irv's time in the U.S. Army.
"You'd be amazed how many Native Americans are making great music," he said. "From 2001 to 2011, the GRAMMYs featured a Native American award, but it was dissolved, which was an insult to me. So the Native American Music Awards have become big and its production is world class – like any awards show you'd see on television."
When he recorded the album at Subcat Studios in Syracuse, he also signed to its record label that will help produce and push out his future releases. Irv also signed to a national management agency to position himself for the best opportunities in the coming months.
"The record is really a compilation of different styles because I wanted to showcase my songwriting," he said. "I wanted to position myself in a different light."
Recording and mixing the entire album took six months and was full of his signature Stratocaster sound. The classic tone and sonic color of the Stratocaster is all over the best rock albums, regardless of time period. Its versatility continues to be an asset valued by many musicians.
Irv is already in the final mixing process of his new single, which features singer Melanie Cramer. He's got a library of around fifty to sixty other songs that he's hoping to either put to tape or sell to publishers.
"I've got something for everyone on this album," he said. "It's got more jazz and Latin elements than the Ripcords material, but some straight up rock and roll too. I really wanted to show all I can do."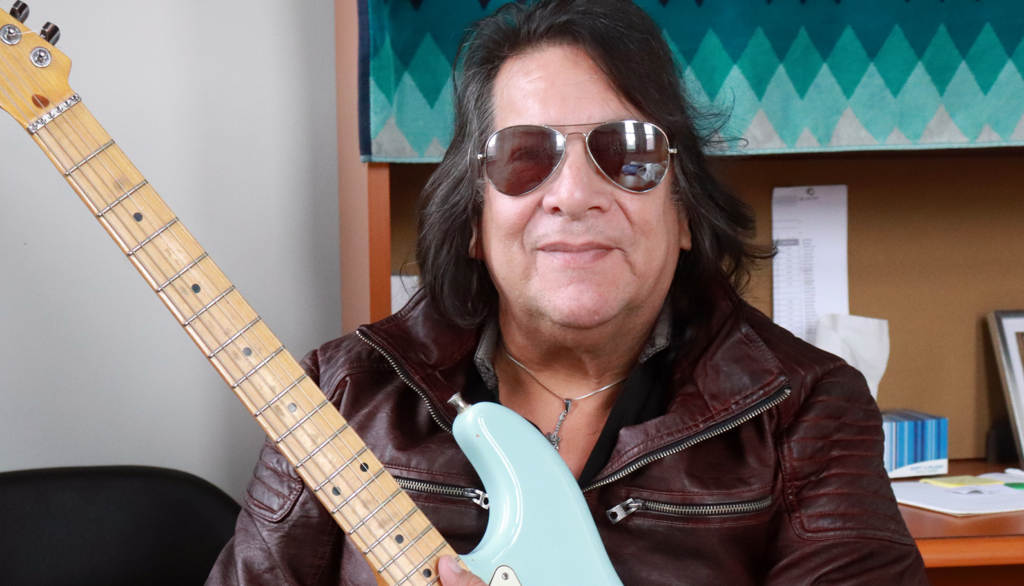 Posing with his favorite guitar.
Now, looking out of his corner office at the MOST, Irv wants to instill that similar work ethic in kids interested in science and technology. He says that the mission at the MOST is not far off from the traditional Haudenosaunee proverb—that in every deliberation we must consider the impact on the seventh generation.
"The future really is in STEM fields. A lot of jobs here can't be filled because kids aren't qualified in science, technology, engineering or mathematics," he said. "When the kids visit, you can see the look of discovery on their faces when they're interacting with the exhibits. It's great that we're able to spark that interest."
Music has led Irv on a tremendous journey, and it's one that he's excited to continue. Still, he recalls the intense drive he needed to become a successful musician.
"I still practice 2 to 3 hours a day," he said. "You have to do it. I'm always trying to get better."