On Wednesday, November 20, Fort Drum's 2nd Brigade Combat Team, 10th Mountain Division hosted an observance and lunch in celebration of American Indian Heritage Month. Oneida Indian Nation Representative and Oneida Nation Enterprises CEO Ray Halbritter was welcomed as the event's guest speaker.
In his remarks to the gathered soldiers and other members of the Fort Drum community, he touched upon the lasting relationship between the Nation and the US Armed Forces, and the many opportunities the military affords American Indians.
"The Oneida Indian Nation is proud to support an institution like the armed forces, which prizes the many contributions Native Americans have made to this country—and continues to champion our place in the world," Halbritter said. "There is no other American institution that has so fully called upon the Native American spirit and welcomed us into its ranks."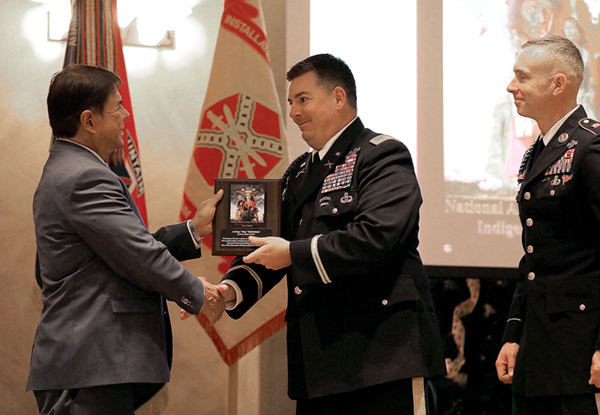 The day's observance, which included remarks by Major General Brian J. Mennes, 10th Mountain Division (LI) and Fort Drum Commander, was part of a broader relationship between the Oneida Indian Nation and Fort Drum. Together they have collaborated on special events and community outreach programs such as an annual Toys for Tots toy drive. Over the years, representatives from Fort Drum have served as keynote speakers at the Nation's annual Veterans Day ceremony, held every November at Turning Stone Resort Casino. Most recently, a group of Oneida students visited Fort Drum grounds to tour an archaeological site once built by Native Americans to track the seasons. Fort Drum's cultural resources staff have worked with scholars and elders to uncover the site's significance and preserve it as a sacred ancestral space.
The friendship between the Oneida Indian Nation and the US military goes back nearly 250 years ago, to the Revolutionary War. As America's First Allies, the Oneida Indian Nation fought alongside the rebel colonists in battle against the British, and played a key role in the battles of Oriskany, Fort Stanwix and Saratoga, which were crucial to winning the war and ushering in the birth of America.
Today, approximately 31,000 Native American men and women are on active duty around the world and have voluntarily served in greater numbers per capita than any other ethnic group in the US.
To see more photos from the event, visit here.