Education and service have been two vital pillars of success for David Ernenwein (Turtle Clan). Through his experiences serving in the U.S. Air Force and utilizing the Oneida Indian Nation's scholarship program to continue his studies while working full-time, David brings a unique perspective to his role as Operations Manager at the Nation's YBR Casino and Sports Book.
Since YBR opened in 2015, David has worked as an operations manager covering all shifts from the early morning, to the mid-day and the late-night. This July, he hit an impressive milestone – 27 years working at the Nation.
"I worked at Turning Stone when we first opened the doors in 1993," David said. "I started in table games and worked my way up, which has been a great experience."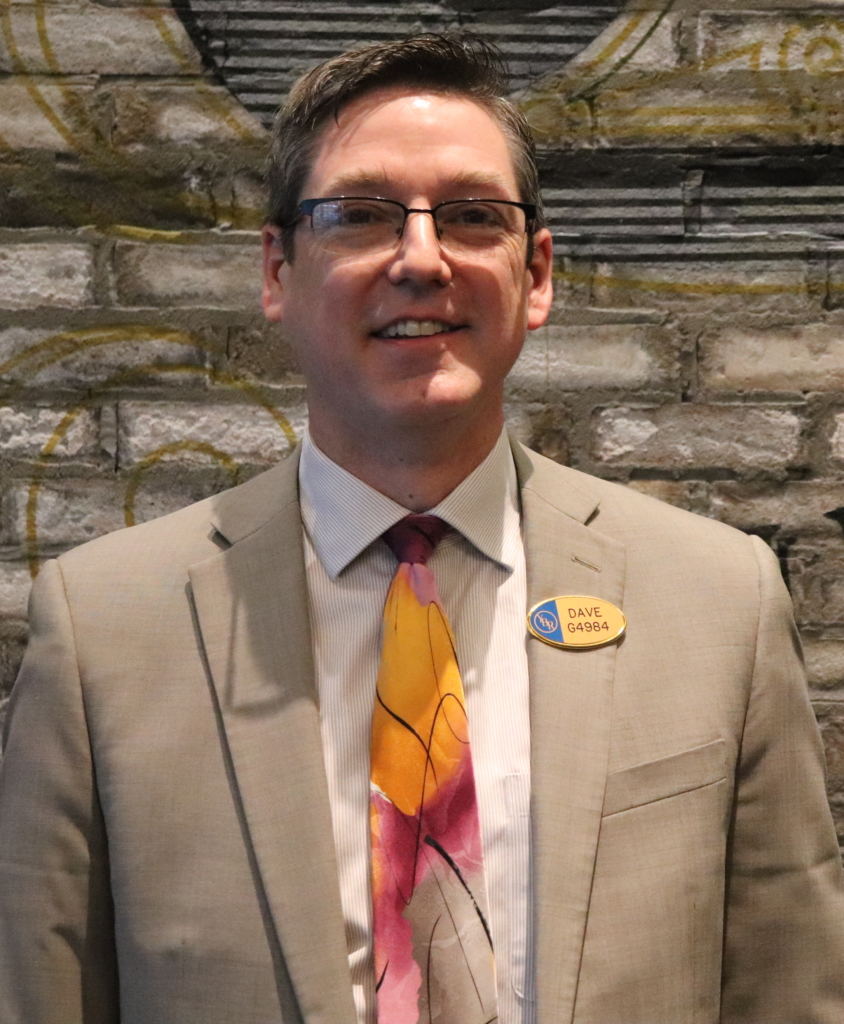 Operations Manager at YBR Casino and Sports Book.
In just five years since its opening, YBR has undergone some major renovations, including the construction of the largest sports book in the state and a recreation area that features six bowling lanes, two golf simulators and billiards tables that will attract a new crowd to the casino. As operations manager, David is responsible for the everyday happenings at the casino – from back of house and security to food and beverage and gaming.
"One of us is on duty at all times," he said. "(New General Manager) Lynn Segars has been great and now we're finding out what she likes and needs from us. She's detail-oriented and has a vision for the property that will ultimately push up the revenue."
David's sister, Amy, and his wife, Suzanne, also used to work at Oneida Nation Enterprises. They each worked in table games, and Amy just retired a year and a half ago.
"Amy is well-known," he said half chuckling. "When she retired she hiked the Appalachian Trail from Georgia to Maine. She's a bit of a free spirit."
David and Amy grew up on Marble Hill. Their mother, Jenny Green-Ernenwein, is the daughter of the late Oneida Turtle Clan Mother, Beulah Green. He says his mom loves to stay active with Zumba classes and is thankful for his good genes.
"You've got to take care of yourself," he said bluntly.
Thinking of life growing up, David remembered living on the land where his great, great aunt, Anna lived. At one time the land was filled with cherry trees, plum trees, grapes, apple and pear trees, many still produce food to this day. As he got older, he recalled several large gatherings at his Great Grandmother Emily Johnson's house, just around the corner, that brought together almost all of his extended family.
Before making his way to Turning Stone, David enlisted in the U.S. Air Force after discovering college wasn't a good fit right out of high school.
"I looked into the Air Force to find direction and enlisted in 1986," he said. "At that age, it is a great opportunity to learn about yourself and instill some self-discipline. I'd recommend it to any young person."
His father, John Ernenwein, is a Navy veteran who played a role in the response to the Cuban Missile Crisis in 1962. David wasn't looking to follow in his footsteps, but did share a sense of honor and gratitude for the ability to serve his country.
After basic training, David was stationed at Upper Heyford in the United Kingdom for two years and then spent his last two years of service at Pease Air Force Base in New Hampshire. Being in the service is not much different than a regular job, he admits.
"I worked eight hours a day when I was stationed," he said. "My main job was to transport bombs and deliver them to their destination safely. After the work day, I was free to do what I wanted."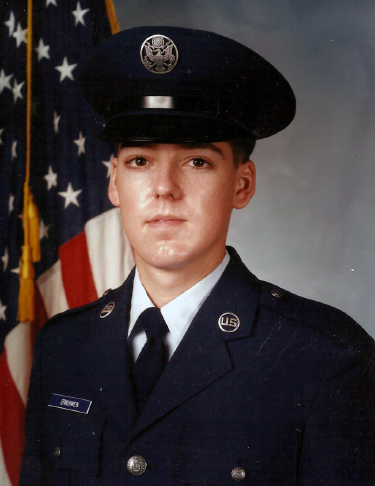 David served in the U.S. Air Force from 1986-1990
But it was in the United Kingdom where he discovered what would become a lifelong passion: Bruce Springsteen.
In the U.K., David saw Bruce and the E Street Band for the first time, which left an indelible impression on him. The music and performance has stuck with him for the rest of his life – and he continues to see Bruce shows whenever he can, including their most recent visit to central New York at Vernon Downs in 2012. As a young man coming out of the Air Force, Bruce's music resonated.
David was put on reserves right before the beginning of the Gulf War. He lived in Florida for three years when he left the service in 1990 and eventually transferred to the State University of New York at Buffalo in January of 1993.
Trying to find direction, David's father encouraged him to return home because the Oneida Indian Nation was getting ready to open Turning Stone. So he heeded his advice and hasn't looked back, while also returning to complete his education as full-time employee.
David earned his associate's and bachelor's degrees from SUNY Morrisville, and his master's degree in Service Leadership at the Rochester Institute of Technology in 2010. Education can separate you from your peers and he's never forgotten that.
"The Nation is big on education because it leads to opportunity," he said. "I'm a firm believer in education even if you don't use what you went to school for. You learn much more about life, society and how to interact with people."
Making his home in a classic old Victorian in downtown Oneida, David's family enjoys living so close to his roots.
"I've been lucky and I've worked hard. (Nation Representative) Ray Halbritter has done a lot for the Nation and its Members," David said reflecting on everything the Nation has built over the last 25 years. "If you live in this area, there's a good chance you know someone that works for the Nation. That's incredible. There's a great pride in everything we've done."