Lacrosse season is right around the corner, and Nate Jacobs (Wolf Clan) is looking forward to getting back on the field. The skilled, left-handed attackman is a junior at Cazenovia College. He's focused on putting together another winning season with his coaches and teammates, but continues to hit the books early and often.
Nate is enrolled in the Oneida Indian Nation's Scholarship Program, which helps cover a significant amount of the tuition at Cazenovia in addition to a steady stipend that is distributed throughout each semester to cover much of the costs of living. Without having to worry too much about his finances, Nate feels he can give his full attention to his studies and to lacrosse.
"Being a student-athlete in college is tremendously hard," Nate said. "In order to play lacrosse, academics has to come first. I work as hard as I can, and do as much as I can on the field. The athletic department has resources for us, which helps a lot."
Living on campus has been a great experience for Nate. He's studying sports management, which he hopes will lead to a job within lacrosse, and possibly the opportunity to build his own team. Currently, his goal is to play lacrosse professionally in one of the three major leagues: Major League Lacrosse (MLL), the Premier Lacrosse League (PLL) or the National Lacrosse League (NLL). The latter is the top box lacrosse league, which is played indoors and at a much faster pace.
Nate started playing when he was three years old, learning from both his mother and father. He credits his mom, Leigh Ann Jacobs (Wolf Clan), with teaching him the spirit of the game, and his dad, Joe Jacobs (Onondaga), with the physicality of the sport and how to play with the right mindset. Nate's father passed away in 2016, but his family perseveres through the game they all love.
"The game means happiness to me," Nate said. "There are no negative thoughts and I always play with a clear mind. I tried basketball, football and other sports, but lacrosse was always where my heart was."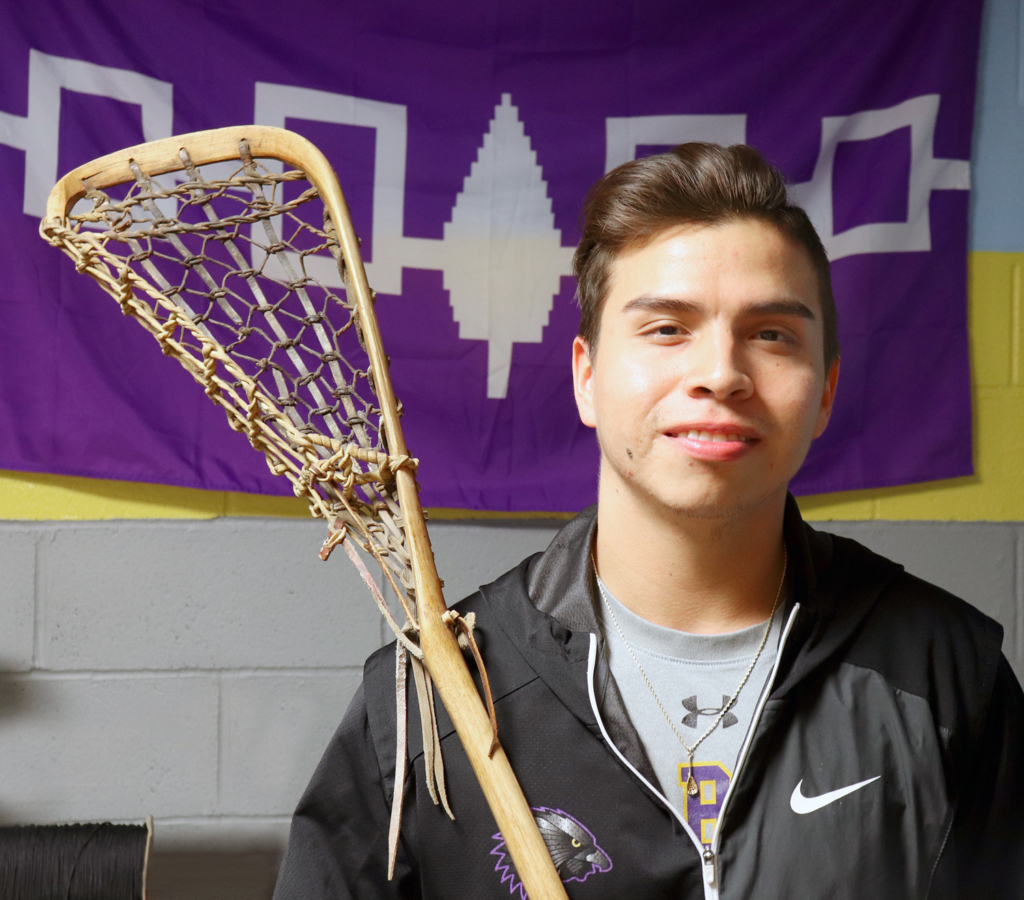 Cazenovia was Nate's first choice when he was being recruited. It was small, similar to Nate's high school in the East Syracuse-Minoa school district, and it was close to home. He enjoys being able to get to know professors to seek more guidance, but it was his future coach that sealed the deal for Nate.
"I played with the Onondaga Nation on the Redhawks, on the high school team at ES-M and on a travel team called Burn 'Em Lacrosse," he explained. "Zak [VanValkenburgh] was my coach. I had this nasty behind-the-back shot that must've caught his eye. It was one of the greatest experiences I've had."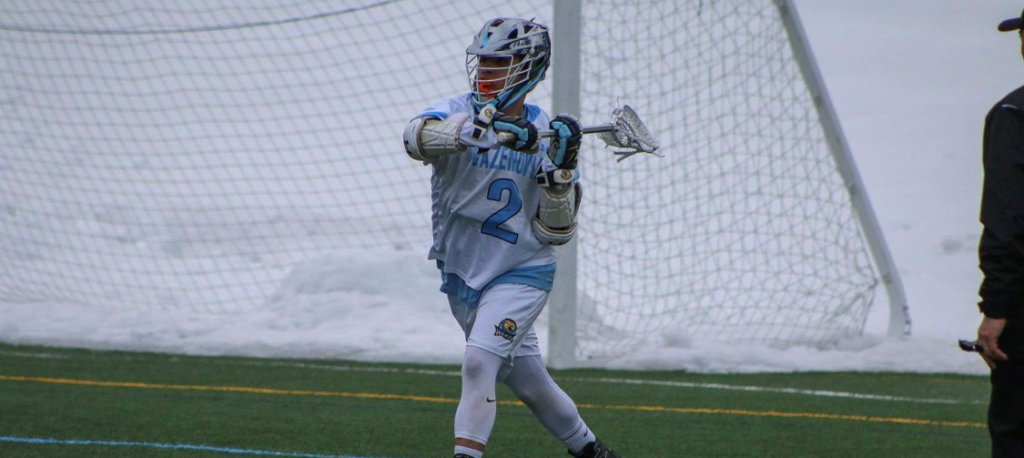 Nate Jacobs slings a pass during a game
Zak VanValkenburgh is Cazenovia's head lacrosse coach and a member of the Mohawk Nation. He saw the skill, athleticism and respect for the game in Nate when he first met him. Nate was an 8th grader then, but Zak said he's seen tremendous growth in Nate, both as a lacrosse player and as a man.
"Nate is a great young man and I'm incredibly proud of him," Zak said. "He's not afraid to come in here and talk about lacrosse, or about life. Watching him mature from when I first met him to the man he is today—that's the reason you get into coaching."
Last year, Cazenovia College put on a Native American Heritage Appreciation game so non-Native players could gain a better appreciation of the spirituality and meaning of the game of lacrosse to the Haudenosaunee. This year, Zak said, the school is a little ahead of the game in terms of getting the word out, but remains undecided on which game it will be this season.
"Hopefully by us doing this, the next school will hold another game," he said. "Guys who live in these suburban areas can learn what it means to be a lacrosse player and not just somebody who plays lacrosse. It's not just a game, but a way of life for us."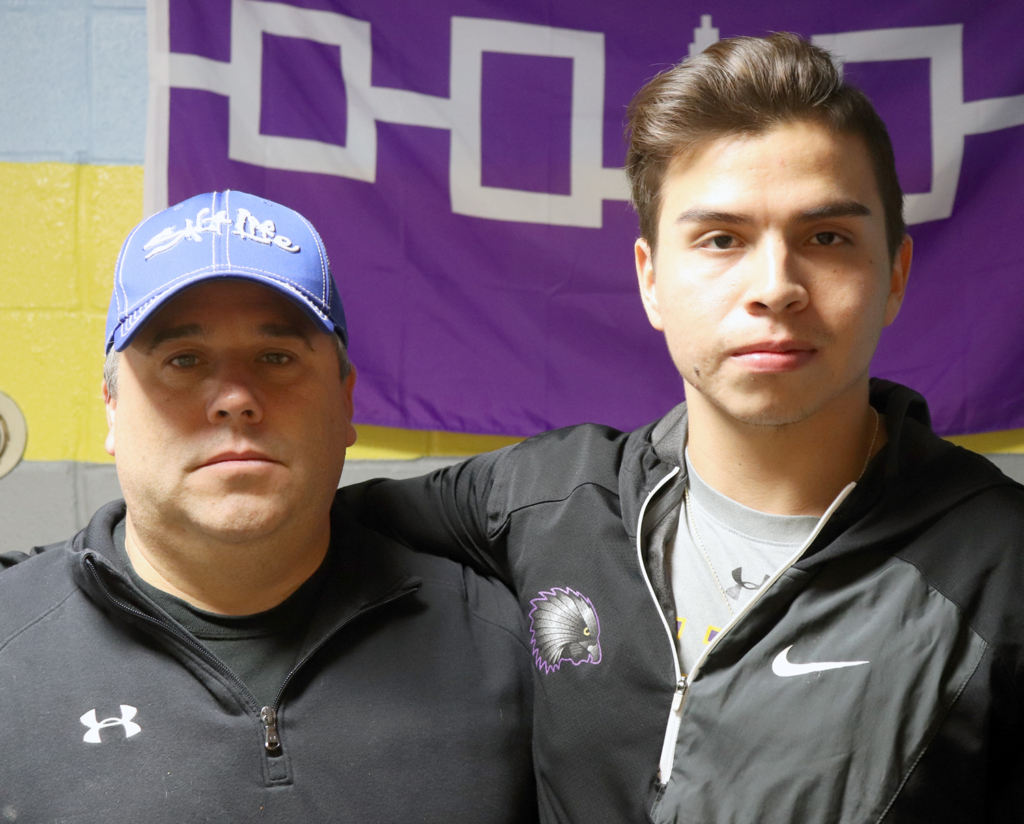 Coach Zak VanValkenburgh and Nate Jacobs
Nate and Zak stressed that the players participating in Division Three athletics don't go to college just to play a sport, unlike many that attend the major Division One schools across the country where athletic programs are a revenue generator. Division Three regulations help you focus on academics and the "buildings on the other side of the street," Zak said, pointing out of the athletic complex window.
The team can only hold official practices in the fall and are limited to three or four days a week depending on the scheduled length of each practice. However, team captains can hold open practices that are players-only, a critical aspect to the team's success on the field.
From top to bottom, everyone has a role on the team. Coach Zak aims to put his guys in the best position to be successful, emphasizing what they do well when on the field.
"Nate's a left-handed sniper. He was No. 2, out of over one thousand attackmen in Division Three, in shooting accuracy," Zak said. "We cater to these guys' strengths. Nate knows he's going to be on the left side so he can do what he does best."
Cazenovia's season begins in February in Scranton, PA, against Marywood University. A starter since his freshman year, Nate is looking to build on his already impressive collegiate lacrosse career.
"The most important thing is to not talk down to your teammates," Nate said. "The game teaches you a lot about patience, which you need to be successful."
Nate looks forward to competing against their biggest rivals, including SUNY Morrisville, Keuka College and SUNY Polytech, but he's always mindful of why he's at Cazenovia: to get an education.
"The Nation has helped me by providing the scholarship I need to get an education," he said. "It will help me to help my people in the future. I want to stay here for those generations."
*Special thanks to Cazenovia College Athletics for game photos.