Before Marcella Heisey (Turtle Clan) walked across the stage to receive her high school diploma, she made a courageous stand that will have an impact for generations. She purchased her Six Nations Hiawatha Belt stole from Oneida Heritage in preparation for her graduation, but when she asked school officials if she could wear it at the ceremony, she was told no – at least initially.
That didn't stop Marcella. She wondered why her school district, the Queensbury Union Free School District near Albany, NY, would deny students the opportunity to share their cultural heritage on such a significant day. The school's graduation dress code policy had been in place for years and was clearly outdated.
So, with the help of her mother, Angela, Marcella was able to get the attention of the Albany Times Union, which published a story about her efforts to ask the school for permission to wear the cultural stole. Oneida Indian Nation Representative Ray Halbritter said to the Times Union that the Nation was "incredibly proud of Marcella for wanting to honor her tribal nation and her culture in such a meaningful way."
After originally making the request to Queensbury High School Principal, Damian Switzer, and after the news article was published detailing the school's denial, Marcella and her mom were able to schedule a meeting with Superintendent Kyle Gannon.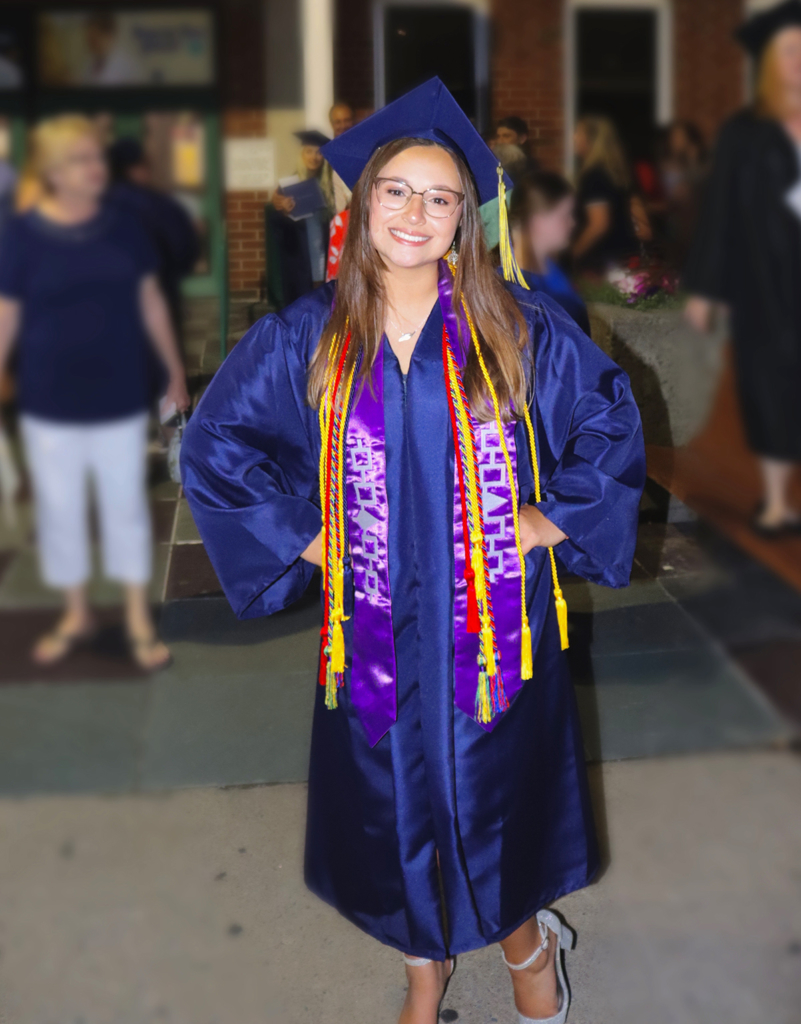 Marcella at her graduation ceremony.
"We were successful and they're updating the policy," Marcella said a couple weeks before her graduation on June 25. "From here on out, they'll allow people to make requests to get their regalia approved. Getting the Six Nations stole approved means no one else will have to request to wear it."
It was important to Marcella that the decision was not perceived to be any sort of special treatment from the school. She knew it wouldn't be fair if she was the only one that was able to wear a cultural stole. The policy change enables all students to request specific regalia, and once approved, students in subsequent years wouldn't need to request it again.
"That's what we were aiming for," she added.
Nation Representative Ray Halbritter issued a statement on Queensbury's decision to update its policy:
"The Oneida Indian Nation congratulates the Queensbury Union Free School District Board of Education for its decision to allow students to honor their cultural backgrounds and identity at high school graduations.  In doing so, they are setting an important precedent that other schools should follow.  We are grateful and proud of Oneida Indian Nation Member and Queensbury senior Marcella Heisey for taking a stand to call attention to this needed change and help instate a policy that embraces the diversity of her school's student body."
The past year and a half in school has been very different for most students. The Covid-19 pandemic forced schools in the state to adopt several new changes to the learning environment to ensure everyone's safety, including virtual learning, which many students were experiencing for the first time.
It was a challenge for Marcella, but she was able to make the most of it.
"All of my teachers have been really supportive so that made the transition as easy as it could have been," Marcella said. "But I would go into school every now and then for clubs."
Marcella served as an officer of her school's National Honor Society and participated in an informal Rocket Club to build and launch rockets with guidance from one of her teachers. She's also an avid skier, which was just one of the reasons she was drawn to New Hampshire's Dartmouth College.
Queensbury High School is one of the top public schools in Albany and Marcella has been working hard for the last two years to get into one of her top colleges, which she trimmed to Dartmouth and Cornell – two elite Ivy League schools.
"Ultimately, I thought Dartmouth was a better fit for me so I was ecstatic when I got in," she said excitedly. "My guidance counselor, Mr. Diamond, was so helpful and supportive through the process."
Marcella will begin her studies as a biology major on her journey to become a dentist. She'll be participating in the Nation's Scholarship Program, too, to help cover some of the costs of attendance so she can focus on her classes, which she believes will be fairly labor intensive. Her mom, Angela, also utilized the program and graduated from Clarkson University with a degree in chemical engineering.
Dartmouth will provide opportunities to expand her extracurricular activities as well. She's looking forward to trying new things she never had time for in high school, including learning lacrosse. She hopes she'll have enough time to check out most of their clubs, too.
As she awaits move-in day later in August, Marcella is enjoying all the time she can with her family. Perhaps the one positive thing the pandemic brought was time to reconnect with family. She remembers going to the Nation Member Picnics a lot growing up, but most of her relatives live near St. Regis and Akwesasne.
Her great grandmother, Doris Mitchell (Turtle Clan), raised her daughter (Marcella's grandmother), Suzanne Mitchell Washburn, in Syracuse. But growing up, they weren't able to express their culture as assimilation to a certain way of life was pushed upon all people of color. That is why Marcella wants to embrace her culture and share it with her friends and family.
"I want to honor my family and heritage because family means a lot to me," Marcella said. "My grandmother and great grandmother had to endure cultural repression, so if there's any way I can honor our heritage, I believe I should."
The precedent Marcella helped establish at her school to celebrate the diverse cultures of its students is an accomplishment all of Indian Country can share in. That is how to create change. Actions taken like Marcella's will encourage other school districts to consider updating their graduation dress codes to be more inclusive.
More and more Nation Member youth are bringing this issue to the forefront. Sadie Smith (Turtle Clan), a recent graduate of Onondaga Central High School, and Jessica Jimerson (Bear Clan), a recent graduate of Ellicottville Central High School, have also created change at their respective schools.
Jessica said in a 2019 Salamanca Press article, "I grew up watching other seniors graduate with Native American regalia on, and I have always envisioned myself being proud to walk across that stage showing who I am and the culture I represent."
American Indians are too often identified as relics in today's society. But the younger generations are showing that Native people are members of a thriving community with a rich history and culture that is worth recognizing and sharing.