As the Oneida Indian Nation continues on its path to a safe and full reopening in response to the Covid-19 pandemic, it has stayed true to its commitment to support its Members – especially in these difficult and uncertain times. Members have first access to jobs with the Nation's Enterprises, and many have worked for the Nation since before Turning Stone Resort Casino was built. In recent years, some have returned from working in other areas, too.
Karen Brill (Wolf Clan) is a Supervisor for Player Services at Turning Stone. She's only been on the job for a little over a year, but it's been a great experience, she says.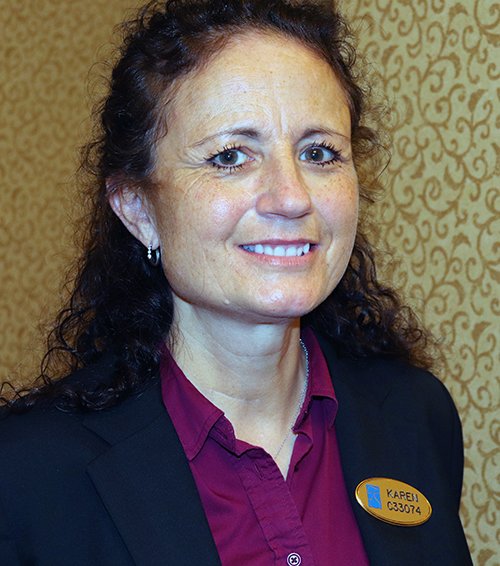 The Rewards Desk creates new accounts and prints rewards cards as well as taking care of many other issues that arise throughout the day.
"It's a little bit of everything," she says of her role. "We have so many good workers in our department who do their best to make an unforgettable experience for the guests that I think they all deserve an award."
"When I came back up to New York to be closer to my mom and sisters, I needed a job," Karen recalls. "I applied for anything that sounded interesting and they were looking for a supervisor at the Rewards desk." Her mother is Oneida Elder, Ramona Beglen (Wolf Clan).
Karen grew up in West Virginia and has been a Licensed Land Surveyor for over 30 years. She started working in the surveying and engineering field at age 17 and attained her professional licensure at 24. Coming to the Nation, she is hopeful to turn her skills and prior experiences into a valuable asset.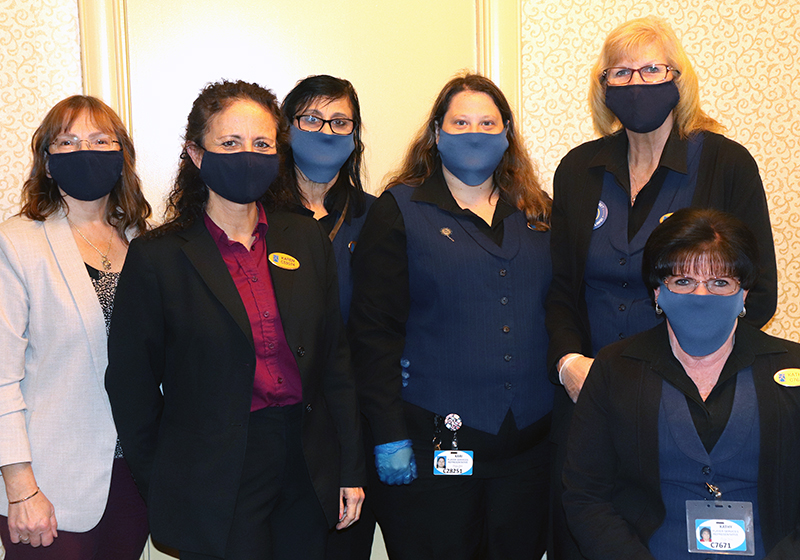 Karen and the Turning Stone Resort Casino's Player Services Team
Her first true passion is land preservation and sustainable land development, so Karen hopes she can find a role for that in the future. She's proud to see how the Nation has been an excellent steward for their lands while also keeping land preservation and conservation in mind – something that remains at the heart of all of the Nation's enterprise operations.
Karen is thankful for the camaraderie in her department and the uniqueness of each day.
"The things that stick with me are when we're all working together as a team and having a good time doing it," she says. "If you can't laugh and enjoy your job, perhaps you should consider looking for a different job."