More than 400 veterans and their guests, including Oneida Indian Nation Members and Oneida Indian Nation employees who are veterans, were honored for their service at the Oneida Indian Nation's Veterans Recognition Ceremony and Breakfast held Nov. 1 at Turning Stone Resort Casino.
As America's First Allies, the Nation takes great pride in being able to host this annual event and come together with the community to honor and celebrate local veterans. A sacred bond was formed centuries ago when the Oneida People chose to support the American colonists. As the only nation of the Haudenosaunee Confederacy to side with the fledgling colonists, the Oneidas made the crucial and fateful decision to go against their brothers and sisters. It was an excruciatingly tough decision, but one based on how it would affect the seventh generation to come. To this day, Oneida Members continue to serve in the United States Military.
The event began with the posting of colors by VFW 2246 of Rome, NY followed by the Thanksgiving Address recited in Onyota'a:ká: by Chelsea Jocko (Wolf Clan). It was Chelsea's first time attending the event and she was honored to share in the recognition of Member and local veterans.
Nation Representative Ray Halbritter, Major General Greg Anderson from Fort Drum and Vice Admiral (Ret.) Robert B. Murrett of the Maxwell School of Citizenship and Public Affairs at Syracuse University all shared remarks at the event about the special relationship between the Oneida Indian Nation and the United States Military and the service of local veterans.
"The Oneida people were proud to stand alongside American colonists as they fought for their freedom. We believed then, as we do today, that all people deserve the right to self-determination and self-governance," Halbritter said. "Today, our support for the U.S. military remains as steadfast as it was during the Revolutionary War. It is in recognition of this long friendship that we host this annual celebration of service and support veterans with a variety of programs, such as extensive job recruitment outreach, PGA Hope, Project Healing Waters, and more."
At the event, Nation Member Vaughn "Chip" Isaacs (Turtle Clan) was recognized for his dedication and commitment to the United States. Chip served two tours in the war from 1966-1969 as a long-range reconnaissance patrol specialist with the Army Rangers. He's an honored warrior and appeared in fellow Veteran and Officer Bill Goshen's book, War Paint: The 1st Infantry Division's LRP/Ranger Company in Fierce Combat in Vietnam, which provides a first-hand account of that division's battle against the Viet Cong. His five-man reconnaissance team scouted out an area before ground troops would go in.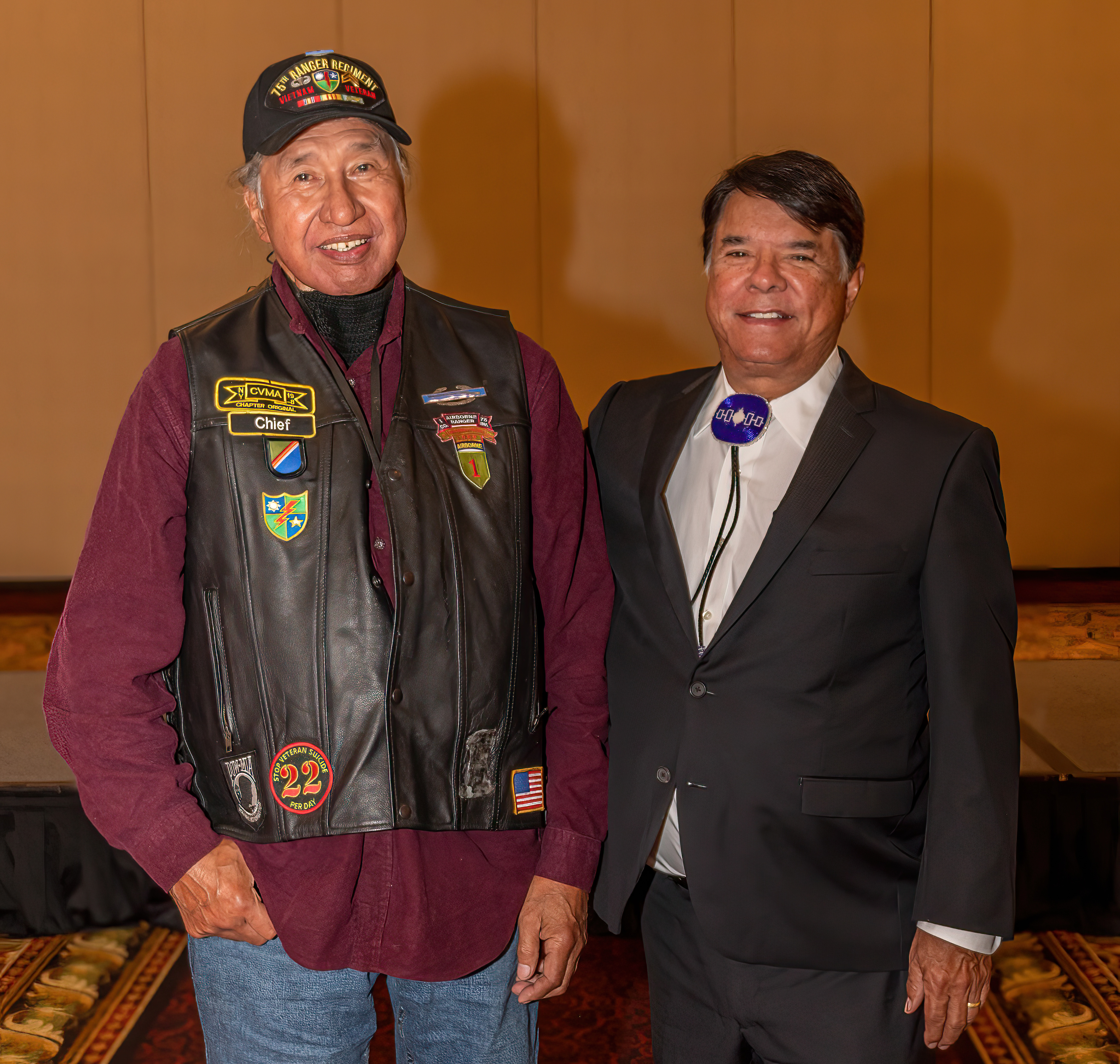 Later in life, Isaacs became an iron worker and an award-winning artist – mainly working with ornate jewelry and carvings. Over 25 years ago, Chip was diagnosed with throat cancer, which took his voice. He's endured multiple surgeries and treatments but continues to live life with a smile on his face.
Halbritter presented Isaacs with a Pendleton blanket inspired by the Warriors' Circle of Honor memorial at the Smithsonian's National Museum of the American Indian. "Like the memorial, it commemorates the service and sacrifice of Native American veterans like you," said Halbritter as he presented Isaacs with the gift.
David Ernenwein (Turtle Clan), a veteran of the U.S. Air Force and current YBR Casino & Sports Book Operations Manager, also was in attendance.
In addition to the Veterans Recognition Event, the Nation supports local veterans in several ways throughout the year, including offering free golf lessons for Central New York veterans through PGA Hope and salmon fishing at Salmon Acres through Project Healing Waters. The Nation also partners with several local military and veteran organizations, including Feed Our Vets, Cell Phones for Soldiers, Ft. Drum, and more.
Oneida Members who are veterans of the armed services are encouraged to contact the Oneida Indian Nation Communications Department to make sure your service information is documented and complete by calling Kandice Watson at 315-829-8363.
More photos from the event are available on the Oneida Indian Nation Facebook Page.