Set to open on February 12, the new Sandstone Hollow Inn is adjacent to the beautiful golf course of the same name. The property offers a prime location, modern facilities and affordable rates for guests to enjoy all that Turning Stone Resort Casino and the surrounding area have to offer.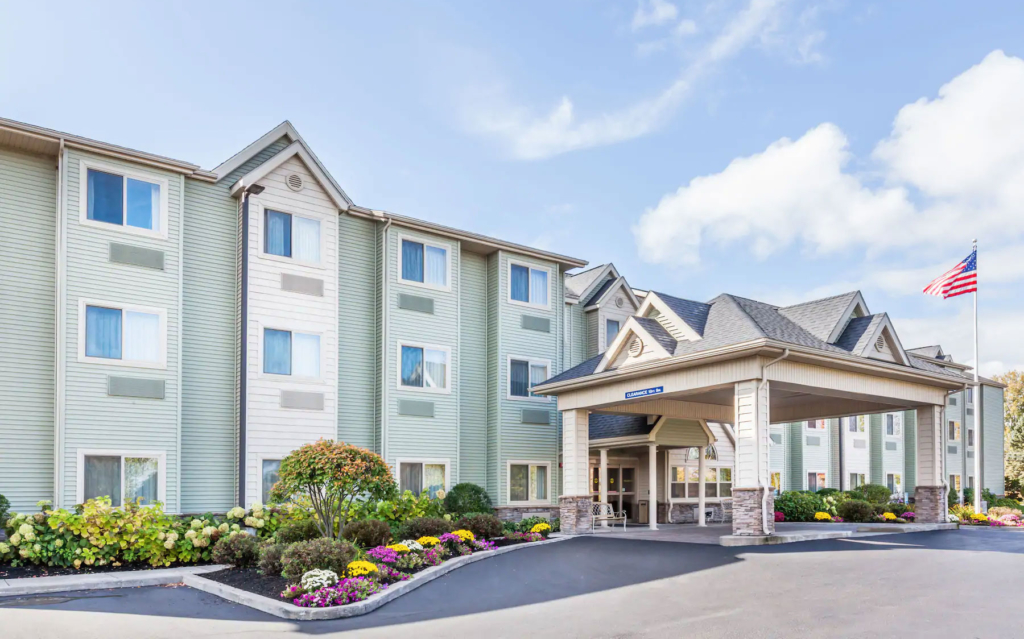 Oneida Indian Nation Homelands (February 5, 2020) – The Oneida Indian Nation today announced its plans to open Sandstone Hollow Inn, formerly the Microtel Inn & Suites by Wyndham in Verona, New York. The Oneida Indian Nation's newest property is in response to the growing demand for rooms at Turning Stone Resort Casino, and is the latest indicator of positive economic growth in the region. The Oneida Indian Nation will close the hotel for a few days to complete a changeover to its own systems and branding.  The property will reopen to the public as Sandstone Hollow Inn on Wednesday, February 12, 2020.
Located at 5118 NYS Route 365 next to Turning Stone's picturesque Sandstone Hollow Golf Course, the new Sandstone Hollow Inn will make 81 additional rooms available to visitors, including those attracted by the increasing number of events and conferences taking place at nearby Turning Stone Resort Casino. Guests staying at Sandstone Hollow Inn will receive complimentary shuttle service to Turning Stone, making it even more convenient to enjoy all of the resort's award-wining amenities. Sandstone Hollow Inn (which derives its name from the land's original use as a sandstone quarry) will also offer continental breakfast service and laundry facilities, and will welcome guests traveling with dogs.
"The Oneida Indian Nation is making this investment to accommodate the public's increased demand for Turning Stone," said Oneida Indian Nation Representative and Oneida Nation Enterprises CEO Ray Halbritter. "This purchase will add much-needed additional accommodations for the growing number of visitors looking to enjoy the amenities at Turning Stone and people coming to visit the region."
Drawing more than 4.5 million visitors from across the country to the area annually, Turning Stone Resort Casino has continued to serve as a catalyst for economic development in Central New York. The resort offers an internationally-acclaimed casino, award-winning spas and restaurants, five golf courses, a year-round indoor Sportsplex featuring golf and tennis, and more.
With the Oneida Indian Nation's innovative TS Rewards Loyalty Program, guests can also earn and use Reward points and vouchers at Sandstone Hollow Inn, in addition to purchases at all Oneida Nation Enterprise businesses, including Turning Stone, YBR Casino & Sports Book, Point Place Casino, the golf courses, spas, restaurants, hotels, entertainment, nightlife venues and more.
The majority of Microtel employees have been retained to work at the new hotel, and with the hotel's occupancy to increase significantly after reopening, it will likely require additional staff to meet the demand.
Guests may reserve rooms now by calling the Turning Stone reservation center (800-771-7711).
About the Oneida Indian Nation
The Oneida Indian Nation is a federally recognized Indian nation in Central New York. A founding member of the Haudenosaunee Confederacy (also known as the Six Nations or Iroquois Confederacy), the Oneida Indian Nation sided with the Americans in the Revolutionary War and was thanked by Congress and President George Washington for its loyalty and assistance. Today, the Oneida Indian Nation consists of about 1,000 enrolled Members, most of them living in Central New York. The Oneida Indian Nation's enterprises, which employ more than 4,750 people, include Turning Stone Resort Casino, YBR Casino & Sports Book, Point Place Casino, Maple Leaf Markets, SāvOn Convenience stores, RV Park, and three marinas. Proceeds from these enterprises are used to rebuild the Oneida Indian Nation's economic base and provide essential services, including housing, health care, and education incentives and programs, to its Members.