Oneida Indian Nation Member and Cazenovia College alumna Kandice Watson (Wolf Clan), class of '86, served as the commencement speaker at the College's graduation ceremony on May 14. Kandice's remarks delivered on the sunny morning to nearly 200 graduates recalled the Oneida Indian Nation's historical connection to the beginnings of the college in the 1800s and included a perspective on American Indian Boarding Schools – a sharp contrast to the educational opportunities that are available to Oneidas today.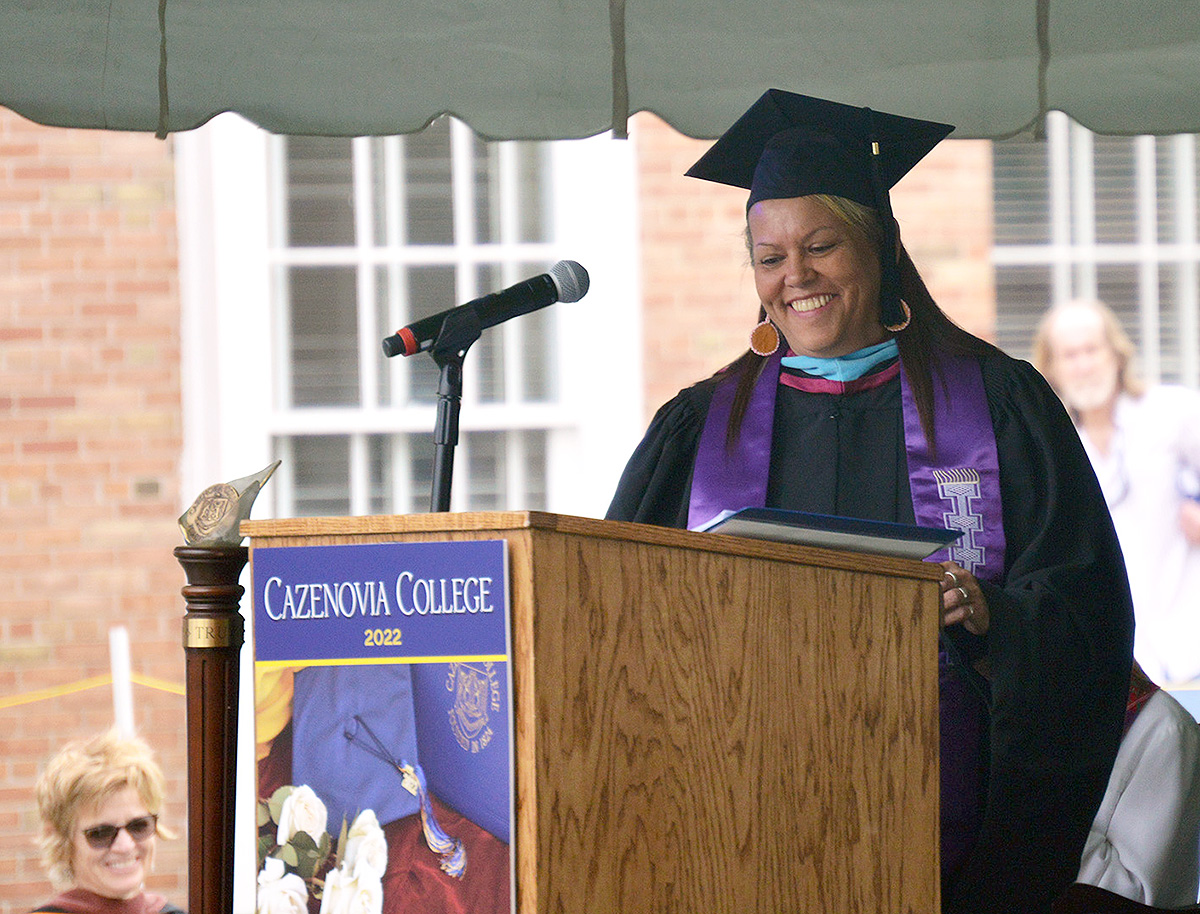 Kandice reflected on her educational accomplishments in the wake of her mother's own experiences with boarding schools. "I realized something incredible had happened," she shared during her speech. "The daughter of a survivor of Indian Boarding Schools had become a first-generation college student with multiple degrees. I was now an educator myself, serving the Oneida Indian Nation and preserving all that these schools had tried to strip from Native Americans."
Kandice has worked with the Nation in many roles since graduating from Cazenovia with a liberal arts degree in 1986. She worked as a Floor Supervisor at the bingo hall on Territory Road before moving to the finance department as a senior bookkeeper. She then took a break from working to continue her educational pursuits by earning a Bachelor's degree in mathematics at Utica College of Syracuse University. From there, she continued her studies at Colgate University, where she earned a Master's degree in teaching high school math. In 2000, after completing her master's coursework at Colgate, she was named Director of Education for the Nation, overseeing the Nation Library, Early Learning Center, and its language, youth development, and scholarship programs.
She also served as the Director of Education and Cultural Outreach while managing the Shako:wi Cultural Center until 2017 when she was named the Nation's Documentarian. Her responsibilities include researching the Nation's history and significant cultural events for posterity as well as compiling data and providing historical context for Nation Member communications.
In addition to Kandice's participation during the ceremony, Cazenovia College President David Bergh also recognized the institution's location on the ancestral homelands of the Oneida People and emphasized the need for strong relationships between institutions such as Cazenovia College and tribal nations throughout the region.
To read the entire commencement speech click HERE.
You can view the Cazenovia Commencement HERE.
(Photos courtesy of Cazenovia College)