In May of 2012 Hamilton College, which began as a school for the Oneida, celebrated its 200th anniversary. Included in the event's highlights was the unveiling of the book "On the Hill: A Bicentennial History of Hamilton College," by Maurice Isserman, professor of American history at the school.
At a gathering at the campus' library, Joan Hinde Stewart, president of the college, provided opening remarks about the school's inception. Hamilton College's precursor, she said, was the Hamilton-Oneida Academy, founded by the Rev. Samuel Kirkland, who signed the charter in 1812.
"But," noted Hinde Stewart, "it [the school] starts decades back to Kirkland's mission with the Six Nations. In 1791, Kirkland's plan was for the education of American Indians."
Unfortunately this dream never came to fruition as attested on Hamilton College's website, which states that few Oneida attended the school. Isserman's book further explains that no tuition funds for the Oneida were found.
Although the plan faltered, the ties between the school and the Oneida Nation remained. Oneida Chief Shenendoah,* Kirkland's long-time friend, requested to be buried in the college's cemetery alongside him. The two men's friendship, which began when Kirkland was a missionary to the Oneida, is also part of the reason that the Oneida sided with colonists during the Revolutionary War.
In 2002, Shenendoah was inducted into the Oneida County Historical Society's Hall of Fame. At the ceremony, Richard W. Couper, former acting president of the Hamilton College and former trustee of the Oneida County Historical Society, said he has always been interested in the relationship between Shenendoah and Kirkland.
"I am the seventh generation in my family from Clinton, and I have an ancestor buried next to Skenandoa," said Couper. "I am acutely aware of the Nation and have always been aware that the Oneidas stayed with the colonists during the war."
In 2004, Shenendaoh was honored once again. Skenandoa House, a dorm on the Hamilton Campus, was dedicated in memory of the Oneida Chief due to his friendship with Kirkland.
The liaisons between the Oneida and the college continued in subsequent years when youth from the Nation participated in the Hamilton College Summer Science Exploratory Program. The two-week session offered hands-on laboratory experience and the opportunity to conduct research with professors from the school.
Additional information about Hamilton College's evolution from the Hamilton-Oneida Academy to the present can be found in Maurice Isserman's book, "On the Hill: A Bicentennial History of Hamilton College," available online at Hamilton College's bookstore at http://hamilton.bncollege.com for $65.
* Spellings of Shenendoah's name have varied over time.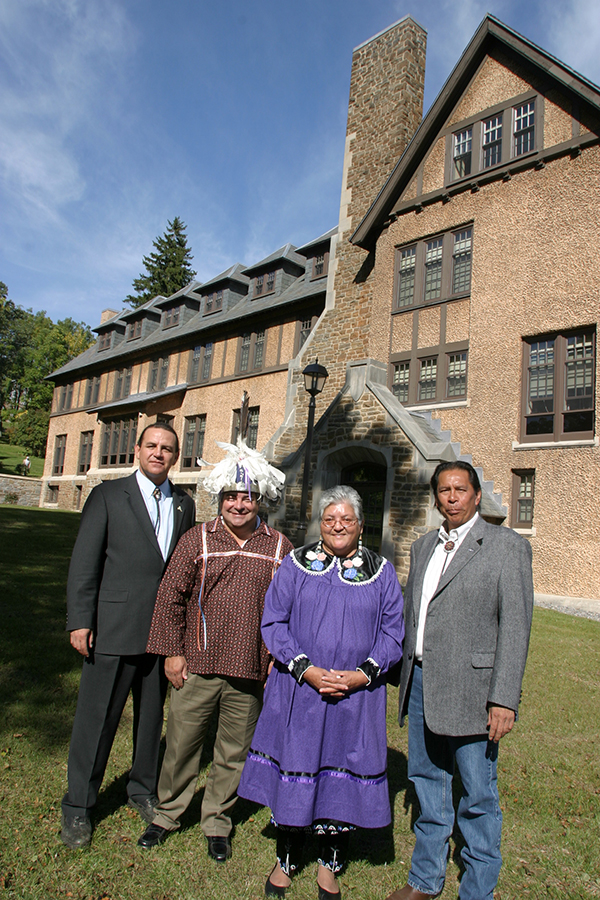 Oneida Nation Council Member Brian Patterson (Bear Clan), Council Member Dale Rood (Turtle Clan), Bear Clan Mother Marilyn John and Council Member Clint Hill (Turtle Clan) at the Skenandoa House at Hamilton College in 2004.