The following Member profile originally appeared in The Oneida, July, 1992, Vol. 3, No. 4.
Oneida Profile: Elsie Eckhard
There is a very special Elder who lives in Oneida. On March 27, 1992, Elsie Eckhard turned 92, making her the oldest living Oneida woman. She has five children, 11 grandchildren, 23 great grandchildren and 8 great, great grandchildren. Elsie was born into the family of Daniel and Lucinda Honyoust (later Lucinda George) along with two sisters and two brothers.
They were a close family, always together. The three girls; Elsie, Irene and Evelyn with their brother, Melville, formed a quartet that performed in local churches and even had their picture in the paper. Elsie was a powerful soprano, as daughter Barbara Wood recalls, "She could make the rafters move." Years later, with a family of her own, music still played a large part in Elsie's life. She taught herself to play the piano beautifully by ear and on Saturday nights, the whole family would gather around and sing.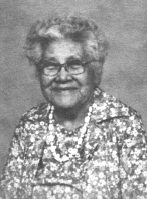 Not one to reminisce very much, Elsie does recall fondly the trips she and her whole family used to make by rail to Sylvan Beach. At the beginning of the century, entertainment was much simpler and such an outing was an all-day event. The women wore the large hats fashionable at the time and there was a very festive and excited atmosphere.
Married in her twenties, Elsie's husband, Fred, was killed in a tragic accident in 1947, leaving her to raise five children alone (one son had already passed away in 1936). They lived in a small house on Marble Hill outside Sherrill that Fred had built. He had started a larger house nearby for the family but at the time of his death, only the foundation was complete.
"As long as these hands can work, this family will not go on welfare."
Thankfully, Fred had not believed in going into debt, but Elsie still had to work very hard to support her family alone. Although she never learned to drive, she took on housework jobs in the area, getting rides from her sister, Irene, who, much to Elsie's dismay, was always on "Indian time." Daughter Shirley Oatman remembers the strong work ethic instilled in her and her siblings by their mother. They often heard her say, "As long as these hands can work, this family will not go on welfare."
Elsie's heavy load of responsibility left her little free time but she was industrious by nature. She told her children, "People miss so much by not getting up early." Although Shirley didn't subscribe to this notion in her youth, she now finds herself swimming at the YMCA at 6:00 AM each morning and admits, like so many of us as we get older and wiser, that Mom was right.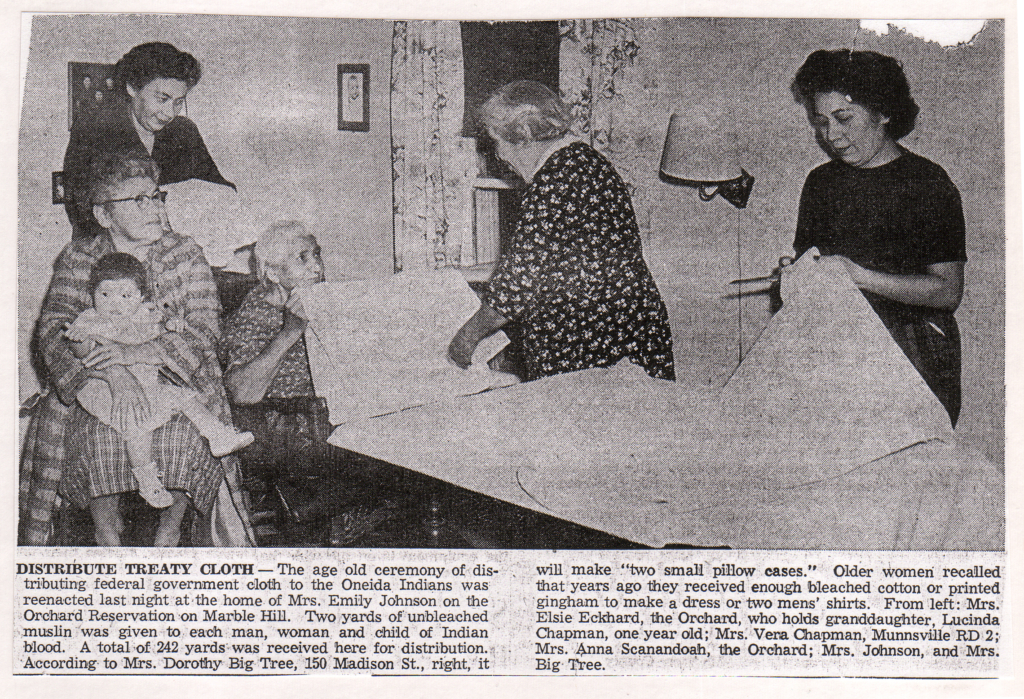 This undated newspaper clipping pictures Elsie Eckhard (left, holding child) with other Oneida women working with treaty cloth from the federal government.
Those who know Elsie Eckhard will tell you of her many virtues. A religious woman, she made sure her family was in church every Sunday and strictly enforced it as a day of rest, forbidding even the cutting out of paper dolls. Generous to a fault, she always put out a feast for guests and her daughters still provide her with small tokens to give to her visitors at the Extended Care Facility in Oneida. She taught her family neatness, saying that no matter how poor you are, you can always be clean.
Whenever visitors came to call, they found her small home immaculate. In so many ways, Elsie is a shining example for those who come after her to emulate. We can all learn so much from this strong woman who did not give in to her circumstances and, amidst adversity, stood like a rock. As daughter Barbara sums up: "She was always there."