By Kandice Watson (Wolf Clan) Oneida Indian Nation Documentarian
We have all heard of Oneidas like John Skenandoah, Hanyerry, and Polly Cooper, but have you ever heard of Emma Mead? My position grants me the ability to get to know more about the lives of Members who have passed and to regain some small notoriety for that person. I have tracked different Members throughout their lives, many from Vernon, NY to the Onondaga reservation, and some to other parts of the state and country.
I have traced families from rolls taken of our Members by the federal government in 1885 through to federal census records until 1950 that have been made public. Some of these families lived at other reservations, while some lived in general towns and cities, such as Caledonia or as large as New York City.
One of the families I followed was that of Elizabeth Kennedy, who lived in Indian Lake in Hamilton County, NY. Elizabeth Kennedy was the daughter of Elizabeth Cooper, who was the daughter of Polly Cooper, mentioned above. Elizabeth Cooper and her daughter, Elizabeth Kennedy, were living next to Polly Cooper in 1860 in Lenox, NY per the US Federal Census. At that time, Lenox was a much bigger area and extended all the way through to West Road here in Oneida. This census shows that the young Elizabeth was 13 at the time.
Sometime later, Elizabeth Kennedy married a half-Penobscot Indian hunter/trapper named Elijah Camp, who was from Vermont. Elijah had moved to the Indian Lake area to look for a good spot to build a hunting lodge to rent to wealthy men from the cities who were looking for adventure. We are not exactly sure how Elizabeth Kennedy and Elijah Camp met, but we know they married and set up their hunting lodge in Indian Lake, where they entertained rugged men from downstate for many winters. The Camps had a daughter named Emma in 1866 (pictured), a son Samuel in 1869 and another daughter, Mary, in 1873. Mary died in 1881 when she was only 8 years old. Photos: Indian Lake Museum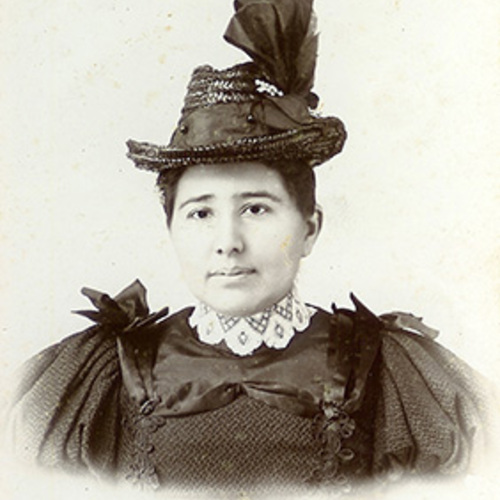 One family that visited the Camp's hunting lodge quite frequently throughout the years was the family of Richard Mead. The Meads hailed from Ossining, NY (then called Sing Sing) and were quite wealthy. During one visit, young Gabriel Mead stayed on for the winter after his father Richard and the rest of his family returned home to Ossining. Gabriel had become quite smitten with Emma over the years and in December of 1882, Gabriel and 17-year-old Emma were married. In May of 1883, Gabriel returned to his parents' house and made them aware of the marriage. They were furious and demanded that he get an annulment. They sent Gabriel to an insane asylum while they traveled to Indian Lake to have the marriage annulled.
The case was brought before Judge Bockes in Saratoga Springs, and the Mead family demanded that an annulment be granted on the grounds that their son Gabriel had been purposefully made intoxicated by Elijah and had married the Indian maiden under duress. General Charles S. Hughes was appointed Emma's guardian ad litem and was generally known to be sympathetic to women's plights. He presented his case that Emma had not tricked poor Gabriel and demanded that his client would be compensated for her grief. The judge granted the annulment under the condition that Emma would be compensated in the amount of $10,000 if she did not object to the filing, which is nearly $300,000 in 2022 when adjusted for inflation.
Emma reluctantly agreed to never fight the annulment and was given the settlement in the payment of gold nuggets in 1883. She purchased a large house in Indian Lake and opened a very prosperous store there as well.
That Christmas Eve in 1883, Elizabeth gave birth to Emma's brother, a son that she and Elijah named Gabriel Camp.
Two years later, Gabriel Mead returned to Indian Lake and professed his love to Emma. He blamed his father for the annulment and begged her to be with him again. She agreed, and the two were remarried, probably around the summer of 1885. In July of 1886, Emma gave birth to a daughter they named Bessie. Shortly thereafter, Gabriel returned to Ossining to get some money from his father, never to return to Indian Lake. Emma was left brokenhearted again. Sadly, in 1890, Bessie fell off the second-story balcony of their home to her death at the young age of 3 years old.
Elijah Camp was a very well-known Indian in the Indian Lake area and seemed to always make the news. In September 1889, Elijah claimed to have discovered a gold and silver deposit near Indian Lake. His claim stated the location as follows:
On Cedar River, 3 ½ miles north of Indian Lake villages, about a half a mile distant from Elm Island up the river, and in DW Sherman's township No 17. (He claimed the vein ran northerly/southerly across the river).
Elijah had some trouble with the law in 1899 when he was involved in an altercation with a man named Elmer Osgood. Osgood worked for Elijah, and Elijah was unhappy with Osgood's work one day and told him so. The two began to argue, and Elijah beat Osgood about the head with a club, causing him significant injury. Eventually, Elijah pleaded guilty and was fined $100 after it was determined that Osgood would survive the attack. Elijah died of a heart attack in Indian Lake in 1901.
Emma continued to live in Indian Lake and ran her store until her death in 1934. Elizabeth outlived her daughter by two years and died in Indian Lake in 1936.
Samuel moved to Pittsburgh, PA and raised a family there with his wife, Florence.
Gabriel continued to live in Upstate NY and raised his family in Warrensburg, NY with his wife Elsie.
Sources
"Emma Mead." Adirondack History Museum, https://ahmexhibits.omeka.net/exhibits/show/remarkable-women-of-the-adiron/emma-mead
The Glens Falls Daily Times, 7/31/1883
NY Evening Post, 8/1/1883
The Glens Falls Daily Times, 2/27/1890
Johnstown Daily Republican, 2/18/1899
Glens Falls Morning Star, 10/19/1900