By all accounts, Martin Johns (Turtle Clan) was a quiet man; one who kept his thoughts to himself. His guarded façade showed a crack, however, when decades after he served in WWII, he watched a documentary about the Battle of the Bulge with his family. Daughter Becky Karst recalled her father leaving the room during the broadcast and going outside. Concerned, Becky followed, asking her father what was wrong.
"He simply said he knew those guys," said Becky, whose father had helped to train the soldiers in armored vehicles involved in the battle. In fact, Martin had wanted to be with his men, but his orders sent him elsewhere. His was interesting military career. And as he ascended through the Army's ranks to captain, his tours took him from numerous stops stateside to points across Europe.
Drafted, 24-year-old Martin began serving March 17, 1941, at Camp Lee in Virginia, where he initially trained to become a medic. While in Virginia, he married Ella Mae, who stayed with him until his transfer to Fort Banks, near Boston. At this station, Martin earned a defense against chemical attack certificate and was pinpointed for armored force officer training school in Fort Knox, Kentucky.
Later, while serving in Louisiana for tank training, he was elevated to second lieutenant. Desert tank training followed outside Palm Springs in California. Martin qualified to run light- and medium-weight tanks.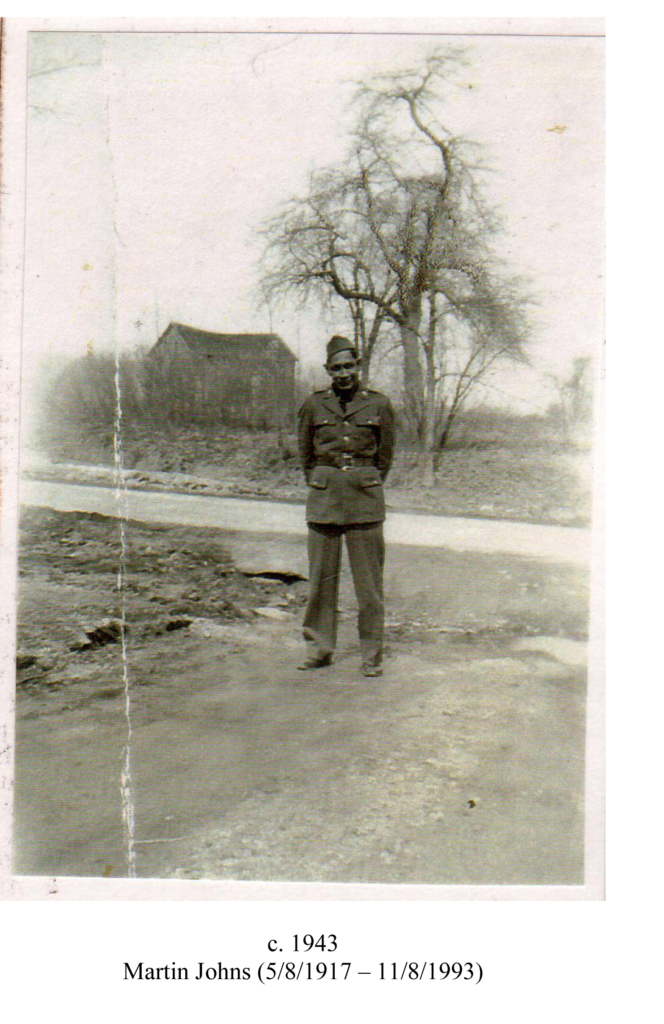 Impatient to get into the thick of things, Martin volunteered to go to Europe before his unit. Arriving in England, he was attached to Gen. Omar Bradley's command and was a motor transport officer in charge of a motor pool that eventually travelled across Europe.
Martin landed in Normandy on Omaha Beach on D-Day plus 40. He served in the campaigns for Perrier, Versailles and Verdun in France and for Wiesbaden in Germany. His discharge papers note his service in battles and campaigns in the European Theater, Northern France, Normandy, Ardennes, Rhineland and Central Europe. The paper also states that Martin received the European African Middle Eastern Theater Campaign Ribbon.
It is understandable that years later, Martin would become upset upon viewing scenes from the Battle of the Bulge. At the end of the battle, the forces included over a million men – about 560,000 Germans, 640,000 Americans, and 55,800 British:
About 6,000 Allied fighters and bombers versus 2,400 German aircraft.
100,000 German casualties.
81,000 American casualties.
1,400 British casualties.
610 German and 730 American tanks lost; 1,000 German aircraft destroyed.
Most of the American casualties occurred within the first three days of battle, when two of the 106th Division's three regiments were forced to surrender. In its entirety, the Battle of the Bulge was the most bloody battle American forces experienced in WWII – the 19,000 Americans killed in action was unsurpassed by any other engagement. For the U.S. Army, the Battle of the Ardennes was a battle incorporating more American troops and engaging more enemy troops than any American conflict prior to WWII.
These were some of the men Martin had trained and whom he had requested to rejoin – a request that was denied.
"They told him they needed him where he was under Bradley's command," said Becky.
"He always gave 100 percent," said Ella Mae. "They got a good man, there's no question about that. When he did a job, he was completely focused upon it. He was adaptable when he was over there, but he was glad to get home."
After his discharge, the couple bought a house in Verona Beach and Martin returned to Oneida Limited where he worked before the war. Martin retired from the company in 1979 and passed away in 1993.
"My father was a direct man, but you always knew where you stood with him," said Becky, one of Martin and Ella Mae's four children. "I just wish I'd asked him more questions."
A version of this story first appeared in The Oneida, Issue 9, Vol. 9 in November 2006 and was edited for the web.