Oneida Indian Nation Homelands (November 3, 2021) – More than 400 local veterans were honored for their service at the Oneida Indian Nation's 20th Annual Veterans Recognition Event this morning at Turning Stone, including Oneida Indian Nation Members, Oneida Indian Nation employees who are veterans.
Oneida Indian Nation Representative Ray Halbritter, Col. James Zacchino Jr., U.S. Army Ft. Drum Garrison Commander and Assembly Member Pamela Hunter, Army Veteran and NYS Assembly Subcommittee Chair on Women Veterans, all shared remarks at the event about the special relationship between the Oneida Indian Nation and the United States Military.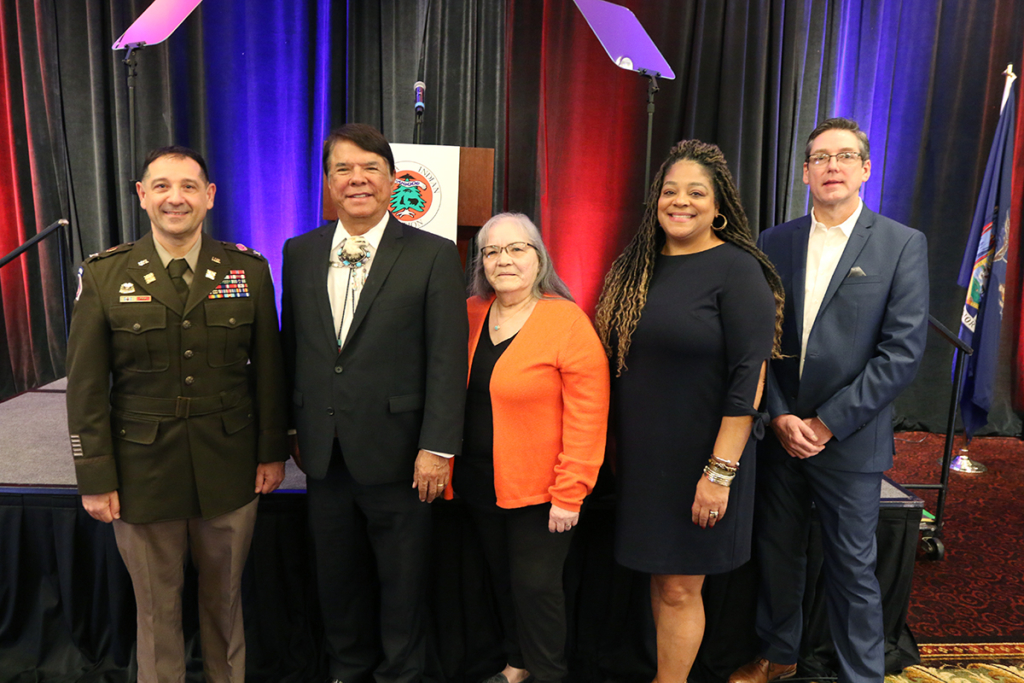 Fort Drum Garrison Commander Col. James Zacchino Jr.; Oneida Indian Nation Representative and Oneida Nation Enterprises CEO Ray Halbritter; Kathy Kuhl (Oneida, Wolf Clan); Assemblywoman Pamela Hunter, NY-128; David Ernenwein (Oneida, Turtle Clan)
At the event, Oneida Indian Nation members Kathy Kuhl, a mother with three veteran children, and David Ernenwein, U.S. Air Force and current YBR Casino & Sports Book Operations Manager, were recognized for their dedication and commitment to the country. Additional information about Kuhl and Ernenwein can be read HERE.
The Oneida Indian Nation also presented a donation to Feed Our Vets, a non-profit organization dedicated to providing fully-stocked food pantries for veterans.
In addition to the Veterans Recognition Event, the Oneida Indian Nation supports local veterans in several ways throughout the year, including offering free golf lessons for Central New York veterans. The Oneida Indian Nation also partners with several local military and veteran organizations, including Feed Our Vets, Cell Phones for Soldiers, Ft. Drum, and more.
About the Oneida Indian Nation
The Oneida Indian Nation is a federally recognized Indian nation in Central New York. A founding member of the Haudenosaunee Confederacy (also known as the Six Nations or Iroquois Confederacy), the Oneida Indian Nation sided with the Americans in the Revolutionary War and was thanked by Congress and President George Washington for its loyalty and assistance. Today, the Oneida Nation consists of about 1,000 enrolled Members, most of them living in Central New York. The Nation's enterprises, which employ more than 4,500 people, include Turning Stone Resort Casino, YBR Casino & Sports Book, Point Place Casino, The Lake House at Sylvan Beach, The Cove at Sylvan Beach, opening Summer 2022, Maple Leaf Markets, SāvOn Convenience stores, RV Park, and three marinas. Proceeds from these enterprises are used to rebuild the Nation's economic base and provide essential services, including housing, health care, and education incentives and programs, to its Members.
Media Contact:
Kelly Abdo, Director of Public Relations
315.366.9292