It was the great 19th century author Henry David Thoreau that said "this world is but a canvas to our imagination." This quote could not be any more fitting for Olivia Bigtree (Turtle Clan). It embodies a lot of her portfolio work, which features photography, film and numerous contemporary pieces. Using unconventional mediums and portraying a unique viewpoint have defined Olivia's award winning work all throughout high school.
Now, after graduating from Manlius Pebble Hill School, Olivia will continue studying fine art at the Maryland Institute College of Art in Baltimore on a full scholarship. Her acceptance to the elite art school is the culmination of a lot of hard work and unique experiences from all over the country. She'll major in General Fine Arts so she can focus less on one medium and more on the concepts and purpose behind creating art, which is her true passion.
With the new school year approaching, Olivia was able to look back on all of her accomplishments with appreciation and excitement.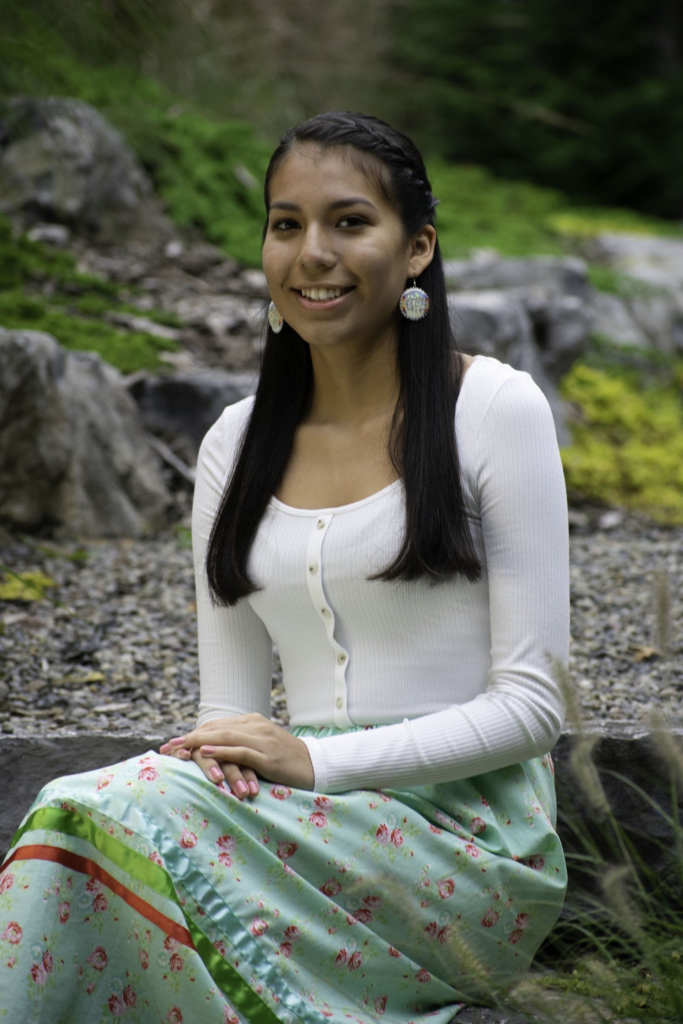 Senior Portrait
"In January of this year, I spent a week in Miami, FL working with Master Artists and mentors at National YoungArts Finalist Week," Olivia said. "I was one of ten artists chosen to attend this week as a contestant for the competition after submitting my portfolio and an artist statement. After attending the week, I also received a National YoungArts Week Silver Award."
The competition brings together young artists from ten different disciplines for a week of exciting events. Several "Master Artists" evaluated and worked closely with contestants to determine the eventual candidates for the U.S. Presidential Scholars Program. Olivia was named a 2020 U.S. Presidential Scholar in the Arts shortly after her trip to Miami. Prior to receiving the honor, she had to complete a rigorous 12 hour application and endure numerous rounds of cuts from a large field of the nation's most exceptional and brightest students.
The prestigious U.S. Presidential Scholars Program is one of the nation's highest honors for high school students and is administered by the White House Commission on Presidential Scholars and the U.S. Department of Education, "to recognize and provide leadership development opportunities for some of America's most outstanding graduating high school seniors."
Last year, Olivia was named a 2019 National Medalist in the Scholastic Art & Writing Awards for the same photograph that was chosen as the winner of U.S. Representative John Katko's Congressional Art Competition. This year, she received another National Gold Medal and a Special Achievement Civic Expression Award from the Scholastic Art & Writing Awards. She submitted two portfolios for the art competition and received a Regional Gold Key for her photography portfolio she titled, "Measuring Up" –  with three other pieces winning a Regional Silver Key.
Olivia's latest work, a piece entitled 145 Indigenous Women, received a Regional Gold Key and is in the running for a national medal. The powerful film project has no sound and depicts a barefoot Olivia writing the names of 145 indigenous women in red ink who are known to be missing or have been murdered since 1763. The canvas is the entire field of vision of the camera and the names quickly fill the screen. Watch the entire piece here.
As Olivia gets set to head to Baltimore for college, she is grateful for her experiences at Manlius Pebble Hill and for the Oneida Indian Nation's dedication to educational opportunities.
"I'm a lifer at MPH, which means that I have attended this school since Kindergarten," said Olivia reflecting on her time at the college preparatory school. "Thinking beyond just the work load of this school, I think a large part of what MPH has done to prepare me comes from the way the school has allowed me to pursue my passions."
Manlius Pebble Hill inspires students to think critically and strives to help them discover their true passions that will drive them to be better people.
"The art program has been a huge contribution to my personal growth and educational career," she said. "Without MPH or the art program, I don't believe that I would have received so many regional and national recognitions over the past two years. One of the most influential inspirations has been the relationship I've built with Wendy Red Star, a Crow multidisciplinary contemporary artist. Her work and commitment to creating art remains as a major influence to my own creative practice."