Oneida Nation Homelands (September 6, 2018) – Oneida Indian Nation held its annual Service Award Gala this week, recognizing more 350 employees who are celebrating milestones of 10, 15, 20 and 25 years working for the Oneida Nation.  Employees spanned across all of the Oneida Nation businesses, including Turning Stone Resort Casino, Yellow Brick Road Casino, Point Place Casino, Maple Leaf Market and SavOn Stores.
The Service Awards Gala is a long-standing annual event to thank employees for their hard work and dedication.
"Today, our enterprises are supporting thousands of great jobs and families across Central New York. It is all of us together that have made our enterprises so successful," said Oneida Nation Representative and Nation Enterprises CEO Ray Halbritter. "The hard work, dedication and years of service from the employees recognized at this event, are crucial to what we've accomplished."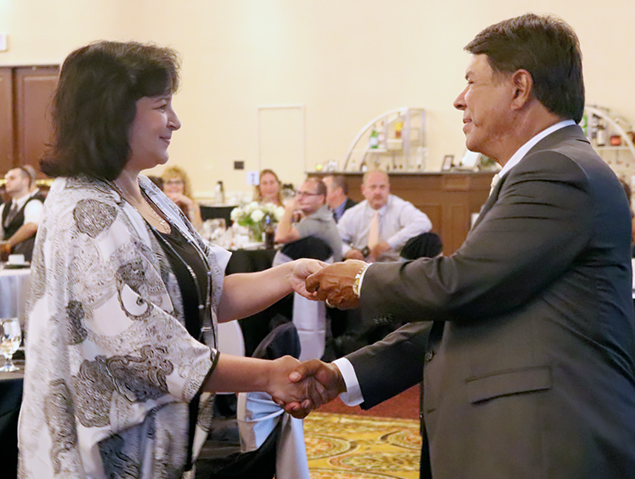 This summer, the Oneida Nation celebrated the 25th anniversary of its flagship gaming venue and award-winning destination resort with several events and promotions. Kicking off the festivities, the Nation hosted a packed event in the resort's Showroom, bringing together local elected officials, community leaders and hundreds of employees, including more than 150 25-year employees, who have been with Turning Stone since it opened.
The Oneida Indian Nation has been a driving force of economic growth in the region for more than two decades. With 4,750 employees, the Oneida Indian Nation is one of the largest employers in Central New York and remains committed to creating new employment opportunities in the area.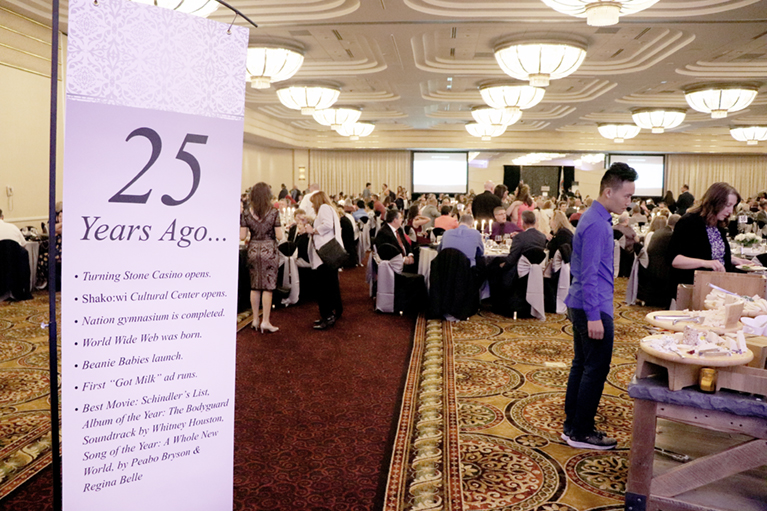 About the Oneida Indian Nation
The Oneida Indian Nation is a federally recognized Indian nation in Central New York. A founding member of the Haudenosaunee Confederacy (also known as the Six Nations or Iroquois Confederacy), the Oneida Indian Nation sided with the Americans in the Revolutionary War and was thanked by Congress and President George Washington for its loyalty and assistance. Today, the Oneida Indian Nation employs more than 4,750 people, including Turning Stone Resort Casino, Yellow Brick Road Casino, Point Place Casino, the SāvOn convenience stores, Maple Leaf Markets, RV Park, three marinas, Tin Woodman's Flask, a wine and spirits superstore, and Four Directions Productions, a 3D animation HD cinematography studio. Proceeds from these enterprises are used to rebuild the Nation's economic base and fund essential services, including housing, health care, and education incentives and programs, for the Oneida people.